There is one thing that people like about Sunbeam irons – they are cheap. The most expensive models are probably selling for less than $40 and you can get one of reasonable quality for around $25. They are no top range irons and they do not come with bells and whistles. But for the Sunbeam Steam Master iron at least, it comes with a retractable cord, which deserves a more detailed look in this review.
Sunbeam Steam Master With Retractable Cord Review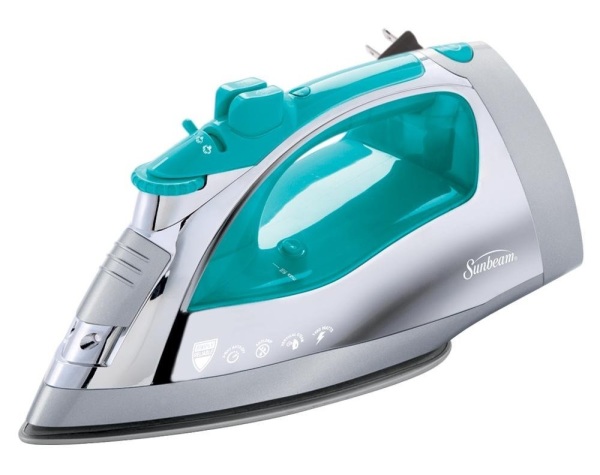 The unit has the following main features:
1400-watt
Stainless steel soleplate
Variable steam
Shot of steam
Vertical steaming
Dual spray mist
Anti-drip
Self-cleaning
Retractable cord
3-way motion smart shut-off
Size: 12.6″ (L) x 4.8″ (W) x 5.4″ (H)
==> Check Price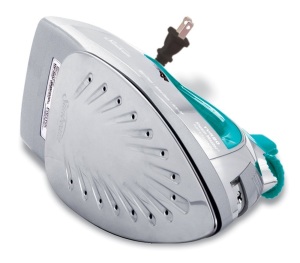 The Sunbeam Steam Master iron has a smooth-gliding stainless steel soleplate. There are 15 steam holes on the soleplate, far less than the premium Rowenta DW5080 with its 400 micro steam holes, but you get what you pay for. The steam holes are macro-sized running along the sides of the soleplate.
You get the shot of steam feature for those stubborn wrinkles by pressing the button at the top. You can also do vertical steaming using this same feature and the shot of steam will work in 3-second intervals. Ensure that the water tank is at least a quarter full to get an efficient burst of steam function.
There are 4 settings for the variable steam lever which includes a dry option for ironing materials like wool. The anti-drip will ensure water does not leak when the iron is still warming up and not ready to steam. Use the dual spray mist to dampen your materials when needed.
Cleaning your iron once a month is recommended and there is a self-clean button for maintenance just above the water tank. The Sunbeam Steam Master iron has a cord length of 8 feet which is retractable and it weighs slightly less than 3 lbs. The water capacity is about 8 ounce.
Note: The Sunbeam GCSBSP-201 is not to be confused with the Sunbeam Steam Master Professional iron which carries a different model number (GCSBCL-212). Both have different wattage and soleplate.

Should You Buy The Sunbeam GCSBSP-201 Steam Master Iron?
Pros
Long shut-off time – For quilters and sewers, a longer automatic shut-off time may be more convenient. A lot of irons shut down after 10 minutes of inactivity such as the Black & Decker D2030 Digital Advantage iron, but for this Sunbeam GCSBSP-201 steam iron, it knocks off only after 15 minutes of being left idle.
Location of the temperature dial – Many irons have the dial underneath the handle. This means either it is easy to knock it around with your thumb or knuckles when you grip the handle or it is difficult to rotate as the piece could be too thin. For the Steam Master iron, the dial is at the front, where the steam lever is, making it easy to turn and it is not as easy to accidentally change the settings. Another iron that has this design is the Black & Decker F67E Classic iron.
Price – The Sunbeam GCSBSP-201 is not too expensive and for the price, it also comes with a retractable cord which is a plus. The Panasonic NI-E300TR which also has a retractable cord costs over $40 compared to this Sunbeam which is retailing for about $10 less at the time of this review.
Cons
Dark water tank – A few users have raised this issue of the water level being hard to see because of the color of the tank which is a little too dark.
Does not last – There are quite a number of complaints of the iron malfunctioning after a short period of time. The issues range from the unit refusing to heat up to the retractable cord not working properly. Leaks are also noted in a few complaints. It would seem quality control could be the problem with some irons being defective after limited use while others are performing well with no issues.
Bulky – Not everyone can get used to the bulkiness of a retractable cord iron. The Sunbeam Steam Master iron measures 12.6 inches long, which is on the huge side. Most irons would be at least an inch shorter and feels less cumbersome to use.
Overall, some buyers love this iron while others think it doesn't give off enough heat and steam. This is to be expected for all irons under the $50 category because of different expectations. Generally, they work well on smoothing out wrinkles except for stubborn ones on materials like cotton and linen. Holding your garments against the light, faint lines may still be visible. So, depending on your level of fussiness, $30 irons may or may not be ideal for you.
Looking For Free Shipping For The Sunbeam Steam Master Iron? Check It Out Here:
But coming back to a retractable cord iron, we would prefer to Panasonic NI-E650TR over the Sunbeam Steam Master GCSBSP-201. The reason being less complaints and more thought going into the design of the iron with its curved soleplate. Price-wise, it is also about the same but there is less risk of ending up with a non-working unit with the Panasonic iron, judging by the customer reviews.