Have You Ever Enjoyed Ironing?
If not, the best steam iron and a good ironing board might just help to make the chore less dreadful!
Best Steam Iron To Buy In 2019
The best steam irons from cheap to expensive have been included in this list as I keep tabs on the various models that come on the market every now and then since I started this website a few years ago. The list does change from time to time as new models replace the old and manufacturing processes, as well as the quality of materials, improve or decline as the years go by. This warrants keeping a close eye on the buyer reviews online because they are the best indicator if a particular steam iron is still performing well recently.
For 2019, I have updated my list of the best steam iron to the following. I have written about the best steam iron under $50 and $100 back in 2014. While some of these models are still bestsellers in their category, an updated list should serve prospective buyers better for the current year with more recent information.
Best Steam Iron On The Market
Black & Decker Digital Advantage Professional Steam Iron D2030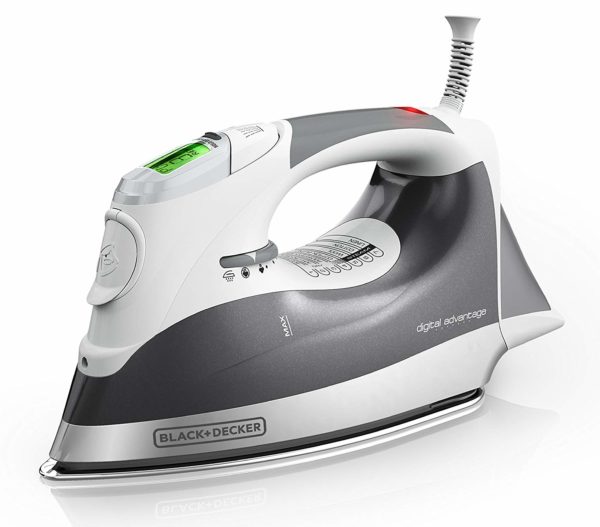 ==> Check Price I wrote up the Black and Decker D2030 review a few years ago and each time I checked up the latest online buyer ratings, it has remained on the bestsellers list on Amazon. So, it seems to me that it is pretty hard to dethrone this Black & Decker model from the best steam iron list. It has been a consistent performer ratings-wise compared to some other clothes irons that tend to have reviews swinging from one extreme to another from different buyers on a more frequent basis. The Black & Decker Digital Advantage Professional Steam Iron is now offered in blue and gray. It is a 1500-watt iron with a stainless steel soleplate, automatic shut-off, digital display, variable steam, and temperature controls.
Black & Decker D2030 Selling Points
Its main selling point would be its digital temperature control which is independent of the steam variable settings. You can control the temperature by pressing a button which will then be reflected in the LCD screen. At the same time, you can set your steam settings via a dial below the handle. This means you can control how much steam output you want when the temperature setting is set to certain fabric types such as linen and cotton. The other reason this sells so well is that the complaints of leakages are not as bad as some other models. All steam irons will have a problem with leakage. You will see this complaint across the board from low to high-end models from all brand names. But somehow, the Black & Decker Digital Advantage Professional Steam Iron has managed to keep this to a reasonably low level. You can check out the online buyer reviews for reassurance before you buy. The last selling point that I should highlight is the price for this model. It is not a super cheap iron that makes it hard to get wrinkles out but the price is reasonable for its quality. If you are willing to spend up to $50 for a steam iron, this is well worth a look. Sometimes, it does sell for much less as the price does fluctuate. So, check it out even if you have a slightly lower budget.
CHI Steam Iron With Titanium Infused Ceramic Soleplate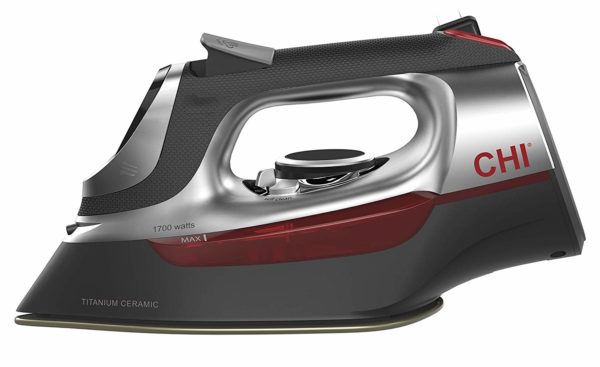 ==> Check Price I have added the CHI steam iron to the best list after observing it for about a year. I first noticed this in early 2017 on Amazon and it has been slowly gaining rank in the Iron and Steamers category. Now, it is one of the top-selling steam irons on Amazon although it has yet to beat the Black & Decker D2030 model above. CHI is selling 3 versions of this steam iron on Amazon – manual controls with a standard cord, manual controls with a retractable cord and electronic controls with a retractable cord. All 3 are 1700-watt irons with a titanium-infused ceramic soleplate. The cheapest is the one with manual controls and a standard cord. But it also has fewer steam holes compared to the other 2 more expensive models. The other features are pretty standard for a steam iron such as temperature and steam controls, auto shut-off, steam blast, and water mist.
CHI Steam Iron Selling Points
CHI is famous for its hair care products, especially flat irons. Now, it is merely transferring the technology to a clothes iron. So, its main selling point is its titanium-infused ceramic soleplate which is similar to its flat irons which have been its main business all these years. This type of soleplate is scratch-resistant and ultra strong. It is also smooth and heats up quickly which make it ideal for a clothes iron. Furthermore, the cheapest model already has over 300 steam holes which is more than sufficient to provide an even distribution of steam output. For the price of this model at the time of writing, it is hard to find another steam iron that can match this feature of the CHI iron. The best Rowenta irons will have over 400 micro steam holes but they also tend to cost more. The last selling point I want to highlight on the CHI steam iron is the availability of 2 retractable cord models. Such a cord makes storing easier and neater. But there are not many retractable cord steam irons on the market which makes it even harder to get one with a good rating and generally positive reviews. The high-end models usually do not even have a retractable cord version. Hence, if you are a fan of retractable cord irons, you are in for a nice surprise!
Panasonic NI-W810CS Multi-Directional Steam/Dry Iron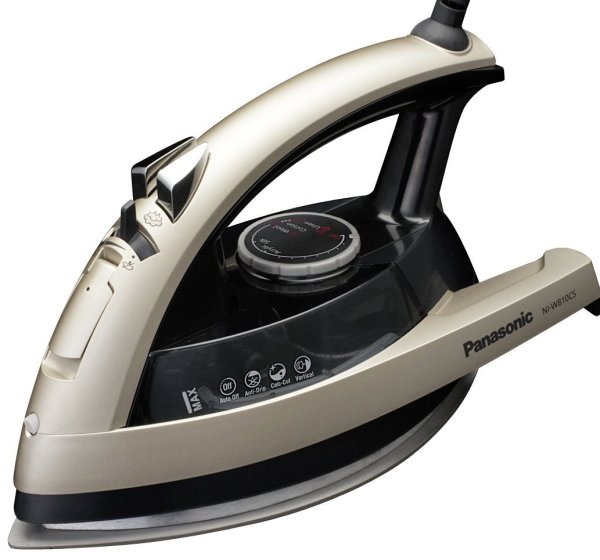 ==> Check Price The Panasonic Multi-Directional Steam/Dry Iron caught my attention because of its different design. For those who are adventurous, it is always exciting to try something new. Furthermore, this model is doing pretty well on Amazon too and Panasonic has always been a reliable brand name. This is a 1500-watt steam iron with a dial temperature control and adjustable steam setting. Together with its ceramic soleplate, steam jet, and auto shut-off features, it seems pretty ordinary for a steam iron. But what sets it apart is its double-tipped soleplate. It is claimed that this allows you to iron faster because you can glide the iron in any direction without causing any creases.
Panasonic Multi-Directional Iron Selling Points
As the name implies, the main attraction is the multi-directional capability of this iron. With conventional steam irons, the soleplate has a single pointed tip with a straight back. This may cause the fabric to snag or create creases when you move the iron backward or sideways. With a curved elliptical design, this problem is solved. You can move the iron in any direction and hence, the ironing should now be faster. In fact, the claim is it should speed up ironing by 25% compared to using the conventional corded Panasonic iron. With the faster speed, it also means the steam iron should be easier to use. After all, if it doesn't snag the fabric that you are ironing, that is already one less problem that you have to face. I have also considered the price when listing this under the best steam iron category. It is a mid-range iron that doesn't seem overpriced for its innovation and functionality. The design is unique to Panasonic and this puts it in a class of its own.
Rowenta Steam Force Steam Iron
==> Check Price I'm actually a bit reluctant to put a Rowenta in the best steam iron list. The brand seems to be gaining notoriety for its short lifespan and leakage problems for many of its steam irons. There are plenty of buyers' reviews on Amazon that speak of leakages and other problems. So, why do I still include the Rowenta Steam Force steam iron here? Because when they work, the high-end Rowenta irons are still in a class of their own. The Rowenta Steam Force is an 1800-watt iron with an integrated electronic steam pump that delivers a powerful burst of steam and pushes up to 30% more steam into the fabric. It has a stainless steel soleplate with non-stick coating and 400 micro steam holes. It also has a one-touch control with a LED digital display, auto shut-off, and smart steam motion sensor.
Rowenta Steam Force Iron Selling Points
The first thing that will strike you about the Rowenta Steam Force is the amount of steam it is designed to emit. An insufficient steam output is a common complaint from many about their clothes iron. So, this model aims to solve that problem with a pump injection technology to push more steam into the material that you are ironing. The second thing that would make you sit up and take notice is its weight. This is a heavy unit weighing over 3.8 lbs. Most other steam irons would weigh around 3 lbs. So, it is not for everybody but if you like a heavy iron with plenty of steam to get professional-like results, the Rowenta Steam Force is the iron to look at. On top of that, the water tank capacity is 350 mL which is huge compared to the usual 200 to 300 mL. Thus, this is a rather heavy steam iron for those who like the weight. Lastly, for an 1800-watt iron, the heat plus the steam would make it ideal for ironing cotton and linen. For those who like really hot steam irons, Rowenta irons tend to excel in this aspect. A note of caution though. While the Rowenta Steam Force is in the best steam iron list here, the price is on the high side which makes it a more risky buy due to the various complaints by buyers. When it works, it is a very good iron. But when it doesn't, that's when you might feel that this a rip-off due to the price.
Sunbeam Steam Master Iron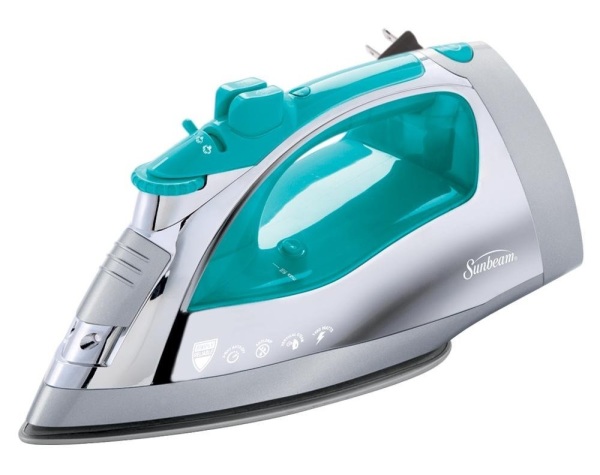 ==> Check Price From a highly expensive Rowenta iron, let's move on to a cheap steam iron. Cheap doesn't mean it is not good. It is just that its design does not allow it to achieve a higher level of performance in certain areas such as heat generation or steam output. If you don't require super high heat or you can live with a minimal steam emission rate when you iron, a cheap steam iron can also work well for you. I used to like the Panasonic NI-E660SR Adjustable Steam Iron better than the Sunbeam Steam Master because of its U-shape soleplate. But the price differential seems to have inched up and the latter is now looking to be a more economical buy. After all, if you are looking at cheap irons, every $5 difference would seem like a lot, especially in terms of percentages. The Sunbeam Steam Master is a 1400-watt iron with a stainless steel soleplate and a variable steam control feature. It is also a retractable cord iron with a shot of steam, spray mist, and auto shut-off function.
Sunbeam Steam Master Selling Points
The price will get you to take a second look at this iron. It is definitely a best buy-kind of product with a fairly high customer rating. Not surprisingly, it is also the top-ranked item in the bestsellers list for iron on Amazon at the time of writing. For something that is so affordable, there is a lower purchase barrier and buyer expectations. As long as it works reasonably well, people will be happy with what they have bought and this is where the Sunbeam Steam Master shines. Another selling point is its retractable cord. While the CHI steam iron also has this feature, the price point is vastly different. This Sunbeam iron is at the lower end of the spectrum and will appeal to people on a small budget and yet, still prefer a retractable cord for easier storage. The last point that I want to make about this iron is that the features are complete although the price is low. The usual features that are present in more expensive models can be found on this Sunbean Steam Master Iron too down to the anti-drip and vertical steaming capabilities.
Which One To Buy?
Price is not the only factor to consider when buying a steam iron. There are other considerations too like your ironing load and frequency. Weight, cord length, soleplate material, steam output, and water tank capacity are some of the other factors that could play a role in your decision-making. Hence, which is the best steam iron to buy will differ from person to person because of different preferences and ironing habits.
What's The Latest Offer On Steam Irons? Check it Out Now:

That is why I have included in the above different types of iron designs with different selling points and price ranges. Hopefully, this can give you an idea of where to start looking and what features are more important to you when you hunt for the best steam iron for your needs.
Ironing Board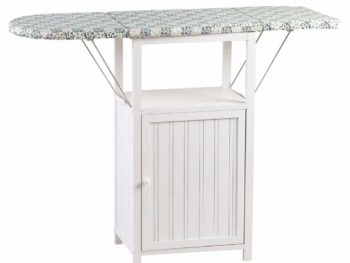 Generally, the sizes of ironing boards are pretty standard. Most standing units will have a board…
Laundry Talk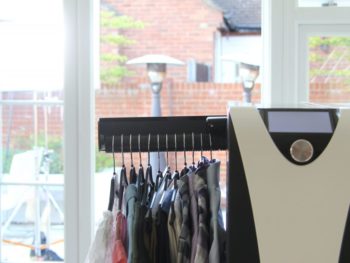 I think nobody would disagree if we said that ironing is time-consuming. Not only that, it…