In recent years, Shark steam irons are gaining popularity due to their attractive pricing. There is also a few models available with slightly different features. The Shark iron reviews below will look at 2 models that are selling quite well in the market. They fall into the low to mid-range steam irons category which is what most people tend to buy. They are not too cheap that they can't remove wrinkles smoothly nor are they too expensive for what is essentially a simple, small household appliance.
Shark Lightweight Professional Steam Iron Review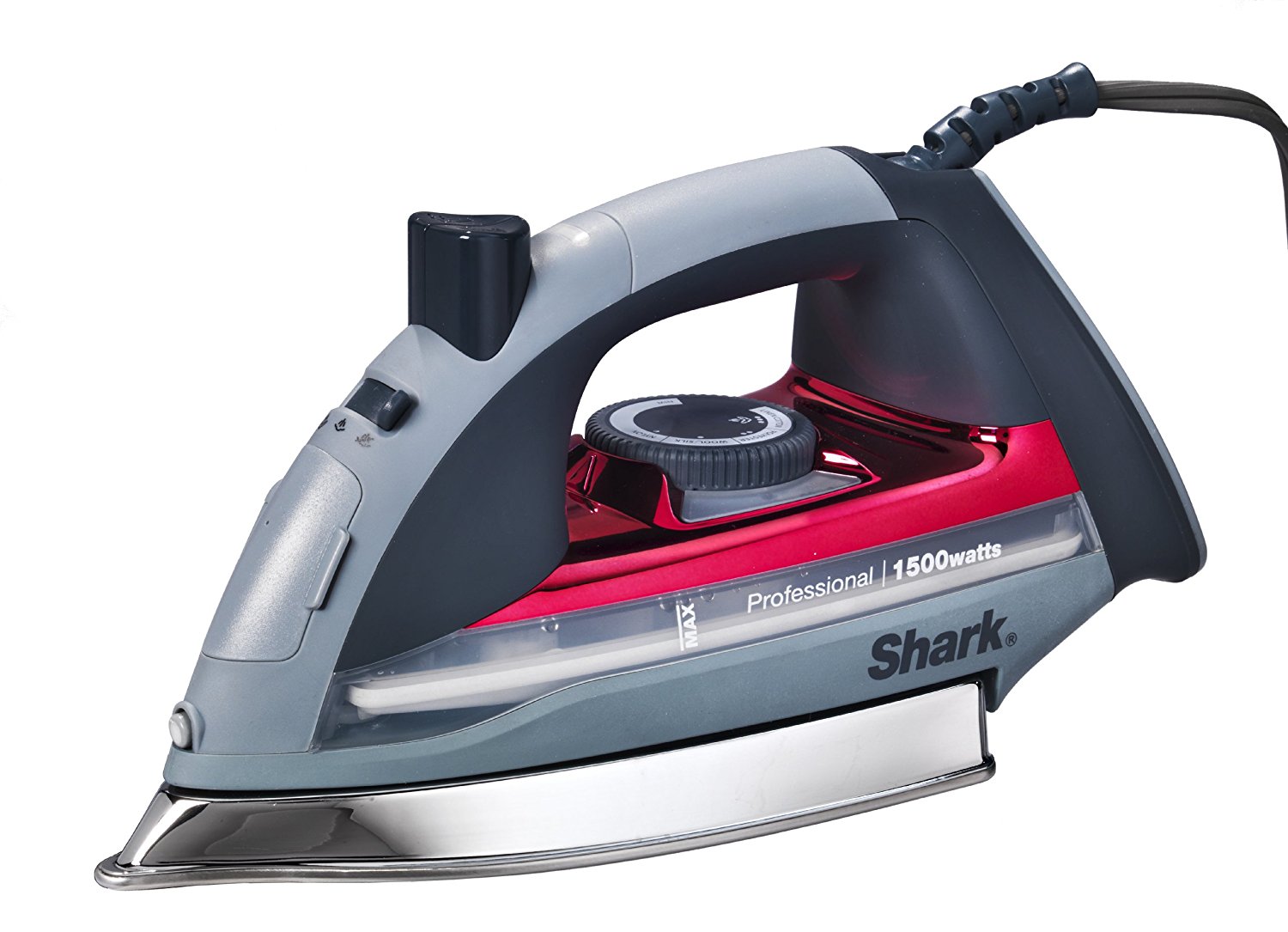 Let's take a look at the features of the Shark Lightweight Professional Steam Iron GI305 first:
1500-watt
8.5″ stainless steel soleplate with SmoothGlide technology
Anti-drip
Auto shut-off
Vertical steam
Steam burst
Spray mist
Size: 10.09″ (H ) x 4.6″ (W) x 5.6″ (D)
==> Check Price
The Shark Lightweight is not particularly large in size compared to say, the Rowenta Focus Steam Iron. So, it is good if you want a lighter unit. The features are pretty standard with a stainless steel soleplate that glides smoothly. Different-sized steam holes dot the soleplate which also has a pointed tip that fits the button area.
You can fill 260 ml of water in the tank and use the steam burst feature for stubborn creases and vertical steaming. A knob is used to control the heat settings or fabric selection. The iron has multi-position shut-off for safety. It has an 8-foot power cord which is a common length for steam irons.
Pros
Lightweight – The Shark Lightweight Professional Steam Iron weighs less than 3 lbs which is similar to the Black & Decker Professional Steam Iron. This is considered light when compared to some Rowenta irons that go up to 4 lbs. A lightweight iron can be easier to handle, especially when filled to the maximum with water.
Heats up quickly – The iron can heat up to the highest setting in under a minute. On average, it will take 30 seconds to get it to intermediate heat which is pretty impressive for an that costs less than $30.
Cheap – This is not the best iron out there but the price is still very reasonable for the quality and performance out of the box.
Good steam output – The steam output is high when it is on the hottest setting. Most wrinkles can get easily removed at this setting.
Narrow soleplate tip – This soleplate design is great for ironing around shirt buttons.  The small-sized soleplate is also practical for ironing smaller-sized shirts and blouses as it is less clumsy to maneuver.
Cons
Temperature knob location – The knob gets hidden by your knuckles when you grip the handle. This also means it is easy to move it a few notches inadvertently when you are doing your ironing.
Hard to gauge water level- The design is such that it is hard to gauge the water remaining in the tank. A steam iron with a better design in this aspect would be the Panasonic Multi-Directional iron.
Drips water – The iron does drip a little, especially when it is on the low setting. It can get annoying but is a common complaint for all steam irons.
Replaceable – There are buyers who complained that it didn't last beyond 1 year. It leaks or just fails to heat up.
Shark Professional Steam Power Iron Review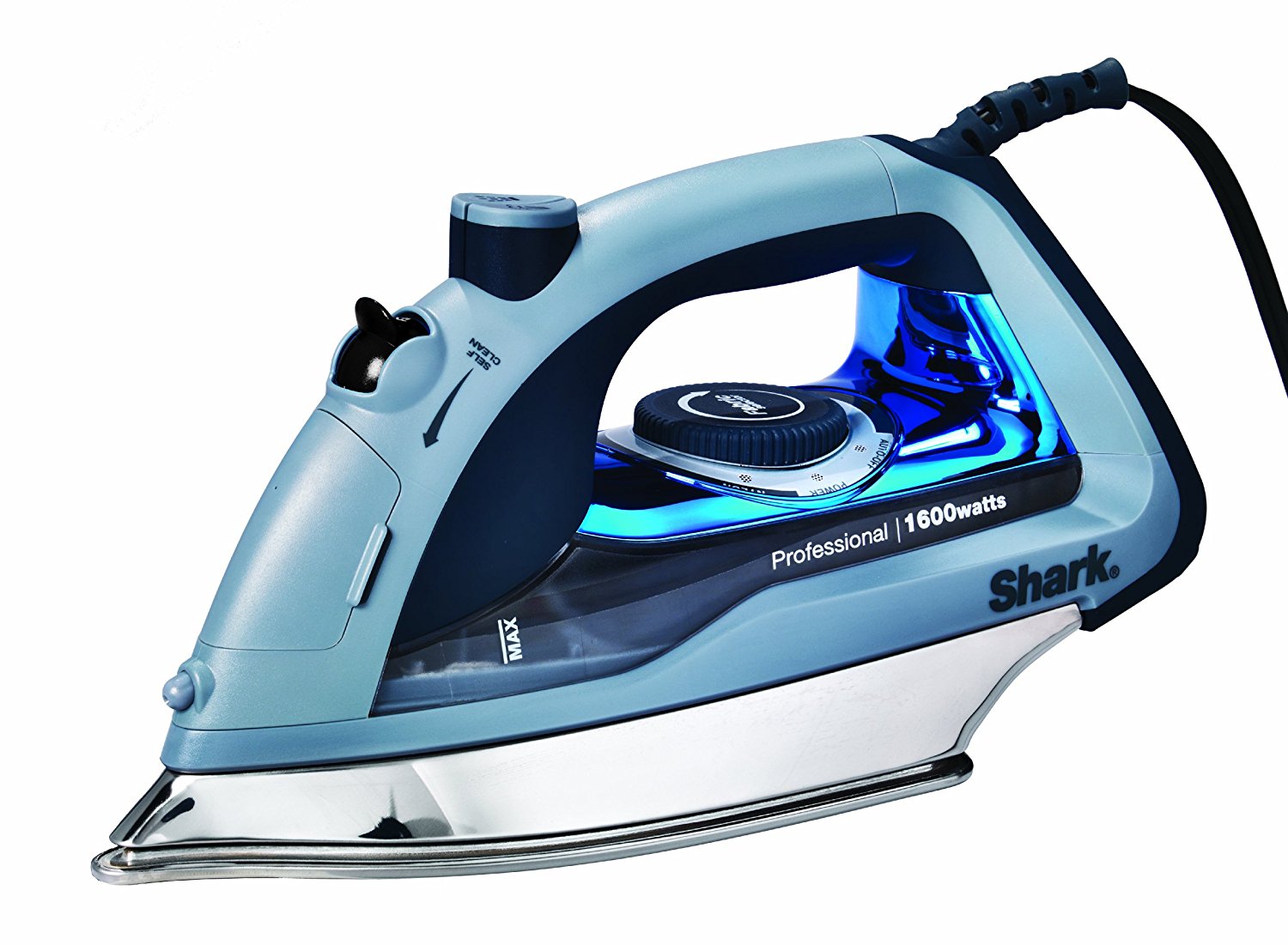 For the Shark Professional Steam Power iron GI405, the features are slightly more advanced than the Lightweight model above:
1600-watt
9″ stainless steel soleplate with Advanced Stability
Electronic fabric selector dial
Anti-drip
Auto shut-off
Vertical steam
Steam burst
Spray mist
Size: 11.9″ (H ) x 4.8″ (W) x 5.9″ (D)
==> Check Price
There are a few differences between the Lightweight model and the Professional. Firstly, the latter has a higher wattage at 1600 watts. Secondly, the Shark Professional has a slightly bigger soleplate. Thirdly, the water capacity is bigger at 300 ml for the Professional compared to 260 ml for the Lightweight. Lastly, the selector dial design is different. There is an electronic element to it as it lights up with the settings.
In terms of weight, the iron is heavier at about 3.3 lbs since it is also slightly bigger in size. The cord length is the same at 8 feet.
Pros
Appealing price point – Although it is more expensive than the Shark Lightweight, the price point is still appealing to those who are looking for a heftier iron with a solid feel.
Big water tank – The 300 ml water tank is comparable to the high end irons like the Rowenta Steam Force. This means you don't have to refill as often when you iron. Furthermore, the water inlet hole is big enough which makes it very convenient to refill.
Glides well – The soleplate is smooth and it glides well across fabrics. The steam generation is also high on the high settings to make your clothes look more professional.
Cons
Steam button sticks – There are many complaints about the steam button getting stuck after a few months of use which renders the steam burst function useless.
Fails – There are also a few issues with the iron leaking and failing to heat up after about a year or so.
Hard to determine water level – Like the Lightweight model above, there are users who find it difficult to see the water level in the tank. It is hard to find out at a glance especially for those with poorer eyesight.
Shark Iron Reviews : Which One Should You Buy?
After going through the Shark iron reviews for the 2 models above, which one should you buy? At the time of writing, the price difference between the 2 models is only about $10. The difference will buy you a bigger soleplate, higher capacity water tank and higher wattage.
Bearing in mind that steam irons are replaceable items nowadays, people tend to go for the cheaper models. However, there are limitations to cheap steam irons. For example, they may not have the weight to make ironing easier and more effective. The wattage also tends to be lower.
Any Great Deals For Steam Irons? Don't Miss Out:
Given these limitations, the Shark Professional would be our pick out of the 2 steam irons. The price point is still acceptable given the durability risks. It is a good iron for the price if you can bear with the possible short life span. If you want even higher wattage, then you would need to go one step up and look at the Shark Ultimate Professional Iron.