Not many people would spend a few hundred dollars on an iron. But the Reliable i300 is not merely an iron but a complete ironing system with a boiler tank to continuously generate pressurized steam. It is a professional grade quality appliance and yet compact enough to be suitable for home use. While the price is prohibitively expensive for most, it could be worthwhile for those who need their clothes to have that perfect, crisp look. Or could it? Let this review reveal more.
Reliable i300 Iron Review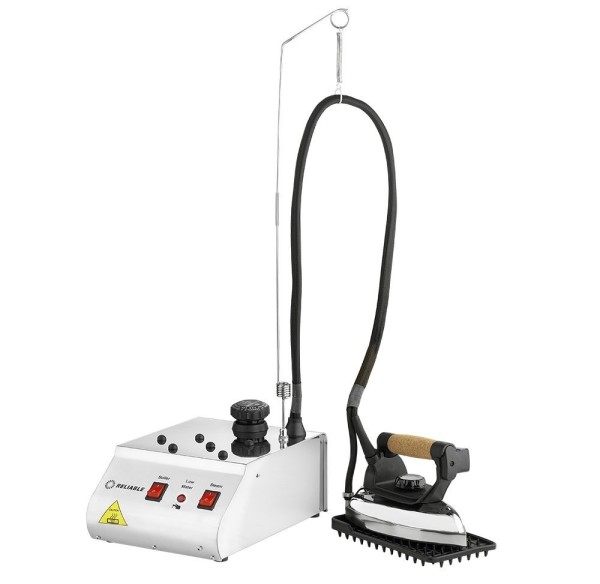 The features of this ironing system include:
1500-watt (iron and boiler)
35 PSI; 2.5 bar operating pressure
12-gauge heavy duty wiring
Stainless steel tank
Low water indicator light
Copper heating element
Silicone iron rest
4 safety system
Thermostat reset
1.4 liter water capacity
Size: 13″ by 9″ by 11.5″
==> Check Price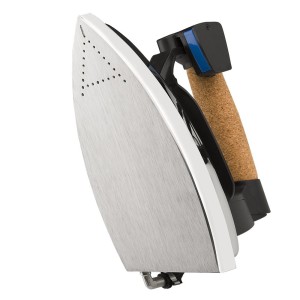 For Reliable ironing systems, the i300 is the entry level unit for those who want a compact but professional quality product. It has an all stainless steel tank and outer casing with a lifetime guarantee offered on the pressurized boiler tank. There is convenience of a low water indicator light with a thermostat reset system that shuts off the heating element when water is running low. This prevents the heating element from suffering a burnt out.
Apart from the low water indicator, the Reliable i300 also has other safety systems including a pressure switch, probe safety thermostat on the heating element and a safety cap with safety valve. You can use regular tap water or a 50% mix of tap and distilled water with the unit. A funnel and water stick are also supplied to fill the tank and measure the water level inside respectively. If water is low, you can add in warm water while the unit is in operation and reset the thermostat to get the pressure to build again. It takes about 10 to 15 minutes for the boiler to heat up before you can begin ironing and you can get about 2 hours of contrinuous steaming with a full tank.
The selling point of this ironing system is the quality, dry, pressurized steam produced. Basically, pressurized steam helps to soften the fabric fibers faster and combined with the heat and weight of the iron, you can then flatten the fabric to get that fresh and crisp look. The Reliable i300 iron has an aluminum soleplate with steam vents near the tip. The iron weighs 3.9 lbs and ahs a cork handle. The steam hose that connects the iron to the boiler unit is about 6 feet while the electrical cord length is 5 feet.
Reliable i300 vs i500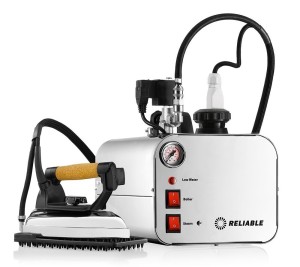 The Reliable i500 is another model in this series. It has a bigger tank at 2.5 liters to give you 4 hours of continuous steaming. 1800-watt in total, it has 50 PSI (3.5 bar operating pressure). The steam hose is also a foot longer at 7 feet.
Should You Buy The Reliable i300 Professional Ironing System?
Pros
Better finish – Cusotmers who bought the Reliable i300 think it gives a better finish to their clothes than regular irons. The clothes come out crisper and depending on what you iron, it can also be faster. For example, you can get the seams and folds in place much quicker with this unit if you are into sewing. Even a Rowenta iron may not be able to give you such quick results.
More steam control – You can get plenty of steam even at low temperature settings like nylon and silk. You can also iron thick garments like jeans with one or two passes and the wrinkles will disappear on both sides with the powerful steam and heat from the iron.
Easy to operate – While it is a professional grade ironing system, the unit is simple to use. One button each to turn the boiler and iron on and then wait about 10 minutes for the steam to build up. The iron has a temperature dial and steam button like regular irons do making it intuitive to use. You can also refill the tank when the unit is in operation unlike the Rowenta DG5030 Pro Iron Steam Station.
Compact – The unit is compact and as an indication, it can fit onto a standard ironing board. Although it is a professional grade unit, the size is just right for home use.
Cons
Expensive – The Reliable i300 is a pretty expensive iron for home use. Although it is on the cheaper end for a commercial grade unit, it still costs about $200 more than the Rowenta DG8430 Pro Precision Station and the DeLongi Stiromeglio Compact Pro 300. No doubt these are smaller units than the Reliable i300 with less water capacity, but they could still be sufficient for those who have about an hour's worth of ironing load each time.
Water level check – Although there is a low water indicator light, there is no way of knowing how much is left inside the tank without opening up the safety cap and dipping in the water stick.
May still leak – At the lowest temperature setting, the iron may still leak a little as some customers have mentioned.
Takes time to heat up – 10 to 15 minutes is a long wait for some. But for sewers, there is no auto shut-off to contend with and once it gets going after 10 minutes, you are good to go for the day. For lower usage volume whereby a regular iron is sufficient, you can also take a look at the Rowenta DW5197 which also has no auto shut-off feature.
The Reliable i300 isn't suitable for heavy commerical use even though it is marketed as a professional ironing system. You won't be able to do mass steaming with this model. Maybe that is why more people seemed to be buying this for home use rather than for commercial purposes. The compact size and 2 hours of continuous steaming are just more ideal for home ironing.
Free Shipping For The Reliable i300 Iron? Don't Miss Out:
While expensive, the i300 is a step up from conventional irons. If you are serious about ironing and getting perfect results for your clothes, then of course, it is worth the investment. The majority of customers who have used this unit also felt that the results are good and hence, worth the purchase. But bear in mind that you might also need to invest in a heated vacuum ironing board to get the best out of this kind of ironing system. That would be the additional cost that you need to bear which could make the total investment cost higher than anticipated.