It is always freer to be able to iron without the power cord getting in the way. With the cord dangling out from the back of the iron, you have to re-position it often which is a hassle. But with the Panasonic NI-L70SR, you will be able to iron without having to worry about the cord tugging and creating new wrinkles on your clothes. While it is a convenience, can this cordless iron perform up to expectations? Let's check it out in this review.
Panasonic NI-L70SR Review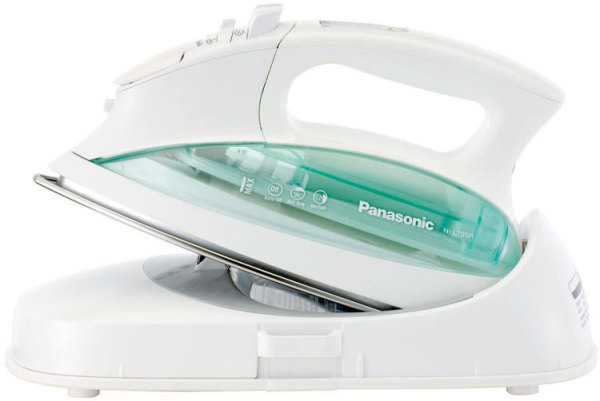 The features of this cordless iron are:
1500-watt
Stainless steel soleplate
Anti-drip
Stay-clean vents
Adjustable steam
Electronic temperature control
Vertical steam
Steam burst
Spray mist
Auto-off
Detachable water tank
Retractable cord
Carrying case
Size: 11.9″(L) x 7″(W) x 8.2″(H)
==> Check Price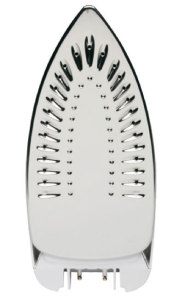 The Panasonic NI-L70SR is a 1500-watt iron with a curved stainless steel soleplate. On the soleplate are steam holes which run along its sides. There are also indentations to trap air pockets so that the iron could glide more smoothly across fabrics.
Instead of a temperature dial, the iron uses a micro processor to control the temperature settings – Off, High, Medium and Low. The control is located on the handle and there is an indicator light as well to warn you when the iron is hot enough for use. The steam setting is a switch at the front of the iron and you can choose among Dry, Low and High for different kind of fabrics. You can also use the steam burst option for vertical steaming and the anti-calcium system will ensure that vents stay clean by minimizing sediment built-ups.
The water tank is detachable by pressing a small button and you can refill it at any time while the iron is operating. The water capacity for the Panasonic NI-L70SR steam/dry iron is slightly over 5 ounces. The iron sits on a charging base which also has a retractable cord that is about 6-foot long. Each time when you re-position your clothes while ironing, you will have to place the iron back on the charging base for it to maintain its temperature. As a safety measure, the auto-shut off feature will ensure that the base is shut off if the iron is unmoved after 10 minutes.
This Panasonic cordless iron also comes with a heat resistant carrying case.
To learn more about the features of this iron, you can watch the short clip below:
Should You Buy The Panasonic NI-L70SR Cordless Iron?
Pros
Cordless – If you want to go cordless, there are really not many models around for you to choose from. The Panasonic brand is definitely the most popular for cordless iron and it is indeed a nice change from corded models for freer movement all round. As some reviewers have mentioned, once you have tried out a cordless iron, you would never go back to a corded unit.
Easy to refill – The detachable water tank makes it extremely easy to refill. You don't have to worry about water running down the iron and there is no necessity to shut off the unit either in order to refill. The clear green reservoir also means you can easily check out the water level at a glance. Another clothes iron with a detachable tank is the Panasonic 360 Freestyle which is another cordless model.
Electronic controls – No more fiddling with a dial for temperature setting. Usually, this dial is located beneath the handle which makes it hard to see and adjust. For the Panasonic NI-L70SR, you can change the temperature by simply pressing a button.
Powers up quickly – It does not take long for the iron to heat up although it is a cordless version. It only takes about 2 to 3 minutes before you can begin ironing and it retains heat well enough to help you quickly finish your chore.
Cons
Small tank – The tank only has a capacity for about 5 ounces of water. Comparatively, the Black & Decker D2030 can fill up more than 10 ounces of water. This means you will need to refill more often although the detachable option does make it more convenient.
Not hot enough – There are customers who feel that the iron is not hot enough for certain tasks like ironing heavy linen and thicker materials.
Stopped working – There are also complaints that the unit stopped working after a few short months. However, these complaints are few as the majority of reviews are overwhelmingly positive overall.
The Panasonic NI-L70SR does not come cheap. Its price is comparable to the Rowenta DW8080 Pro Master which is a 1700-watt iron. So, there is a price to be paid for the convenience of going cordless. But it is easy to use and there are many who think that it is worth the money because fighting the cord is a hassle and there is also the safety aspect to consider.
Free Shipping For The Panasonic NI-L70SR? Check It Out Now:
However, this cordless iron is not for everyone. It would not work if you have the habit of ironing longer than usual before setting the unit down to rearrange the garment. The unit needs to go back to the charging base to reheat which is why some users will find it does not retain heat long enough to make it work for them. Similarly, if you have a lot of large items to iron like curtains whereby you do not need to put the iron down as often, neither would this model work for you.
The bottomline is the Panasonic NI-L70SR cordless steam iron will work for the majority of ironing tasks. But it does lose out to those $100 corded irons when it comes to high heat settings which us why it is not the iron to depend on if you want a super hot unit for thicker materials. But for other everyday ironing tasks, this will be a joy to use.