At first glance, we see this as a fun little iron. Its roundish shape makes it kind of cute but don't let its appearance fool you. It packs quite a lot of features into its small frame and it attracts lots of positive reviews overall. You just have to see it in detail to know if it is the iron you need for your home. This Panasonic 360 Freestyle iron review will try to get the full picture of this modern-looking appliance.
Panasonic NI-WL600 Review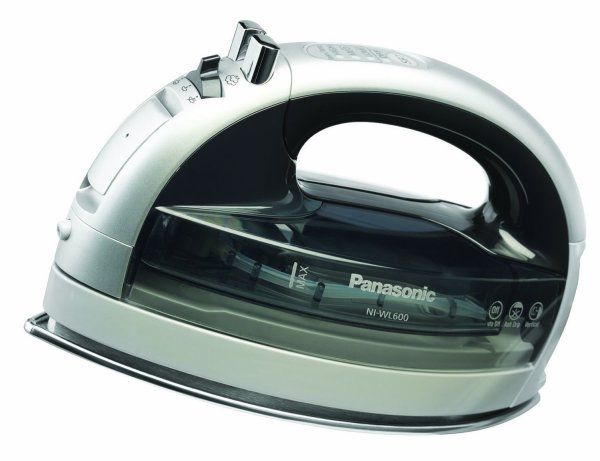 The Panasonic 360 Freestyle iron under review here carries the model number NI-WL600. The features are:
1500-watt
Curved stainless steel soleplate
Variable steam
Electronic temperature setting
Anti-drip
Anti-calcium
Burst of steam/Self-cleaning
Vertical steaming
Spray mist
Cordless
Detachable water tank
Auto-off
Size: 5.1″ (H) x 8.7″ (D) x 3.9″ (W)
==> Check Price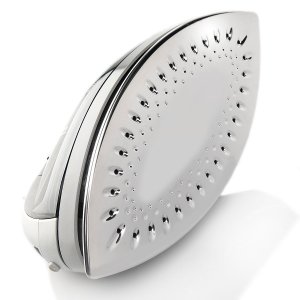 The NI-WL600 is one of Panasonic's newer cordless irons. When you want to go cordless, there are really not many choices around and Panasonic is the one which dominates this segment of the market.
For this particular model, it is a 1500-watt iron with a curved stainless steel soleplate and a double tip. That means you can move the unit back and forth without creating further creases on your clothes due to the pointed tip on both ends. It is also designed this way so that you don't have to switch the direction of the iron when you need to go around buttons and other tight spaces on the other end. It saves time and effort this way. All along the sides of the soleplate are the steam vents.
There are 3 temperature settings for you to choose from and instead of a dial, it uses a push button micro processor located on the handle. The steam settings is a switch with 3 options – high, low and dry.
The notable feature is, of course, its cordless nature. Instead, you have a charging base for the iron which comes with a retractable cord. The cord length for the base is about 6 feet. You need to plug that in and leave the iron in the charging base to let it heat up. Once it is ready, the indicator light will stop blinking and you can start ironing. Each time you rearrange the garment, leave it in the base for it to reheat. It just takes 8 seconds before the iron is ready for use again. The iron is designed to keep its temperature for up 30 seconds before it needs recharging. However, studies show that the average time people take to iron before putting the unit down is only about 10 seconds.
The Panasonic 360 Freestyle iron also comes with a detachable water tank. That means you don't need to bring the whole iron to the sink to refill. You can leave it charging in the base and detach the water tank for refilling. The tank capacity is 4 ounces. The appliance will also shut itself off after 10 minutes if left unmoved charging in the base.
Below is a short clip that introduces the features of the Panasonic NI-WL600. Watch it and you will understand more how this cordless iron works.
Should You Buy The Panasonic 360 Freestyle Iron?
Pros
Great maneuverability – The design of the soleplate means you can iron in all directions without leaving creases all over the place. The movement feels natural and the stainless steel soleplate also helps with the glideability. Most users are satisfied with the movement of the iron and feel it maneuvers easily across fabrics. If you want a similar soleplate iron but not a cordless model, you can take a look at the Panasonic NI-W810CS.
Heats up fast – Many people tend to underestimate the heat up time of a cordless iron. For the 360 Freestyle, it heats up in a minute and you are ready to go pretty quickly once the charging base is plugged in.
Cordless – There is no cord to keep pushing out of the way. Ironing is one thankless task and with other inconveniences built in, it is even more depressing to do. But as many buyers have commented, the cordless nature makes ironing easier and together with its light and nimble design, ironing with this unit has become less of a tiresome chore.
Convenient to carry around – The iron comes with a carry case which makes it easy to take it anywhere you go. It would be great for those going for sewing classes as everything fits nicely in a box.
Detachable tank – The detachable water canister is a nice feature that adds to the convenience of ironing. No more water spilling or dribbling all over the iron when refilling. Another Panasonic iron with a detachable tank is the NI-C78SR which also has a retractable cord.
Simple controls – The temperature setting is an electronic feature rather than a dial. Most of the time, these thermostat dials are located below the handle which is difficult to read and adjust but the NI-WL600 does not have this problem with its push button controls.
Cons
Not hot enough – This is a common issue with cordless irons. While many are happy with the performance of the 360 Freestyle iron, there are others who think that the heat output and retention are still inadequate. It is not hot enough to iron thicker materials and less efficient in getting rid of stubborn wrinkles.
Small water tank – The reservoir can only take in 4 ounces of water. Comparatively, the much cheaper Black & Decker Digital Advantage iron take in over 10 ounces of water. So, the water tank is on the small side compared to other steam irons with the most common tank sizes being 8 to 10 ounces.
Small soleplate – Being small in size, it is not suitable for all uses. A bigger iron like the Rowenta DW9080 would be a better choice for ironing large items like curtains and table cloths.
Price – The price of the Panasonic NI-WL600 is expensive, costing over $100 at the time of writing this review. If you want a cordless model, the Panasonic NI-L70SR is about $15 cheaper. Even the more powerful 1700-watt Rowenta DW5080 costs much less. Of course, there is premium to be paid for being cordless but to some buyers, it is overpriced for a small iron.
We don't recommend the Panasonic 360 Freestyle cordless iron if you are looking for a workhorse to iron a wide variety of items. Many buyers have noted that the heat level is not sufficient for heavy stuff and hence, you may not get perfect results for denim and thick cotton. Large, thick items may also require more time to complete using this iron compared to a bigger, hotter unit. In short, this cordless iron is not the one to get if you want a really hot iron that gives crisp results. For that, you will need to go back to the dreaded corded irons.
Free Shipping For The Panasonic 360 Freestyle? Don't Miss Out:
So, buy it only if you value convenience over perfect results. Light and easy to maneuver, it is a user-friendly iron without the need to battle with the cord. But beware of the trade-offs that need to be made by going cordless though.