Not everyone will be satisfied with the results of a regular iron. The shirts may not be crisp enough or the performance of the iron itself is somewhat lacking. But to invest in a professional-grade ironing system could be too expensive just for a few hours of use each week in a typical household. So, the next logical step up would be to get an iron with a boiler for home use. The DeLonghi Stiromeglio Compact Pro 300 is one such iron.
DeLonghi Compact Pro 300 Review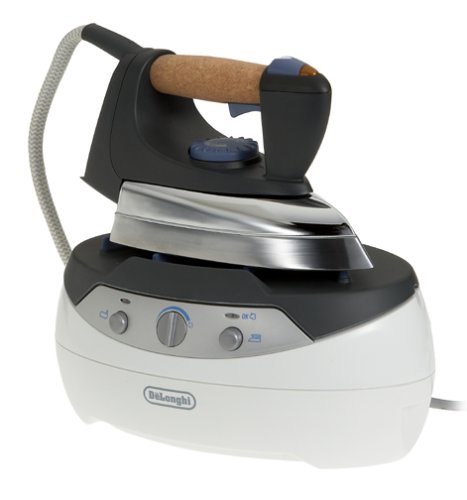 The features of this home use ironing system include:
1500-watt
3.5-bar boiler pressure
Brushed aluminum soleplate
Adjustable steam
Indicator light
Vertical steam
Continuous steam lock
1 liter water tank
Adjustable steam cord
Size : 10″ x 13″ x 12″
==> Check Price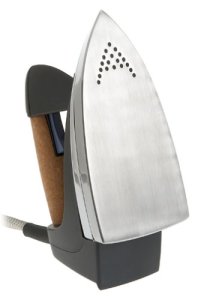 The Compact Pro 300 is made up of the boiler tank and iron, both of which have separate switches on the control panel with a steam ready indicator light. There is also a steam adjuster for different levels of steam emission to suit different kind of fabrics. The boiler tank itself is made of stainless steel with super alloy bottom. Thus, you can fill the tank with tap water without the calcification built up. With a 1 liter capacity, you can iron for approximately 1.5 hours before refilling is needed. So, make sure you have the best ironing board out there that can take the weight of the unit if you intend to have it on the iron tray. Heat up time is about 10 minutes.
The iron is connected to the boiler tank with an adjustable steam cord. This means you can switch the cord from one side of the tank to another to suit both left and right-handed users. The iron has a heavy gauge satin-polished aluminum soleplate for even heat distribution and smooth ironing with steam vents located on the upper portion. The cork handle is ergonomic and non-slip. To adjust the temperature on the iron, there is a dial located below the handle.
You can choose to iron dry by switching off the boiler. There is also a steam lock button for continuous steaming and a steam trigger.
Should You Buy The DeLonghi Stiromeglio Compact Pro 300 Iron?
Pros
Great-looking results – The iron gives good-looking results which help you save on your laundry charges. It can smooth out wrinkles on linen and jeans with a few more passes – thick clothing that a lot of irons can't handle that well.
Good steam capability – This is one of the reasons why people opt for boiler tank units rather than regular irons. The Compact Pro 300 gives out plenty of steam to make ironing effortless. It will also reduce your ironing time as a result.
Comfortable handle – The cork handle is a change from most other units which are typically made of plastic. Users find it comfortable to grip and stay cool while ironing.
Cons
Stuck button – A few users have complained that the steam trigger button on their unit became stuck or broken. It is a simple mechanical malfunction, but with a stuck steam trigger button, you will have no control on the steam release.
Long heating time – You need to wait for the boiler to heat up (about 10 minutes or so) and steam. This type of ironing system is certainly not designed for rush jobs in the morning.
No water level gauge – Quite a few buyers have noted that there is no information on the water capacity in the instruction manual. There is also no way of knowing how much is left in the tank unlike the Rowenta DG8430 which has a water window.
For ironing systems, the DeLonghi Stiromeglio Compact Pro 300 is not too expensive. It is cheaper than the Reliable IronMaven and even the Rowenta DG8430. But, of course, you will still need to spend considerably more if you are upgrading from a regular steam iron. If you are not keen to spend so much, the Rowenta DG5030 is another model to look at but this one has more complaints of spits and leaks to contend with. But the upside is it is about $90 cheaper at the time of this review.
Free Shipping For the DeLonghi Compact Pro 300? Don't Miss Out:
The DeLonghi Pro 300 is worth a buy if you have a lot to iron at each session. It can reduce your ironing time even with the 10-minute wait for it to steam. The price is also at a more affordable range compared to other ironing systems. Complaints of spits do exist but are not prevalent which push us towards a buy recommendation for this unit. In fact, there are customers who made the switch to DeLonghi from Rowenta precisely because of leaks which is pretty common for the latter.