T Fal is best known for its affordable home products like cookware, toasters and deep fryers. Irons too are part of its wide range of product categories and the T Fal FV4476 is, in fact, one of the top selling steam irons in the market. It has a ceramic soleplate and while such a plate is smooth and gives less friction on fabrics, it is also not for everyone as it won't give as crisp a result as stainless steel irons.
Furthermore, each type of soleplate has its own set of good and bad points and what kind of materials you usually press should play a role in deciding on the type of iron to buy. For example, if you have a lot of synthetic items to iron, a ceramic soleplate would be a better choice since it is less likely to cling to the iron due to static electricity. For cotton, stainless steel irons would be more suitable to get the sharp lines on shirt sleeves.
If you have decided on a ceramic soleplate iron, let's take a look then at the T Fal FV4476 in this review.
T Fal FV4476 Ultraglide Easycord Steam Iron Review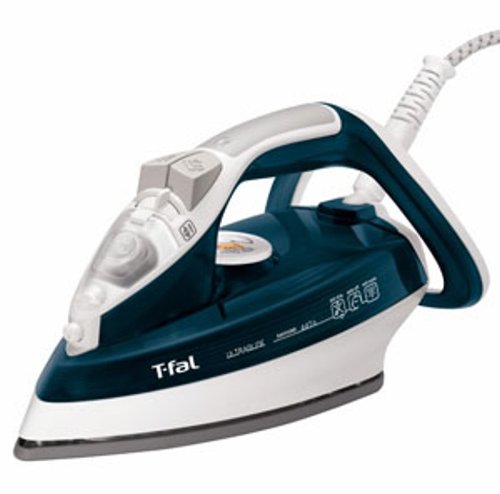 Among the features of the T Fal FV4476 are:
1700-watt
Ceramic soleplate that is scratch resistant and nonstick
Burst of steam (80gram/minute)
Vertical steaming
Continuous steam output
Easycord system
3-way auto shut off
Self-cleaning system with anti-scale valve feature
Anti-drip
Size: 5.9 by 11.1 inches
==> Check Price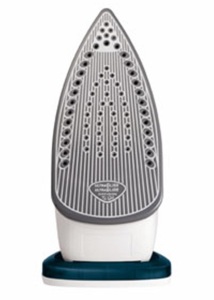 The ceramic soleplate has a total of 64 steam holes with 27 larger ones surrounding the sides of the plate and the remaining 37 microholes concentrated towards the center and the tip. The tip is pointed to make it easy to iron hard to reach places like in-between buttons and pleats. The soleplate coating is claimed to have unrivaled glideability and excellent scratch resistant properties.
The temperature dial is located underneath the ergonomic handle and there are 3 fabric settings for you to choose from. There is also regular and light steam options for different kind of fabrics. The burst of steam is available to get rid of stubborn wrinkles.
The iron uses the Easycord system which is patented and designed to stay out of the way so that it won't snag the clothes you are ironing. It exits at the back of the handle to minimize contact. As for the heel, it has a large triangular base which is supposed to allow the appliance to incline to a greater degree (17% more) to give it more stability. This way, it is less likely to topple over.
Apart from the self-cleaning feature, the T Fal FV4476 also has anti-drip built in. This feature prevents water from leaking when the temperature is not hot enough to generate steam. The iron auto shut off function will kick in after half a minute if the appliance is left on its side or soleplate and after 8 minutes if left idle on its heel.
This T Fal Ultraglide Easycord Iron has a 9-foot cord and 9 ounce water tank. The unit is designed to be used with tap water (except for areas with exceptionally hard water) and regular usage of the auto-cleaning feature is recommended to prolong its life.
Note: A very similar iron to this one is the T Fal FV4495 which is a step up to this model.
Should You Buy The T Fal FV4476 Steam Iron?
Pros
Moves smoothly – The ceramic coating makes this iron easy to use as it moves effortlessly across the garment you are pressing. It is slick and therefore, the chore should be less arduous with the T Fal FV4476.
Stable – The large triangular heel makes this iron very stable and for those who are prone to knocking irons off the board and onto the floor, this one should be a safer bet. It is well-balanced and less likely to fall over compared to other models.
Long cord – Most irons have 8 feet cords but this one has an extra 1 foot to make it 9 feet in all.
Cord is out of the way – The patented Easycord system works as designed as it stays out of the way and the iron does not sit on the cord when it is on its heel.
Large tank – The water reservoir can take a maximum of 9 ounces compared to the Panasonic NI-E650TR, another popular iron in the same price range, which only has a 7.1-ounce capacity. This means less re-filling is needed. Another iron that has a slightly bigger water capacity would be the Black & Decker D2030.
Cons
Water level check – Due to the color of the iron, the water level is a little difficult to see. You will need a closer inspection to check the water level each time rather than being able to do it at a glance.
Instructions unclear – The manual booklet that comes with the iron is not clearly written. A few reviewers have made the complaint that the pictures are unclear while the explanations are few.
Leaks – There are complaints from buyers that the T Fal FV4476 does not last and starts leaking after a couple of months. Some have the same problem after a year. The leaks are not only from the bottom, but also the top near the buttons and handle, as a few customers have noted.
Overall, the T Fal FV4476 Ultraglide Easycord Iron is a easy to handle, lightweight unit (weighs about 2.8 lbs without water) that will meet basic ironing needs and qualifies as a good steam iron under $50. That is why many buyers are happy with the heat generation and steam output while a few others do not think they are adequate. It simply boils down to your expectations of what an iron under $50 can do and what you are using the iron for.
Looking For A Good Deal For The T Fal FV4476? Don't Miss Out:
For the price (it is retailing at around $35 at the time of review), the FV4476 is worth a buy if you are ironing thinner materials rather than thick linens and drapes and, you prefer a ceramic soleplate which has less friction but not so crisp results. Also, if you have a lot to iron, a lighter unit will be less tiring on the hands compared to heavier ones like the top end Rowenta irons.
So, buy it for the price and brand name with the expectation that it is a basic iron. It works best for people who are shopping on a budget and are less demanding on having perfectly ironed clothes rather than for those who like professional-grade results each time.