Being a travel iron, the Sunbeam GCSBTR-100 certainly lacks a few features compared to standard units. You need to have a different level of expectation when it comes to a compact iron designed for traveling needs and if you can lower your expectation a notch or two, then you might find this model a good-value-for-money buy.
Sunbeam GCSBTR-100 Review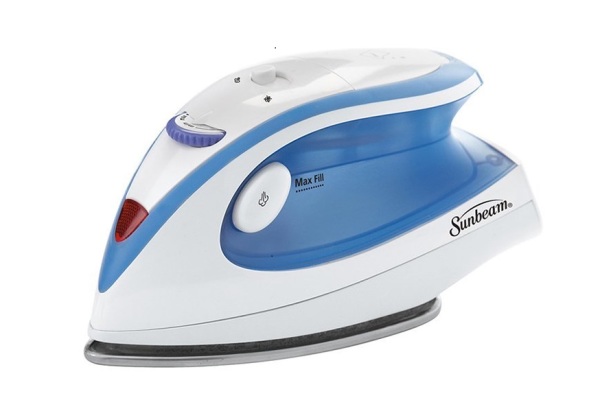 The features of the travel iron include:
800-watt
Dual voltage
Nonstick soleplate
Variable temperature
Shot of steam
Soft touch handle
Size: 3.2″ (W) x 6.9″ (L) x 3.4″ (H)
==> Check Price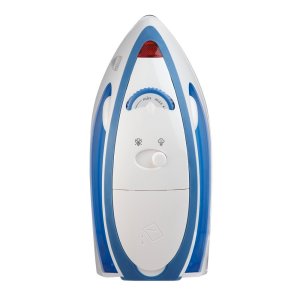 The Sunbeam GCSBTR-100 is also known as the Hot-to-Trot iron being designed for travel. As such, it has dual voltage capability, i.e. 240V and 120V.  It also has steam features with 7 steam vents found near the tip of the nonstick soleplate. A shot of steam feature is available with a push of a button located at the side, where your thumb normally rests when you grip the handle. The steam switch is found at the top and you can also shut it off by choosing the dry setting if you want to use it as a dry iron.
The temperature setting is a dial located at the front of the iron to accommodate different types of fabrics. There is an indicator light to let you know when the iron is hot enough to use after it is plugged in. Typically, you will have to wait about 2 minutes or so before it is fully heated up.
The handle is the soft touch type and you will be resting your palm on it with your fingers gripping the sides to move the unit around. You can use tap water with this Sunbeam travel iron and the reservoir capacity is slightly less than half a cup of water. The cord length of the GCSBTR-100 is about 8 feet.
Should You Buy The Sunbeam Hot-to-Trot Travel Iron?
Pros
Compact – The size is small. The width of the soleplate is hardly 3 inches with a length of less than 7 inches. It easily fits inside a carry-on luggage during your travels and is lightweight, weighing about 1 lb.
Steam feature – Being a compact iron, it still offers a shot of steam feature for the more stubborn wrinkles. You can smooth out a cotton shirt with this little iron by using the maximum setting. The steam output is not great but just enough to work things through for a compact unit. Most cheap travel irons do not offer a steam function. If they do, they will cost more than double the price of the Sunbeam GCSBTR-100 such as the SteamFast SF-717 Home and Away mini steam iron.
Heats up quickly – For a 800-watt iron, the Sunbeam Hot-to-Trot heats up within 2 minutes. Many customers also noted that it gets as hot as their regular-sized iron. In short, it works despite its cheap price.
Low price – The iron sells for less than $10 at times. At the time of this review, it is retailing at around $11 on Amazon. Its price is comparable to the Black & Decker F210 SmartTemp but this Sunbeam iron has slightly better reviews overall.
Cons
Leaks water – Complaints of the iron leaking are common. It leaks from the bottom as well as the top. So, some people find it usable only as a dry iron. Others experience slight dribbles in the beginning when the unit is plugged in. Overall, the seriousness of the leaks vary, but the risk is there when you buy this iron.
Doesn't stand up well – The cord is at the side which makes the iron difficult to stand well rather than exit away from the top like a regular iron does.
Odd handle – The iron does not have a handle that you can fully wrap around with your fingers. The design can make it hard to grip and push the iron down while ironing if you want to apply pressure to remove wrinkles or make creases.
To summarize, the Sunbeam GCSBTR-100 is not for big projects. It is not even suitable as a family iron. Bear in mind that the size is small – about the size of your palm. So, it will take you a long time to iron a week's worth of clothing if you are buying this as your primary iron.
Free Shipping For The Sunbeam GCSBTR-1oo? Find Out Now:
Use it as it is intended and it will work better. To us, it works best for touch-ups. When you travel, your clothes could get rumpled in the suitcase. The Sunbeam Hot-to-Trot will help you to touch up the affected areas. Also at 800-watt, do not expect it to get rid of wrinkles in one pass. It will take a few tries to smooth things out. Overall, we recommend a buy for this Sunbeam travel iron because it is easy to pack and cheap. There are really not many travel irons around that costs about $10 and with generally positive reviews. It is not perfect and neither is its ironing results, but nevertheless, it is still a risk worth taking at this low price point.