The Sunbeam Classic iron is a cheap steam iron with a nonstick soleplate. It is also known as the Simple Press iron. It is not a model you would want to depend on for ironing highly wrinkled linen and cotton, but for the price, you can't fault it for its performance either. Depending on your needs, this Sunbeam iron may or may not work for you. So, let us find out further in this review.
Sunbeam GCSBBV-395-000 Classic Iron Review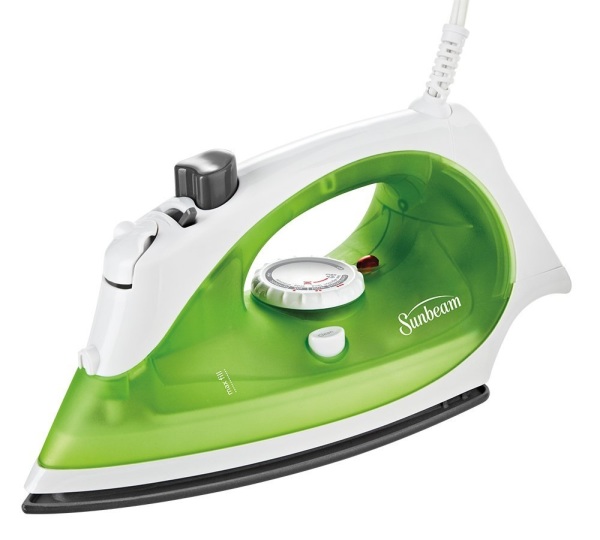 The features of the Sunbeam Classic iron are basic in design:
1100-watt
Nonstick soleplate
Anti-drip
Spray mist
Variable steam
Self-clean
Auto off
Size: 9.8″ x 4.2″ x 4.8″
==> Check Price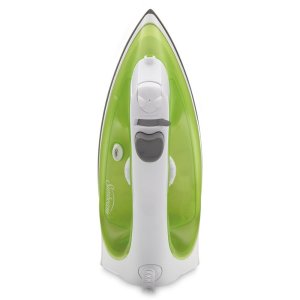 The unit is compact in size and lightweight. It has a nonstick soleplate for a smoother glide. 21 fairly large steam vents are found along the sides of the soleplate and a variable steam control option is available at the front of the handle. An anti-drip system is also built in to prevent water drips at lower temperatures.
The large spray mist button is conveniently located near your thumb when you grasp the handle. The fabric select dial and indicator light are found below the handle with the self-clean button located nearby on one side. Cleaning the unit once a month is recommended to flush out minerals for a longer lifespan.
According to the manual, heating time for the iron before it is ready to use is 2 minutes. The auto time off is a long 30 minutes if left unattended on its heel and 30 seconds if left horizontally on its soleplate. The cord length of the Sunbeam GCSBBV-395-000 is 8 feet and it is a 360-degree swivel cord. The iron weighs 1.5 lbs.
Should You Buy The Sunbeam GCSBBV-395-000?
Pros
Cheap – The selling price for this model is less than $20 at the time of review. Even the slightly more expensive Black & Decker F67E Classic does not have a spray mist function and self-cleaning system. So, for the range of features available, the price for the Sunbeam GCSBBV-395-000 can be considered cheap.
Compact – This is a small iron basic iron that is also light in weight. The iron's length of 9.8 inches is more than an inch shorter than the length of the Rowenta DW9080. It is also more than 2 lbs lighter. While not everyone likes a compact iron, it can be a perfect choice for those with weak arms and arthritis. You can also move a light iron faster than a heavier unit. Another cheap lightweight iron on the market is the Black & Decker F210.
Cons
Hard to remove wrinkles – Some buyers have complained that the iron does not take away wrinkles as easily as they would have liked. You might have to spend more time going over the same area to get acceptable results. The lightness of the appliance is certainly one reason for the problem, so be aware of the trade-off that you would have to make.
No shot of steam – This is one missing feature that could be a huge drawback for some. The shot of steam can be a very useful feature to get rid of stubborn wrinkles and there will always be times when you want to have stronger steam outflow for better results. A $20 iron with a steam surge button is the Hamilton Beach 14210R.
Water leaks – The anti-drip feature obviously isn't working for a few buyers when they made this complaint. Water may drip onto the clothes you are ironing when the steam function is on.
We don't recommend the Sunbeam GCSBBV-395-000 as your primary iron. We feel that it is better suited as a back-up or for other uses like sewing and craft. This is because it is too light with inadequate steam that getting rid of wrinkles is made more difficult. Therefore, the chore will take you longer to complete although being lightweight means it is easier to move it around. Of course, it could still work for you if you have very few items to iron each time and professional-grade results is not your main priority.
Free Shipping For The Sunbeam Classic Iron? Find Out Now:
For a better Sunbeam iron, the Steam Master could be the answer. It costs about $10 more but it is a larger, higher powered iron with more features to make the task a little easier. Generally, the more expensive the iron, the better is its performance although you will have to work out your own cost and benefit of spending more upfront.