The Shark Ultimate Professional Iron has a higher wattage compared to their other models. So, in terms of price, it is also more expensive. But apart from the high wattage, is there other features that are worth paying for? The Shark Ultimate Professional Iron review below will give us some answers if this model is worth buying. You can check out what are the main complaints from buyers and whether the advantages will work in your favour to cover the disadvantages that are present.
The Features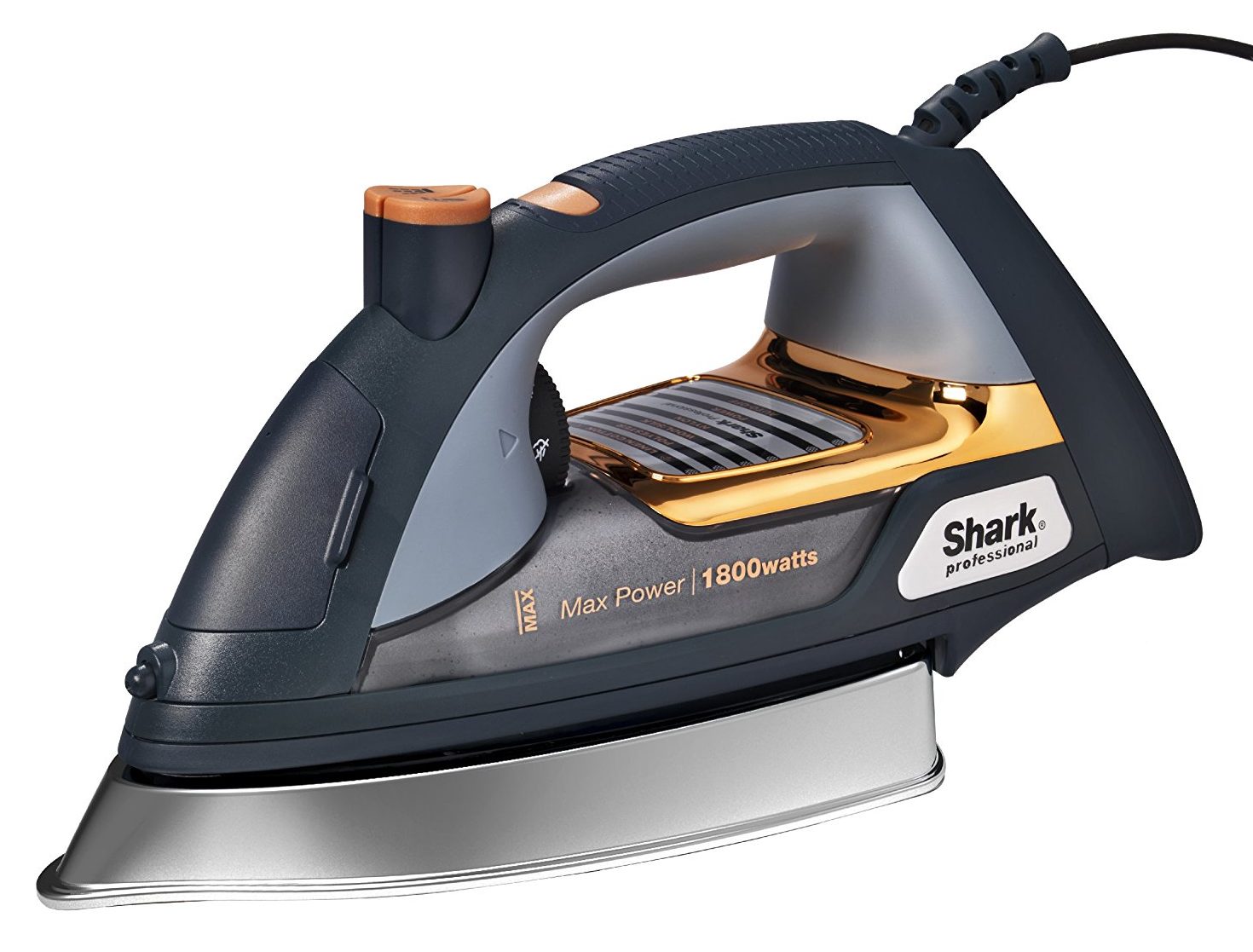 The features of the Shark Ultimate Professional Iron GI505 include:
1800 watts
Premium stainless steel soleplate with advanced stability
One-Touch electronic fabric selector
Anti-calcification
Anti-drip
Auto shut-off
Steam burst
Vertical steam
Spray mist
Size: 12.3″ (H ) x 4.9″ (W) x 6.1″ (D)
==> Check Price
With 1800 watts of power, the Shark Ultimate Professional's steam power is stronger than the Shark Lightweight Professional and Professional Steam Power irons. You can look at these 2 Pro-series models in further detail in the Shark iron reviews article.
The Ultimate Professional has a 9.5-inch premium quality stainless steel soleplate with a smooth glide. Unlike the usual knob for fabric settings, this model uses a one-touch electronic fabric selector. It also has an anti-drip and anti-calcification feature.
The iron turns off automatically when not in use. The steam burst and spray mist button is just within the reach of your thumb as they sit next to each other at the front of the handle. The fabric selector button is just next to it on the handle while the display panel sits underneath. The steam settings is a dial that is build on the inner side of the handle.
The tank can take in 300 ml of water and the swivel cord is 8 feet long.
Shark Ultimate Professional Iron Review : Pros And Cons
Pros
Solid feel – The Ultimate Professional weighs about 3.5 lbs which is comparable to the Rowenta DW6080 Eco-Intelligence iron. The weight makes it easier for you to smooth out the wrinkles as less downward pressure is needed when ironing.
Reasonable pricing – This iron won't burn a hole in your pocket as it does not belong to the best $100 irons category. In fact, its price point is far less than that at the time of this Shark Ultimate Professional Iron review. It is more like a mid-range iron than a high end model.
Big water tank – The 300 ml water tank is considered big for steam irons. The popular Panasonic Multi-Directional Iron only has a 200 ml capacity. If you want an even bigger water tank, you would have to look at the Rowenta irons which can offer up to 375 ml capacity.
Steams well – With 1800 watts of power, the steam output is more than adequate for most jobs. Most buyers are happy with the steaming capability.
Cons
Steam button fails – This is one of the main complaints. The steam button is suppose to come up to its original position after you have given it a press. But some users find the button getting stuck. You won't be able to get the steam going once that happens.
Leaks – There is a risk of water leaks. Some buyers have this problem even when the iron is still new. It spits water and makes ironing hard as you keep having to dry out the wet spots.
Stopped working – A few buyers have had the iron stopped working after a few months of use. It just went dead without warning when plugged in.
Should You Buy The Shark Ultimate Professional Iron?
The Shark Ultimate Professional Iron is not a really expensive iron. That makes it a reasonable buy if you are looking for a higher wattage unit. Most irons under $50 would have a wattage range of 1200 to 1700 watts. It is hard to find one that has 1800 watts of power at this price point.
Any Great Deals For This Shark Iron? Don't Miss Out:
So, in that sense, it is worth a buy because it would have enough heat to take away the wrinkles. While the cons are there in terms of potential defects, the more solid construction and high wattage are also necessary for better ironing results. When even the $100 irons have risks of leaks and other defects, this Shark iron seems like a acceptable substitute given its mid-range price point.