We have been looking at the reviews of ironing boards and realize that it is hard to find a perfect one. What works for one may not be ideal for another. Size, weight, height and padding thickness are some of the features that attract different preferences from users. While you may like a sturdy board, I may find it too heavy to carry and store. So, the best ironing board will mean different things to different people.
Below we have selected a few models for you to look at. These are best-sellers and enjoy high ratings from buyers overall. Take note of their features like size and weight when shopping around to get a clearer idea if they fit your needs.
Household Essentials Fibertech Ironing Board
We start off with the cheapest ironing board on our list – the Household Essentials Fibertech Mega Pressing Station. It costs around $50 to $60 at the time of writing, less than half than what you would pay for the top brands like Reliable and Rowenta. The ironing surface for this model measures 18″ x 49″.
==> Check Price
We like it because it has a detachable sleeve board which is not found on most other models. For some people, it would come in handy when ironing small areas. The other unique aspect of this Household Essentials ironing board is the biodegradable top. Made of natural plant fibers, it not only breaks down quickly when it is time for disposal but it is also fire-retardant and can withstand high temperature levels. The thickness of the fiber pad is 6 mm while the cover is made of 100% cotton.
Supported by 4 round metal legs (32 mm), it also has a lock to keep them in place during storage. You can adjust the height of the board with a lever and the highest setting is about 38″ from the floor. The unit weighs about 16 lbs.
While this is the cheapest ironing board among the few here, there are also quite a few complaints that it is not durable. Depending on how much you are willing to invest in an ironing board, this one works well when new but be prepared to replace it down the road.
Brabantia Solid Steam Ironing Board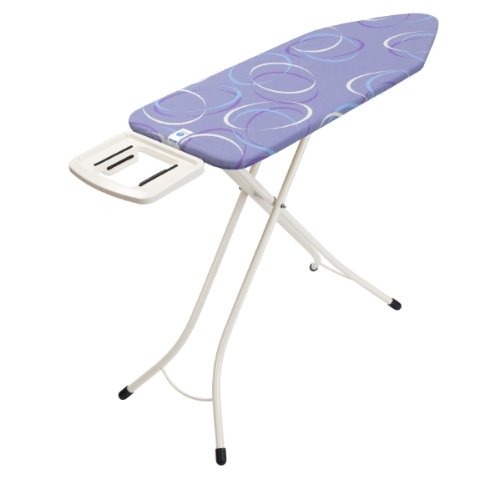 This Brabantia ironing board is more than double the price of the Household Essentials board above. A $100 to $150 price range unit, this one measures about 18″ x 48″. While similar in size to the one above, it is slighly heavier though, weighing about 19 lbs.
==> Check Price
This board has a 4-leg frame with a 25 mm diamteter steel tube. It also has a tranport lock for storage and a non-slip cap for the legs. The height is adjustable with the lowest setting at around 30″ and the highest at 38″. The underlay is made of foam/viscose while the cover is 100% cotton.
There is also a narrower version of this model with a surface measurement of 15″ x 48″. The leg frame is also thinner (22 mm) but it costs about $20 cheaper.
You pay so much for the Brabantia Solid Steam ironing board because it is well-made. Compliments for this model from buyers are aplenty – it doesn't wobble, it can withstand the pressure you put on it and it is large. The downside is, of course, the price, and it could be a little too heavy for some.
Reliable C30 The Board Ironing Board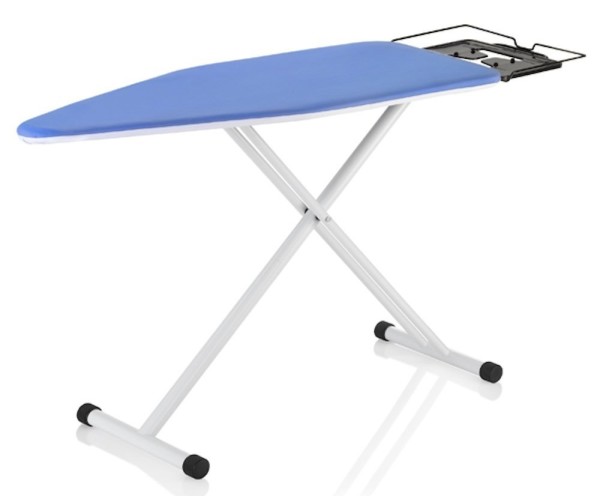 The Reliable C30 ironing board is in the same price range as the Brabantia Solid Steam, and at the time of this post, the price differential between the two is less than $10.
==> Check Price
Compared to the 4-leg frame of the two boards above, the C30 has a single wishbone leg to reduce wobbling with a high coat white finish for style. It has a tube frame construction with a glavanised metal mesh screen. Similar in size to the Brabantia and Household Essentials units, it has an ironing surface of 18.9″ x 47.25″ with a height adjustment ranging from 30″ to 38″.
The padding used is 500 g felt padding with a cotton / polyester blend cover. Weighing more about 16 lbs, it is strong enough to accommodate an ironing station on the iron tray which is riveted to the board for security. If you have a top end Rowenta iron which can be fairly heavy, you certainly need a good ironing board that can support the weight of the appliance.
A similar model to this one is the Reliable C60. This costs about $40 more but the C60 has double wishbone legs for added stability and a laundry rack.
Expensive but solid is how most buyers described the Reliable C30 The Board. It may be overpriced for some but the problem is there are not many in-between choices between the cheapest and most expensive ironing boards out there. Rarely would you find a board of this size in the $70 to $90 range that you have little choice but to spend more for a well-built unit.
For a larger unit, you can get a Rowenta ironing board. The Rowenta Pro Compact Professional is in the $150 to $200 range but it has a 18″ x 54″ surface with a rack for your steam station. It should be a good fit for the Rowenta DG8430 Pro Precision Station.
Conclusion
Generally, the more expensive the board, the more solid and sturdy is its construction. However, the risk lies in its durability. Even the best ironing board can break within a short period of time as some buyer reviews have shown. But such complaints are far fewer for the top end models than the cheaper units and hence, it is a risk worth taking for a better built ironing board that doesn't wobble as much or sag under pressure. If you have the best steam iron but a lousy board, you would be doing yourself a disservice.
Great Deals For Ironing Boards? Don't Miss Out:
Also, if you are using a professional ironing system, then be aware that you might also need to use a different kind of ironing board to go with your iron. In this case, you would need a vacuum ironing board to remove steam with a built-in heating element.