Rowenta are renowned for their steam irons. Many people do not want to use any other brand except Rowenta because they believe it is the best out there to get rid of wrinkles on their clothes. But are all their models worth a buy? With so many different models available, which are duds and which one is worth it to bring home? We attempt to look at this issue to help you choose the best Rowenta iron in this review.
Rowenta DW9280 Steam Force Iron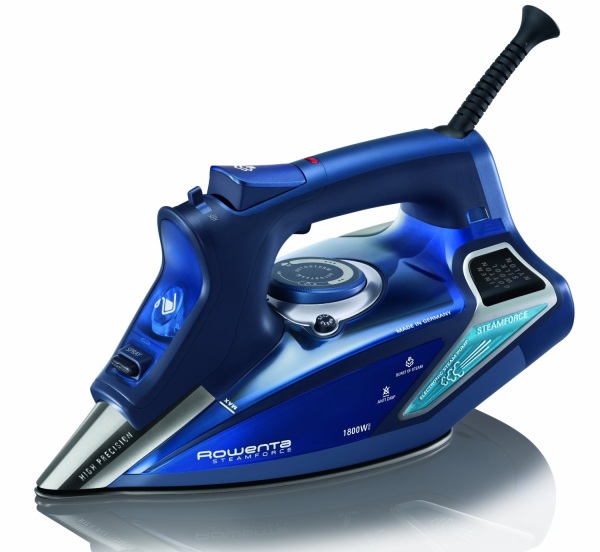 If you want a top end iron, then the Rowenta DW9280 is the one to go for. With a pump injection technology built in, it gives off 30% more steam to penetrate deep into fabric so that wrinkles are more easily removed, even on materials like cotton and linen. It is also a smart iron whereby it can detect when to stop steaming to conserve power and water.
==> Check Price
An electronic display clearly shows when the iron is ready when it hits the desired temperature. Full of bells and whistles, this 1800-watt iron has a stainless steel soleplate filled with a large number of micro steam holes that give off an abundance of steam for easy ironing.
On the downside, the DW9280 is costly. You have to fork out close to $130 at the time of writing for this model. But we like it for its hot and slick stainless steel soleplate and its heavy weight to give professional-looking results for your clothes.
Rowenta Dw5197 Focus Steam Iron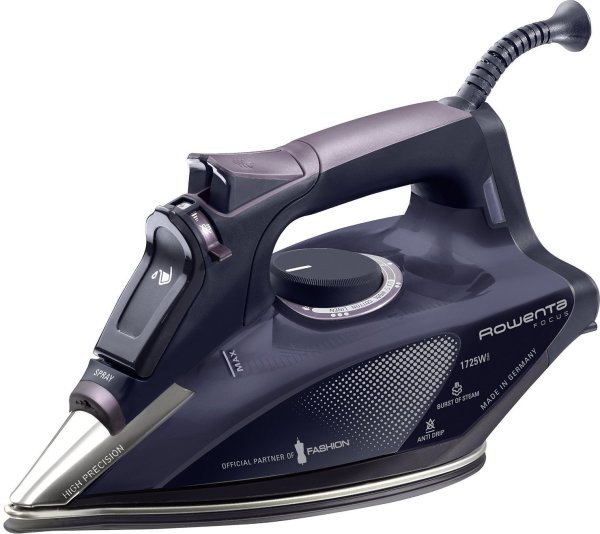 Compared to the DW9280, the Rowenta DW5197 has slightly less power at 1725-watt. It also has a less powerful steam burst and you will have to do without the pump injection technology. But it is still one of the more expensive Rowenta irons around, selling for about $100 at times. The soleplate is stainless steel with a precision tip and has 400 micro steam holes like all their top end models do.
==> Check Price
The selling point of the DW5197 Focus Steam iron is the absence of the auto-off feature. So, this is the iron for quilters and sewers. If you are not into sewing projects, you can give this a miss since we think the price is rather expensive and there is a cheaper alternative. But if you sew and do quilting, then the DW5197 may suit your needs.
Rowenta DW6080 Eco-Intelligence Iron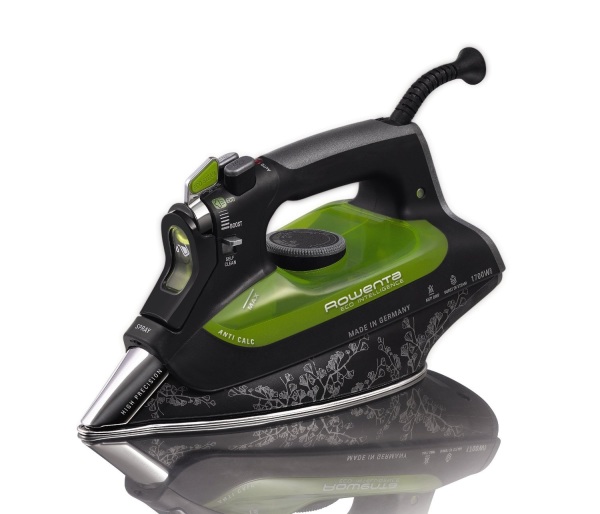 The Rowenta DW6080 is at a more affordable price range, selling at less than $90 at the time of this review. It is a green iron, design to help you save energy with its 3D soleplate and Eco steam system. A 1700-watt iron, the specially designed soleplate enables steam concentration and loss reduction. The Eco steam system provides optimal steam output. It is claimed that the iron can provide up to 25% energy savings for users compared to regular irons.
==> Check Price
The soleplate is stainless steel with 400 micro steam holes. A nicely-designed model with floral patterns, it is worth a try without too high a price tag. The drawback is it does not have a powerful steam output as the Rowenta DW9280 but it helps with your energy bill savings.
Rowenta DW8080 Pro Master Iron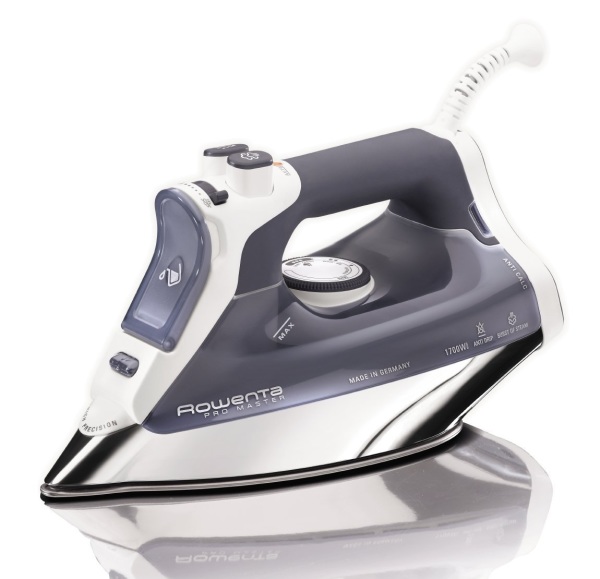 The Rowenta DW8080 is another professional-grade steam iron which makes a good alternative for the DW5197 if you are not looking for a unit for sewing projects. At 1700-watt, the DW8080 has an extra large water tank with a capacity of 12.7 ounces. It uses up water pretty quickly with its high volume of steam output and a larger tank means less refills.
==> Check Price
The steam burst is not as powerful as the DW9280 but the amount is still more than sufficient for home ironing needs. It also costs about $30 less without the full arsenal of features found in the higher end model.
Rowenta DW5080 Focus Iron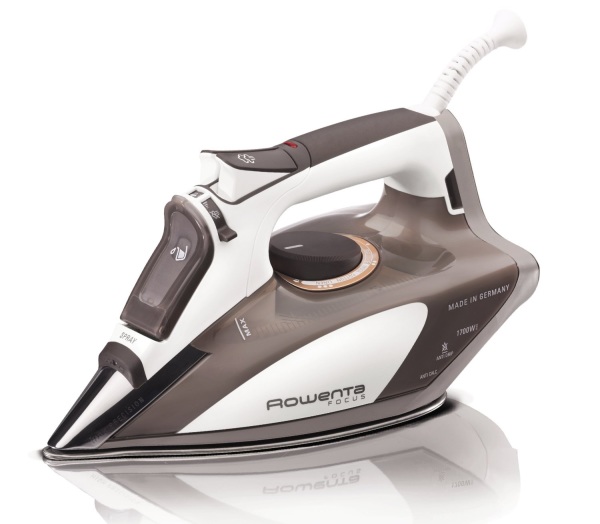 The Rowenta DW5080 is perhaps one of the most popular Rowenta irons in the market. You can get it for less than $90 at most times and it has an overwhelmingly positive reviews from buyers when many models are littered with complaints of leaks and drips.
==> Check Price
The DW5080 is very similar to the DW8080 Pro Master. The latter has a higher steam blast output and larger water tank but is more expensive by about $10. Because the difference is not much, the DW8080 seems like a more worthwhile buy with the better features. But what makes the DW5080 Focus a more comfortable choice is the fewer complaints associated with this model. Many Rowenta irons now suffer from leaks that make customers frustrated over its durability. The Rowenta DW5080 seems to have the least complaints judging from the huge number of online buyer reviews.
Which Rowenta Irons To Avoid
In our opinion, you should avoid the Rowenta DW2070 and DW2090 Effective Comfort irons. The number of complaints of defects are quite high although there are people who find them to be ideal for home use. Not too expensive, they are certainly not the best steam irons in the $50 category with frequent customer complaints of leaks. They are also not German-made like the company's higher end models but manufactured in China. While this should not be an indication of quality (many Panasonic irons are made in China but they tend to have few complaints of defects) for a large company like Rowenta which should have stringent quality controls in place, some buyers still place a high emphasis on the place of manufacture for more buying comfort.
As for the Rowenta DW9080 Steamium, we are on the fence with this model. It has a steam on demand trigger which you would love or hate. The trigger is on the underside of the handle and pressing it will give you plenty of steam while ironing. Not everyone will find it convenient to use although it has high steam volume for the toughest of wrinkles. It is also an expensive model and the price is what makes us a little hesitant to recommend a buy for this one.
Free Shipping For Rowenta Irons? Don't Miss Out: