The Rowenta DW6080 is certainly different from the typical steam irons in the market. It has one extra item not usually found on other models and that is its energy-saving feature. The iron also looks good with a design that spells green with detailing that makes it stand out from the rest. But looks and energy-saving aside, what do buyers think about its features and performance? This review of the Rowenta Eco-Intelligence steam iron will look further into that.
Rowenta DW6080 Review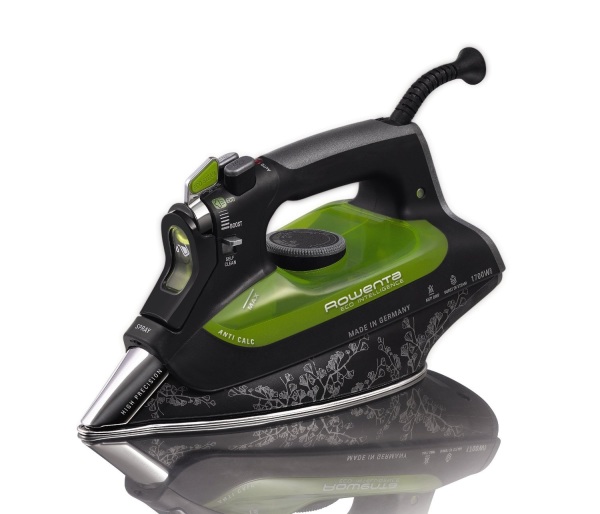 Features of this unit include:
1700-watt
3D stainless steel soleplate
Precision tip
Anti-drip
Anti-calc
Self-cleaning
Variable steam with steam optimization system
Burst of steam
Vertical steaming
Spray mist
Auto-off
Rotary trigger
Size: 12.6″ x 5.7″ x 7.1″
==> Check Price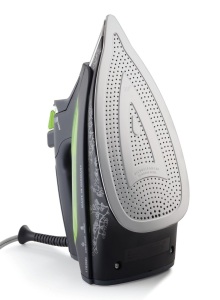 The Rowenta DW6080 Eco-Intelligence steam iron tries to combine ironing efficiency with energy savings. What results is a 1700-watt iron with a patented 3D stainless steel soleplate with 400 micro steam holes. What this 3D soleplate does is to concentrate steam onto the fabric and reduce steam loss.  When the steam use is optimized, you will get the same ironing results as a regular Focus iron but with less steam usage. On the soleplate are 400 micro steam holes for that perfect steam distribution.
Combined with the Eco steam system, you will end up with energy savings of up to 25% over other irons. The steam adjustment is a rotary trigger that can be pushed left or right to suit both right and left-handed users. You can choose the Dry, Eco and Boost setting depending on your needs. The Eco setting is suitable for all fabrics with an optimal steam output that also saves energy. Boost can be used for extra steam when you are ironing thick fabrics and to get rid of stubborn creases. You can get up to 180 gram/minute of steam with the steam burst feature.
The water tank is of a clear green color with a capacity of 10 ounces. Above the tank is the temperature dial. The cord length of the Rowenta DW6080 is about 7 feet.
If you want to find out more about the features of the Rowenta DW6080, watch this short video clip below:
Should You Buy The Rowenta Eco Intelligence Iron DW6080?
Pros
Saves energy – This iron should help cut down your energy bill on top of your laundry charges. A reviewer has mentioned that her energy bill is lower when she started using the Eco-Intelligence iron.
German product – The DW6080 is made in Germany unlike the Rowenta DW2070. Buyers would definitely prefer an European-made unit than a Chinese product, especially when it comes to electrical items.
Irons well – The stainless steel soleplate together with the steam output makes ironing easy to handle with this iron. It glides smoothly and wrinkles can be taken care of quickly with minimal number of passes. The unit heats up quickly too that you can start ironing in under 2 minutes.
Few complaints of leaks – Compared to some other steam irons, complaints of leaks are few for the DW6080 up to the time of this review. Usually, leaks and spits are common for steam irons, but so far the reviews are overwhelmingly positive for this energy-saving iron.
Cons
Expensive – The iron costs nearly $90 at the time of writing. For this amount, you can get the Panasonic NI-L70SR cordless iron for freer movement while ironing or the Rowenta DW5197 with no auto-off if you are a quilter. In other words, the options are many at this price point.
Rotary trigger switches easily – There have been complaints that the trigger changes position easily with barely a touch which is an inconvenience.
Frequent refills – A few users also do not like the fact that the water runs down quickly. Refills are needed after every 2 to 3 shirts despite the large tank.
Short cord – The cord could be longer so that you can move further away from the socket when ironing. The T Fal FV4495 has a 12-foot cord which is much longer than what is offered by the Rowenta DW6080.
This Rowenta Eco-Intelligence steam iron may not be perfect for everyone. Because it saves energy, the steam output is relatively lesser than say, the Rowenta DW9080 Steamium. You are supposed to be able to make do with less steam with this iron because of the steam concentration and loss reduction due to the 3D soleplate. But if you have got used to lots and lots of steam from upper end Rowenta irons, it could take some getting used to if you choose this model.
Free Shipping For The Rowenta DW6080? Don't Miss Out:
At the end of the day, we like the Rowenta DW6080 despite the high price because we feel it is a risk worth taking with the highly positive reviews all round. The energy savings is a plus although how much you can really save is debatable. But what seals the deal for us is the 400 micro steam holes soleplate. Although the same umber of steam vents is found on the Rowenta DW8080, the complaints are far fewer for the Eco-Intelligence iron and for that, we feel that the latter is a safer bet.