If you have a big pile of laundry to iron each time, it is probably much faster finishing up your task with a steam station rather than a regular iron. You don't have to refill the tank as often and yet you can get a lot of steam for your clothes. But, of course, they don't come cheap. The Rowenta DG8430 Pro Precision steam station has a rather high upfront cost although some people think it is a worthwhile investment because of the time savings. So, let's check it out further in this review.
Rowenta DG8430 Review
The features of the Rowenta DG8430 are:
1800-watt
4-bar pressure
Polished stainless steel soleplate
Precision tip
Calc-away system
Vertical steam
Variable steam
Steam on demand
33-ounce water tank
12-foot power cord
Size: 15″ x 10.25″ x 11″
==> Check Price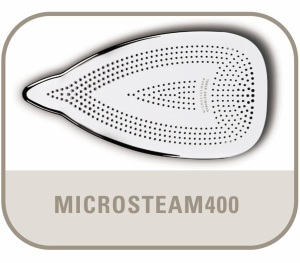 The Rowenta Pro Precision steam station would be practical for those with loads of ironing to do. It has a large water tank with a capacity of 33 ounces – enough for you to iron continuously for 90 minutes without having to refill. The good thing about this model is also the convenience of being able to refill the tank at any time without having to wait for it to cool down.
The tank is connected to the iron with a 6-feet steam cord while the power cord is extra long at 12 feet. The boiler unit itself is compact in size to fit most ironing boards. It is designed to be used with tap water with a Calc-Away system to remove impurities.
The iron itself has a polished stainless steel soleplate with 400 micro steam holes. The glide is smooth and with the high volume of steam output, the iron will seem to float with ease across fabrics. The precision tip helps with narrow and tight areas while the large number of steam holes will provide better steam diffusion.
You can adjust the steam level for different kinds of fabrics and set the temperature via a dial on the iron. To activate the steam of demand, you simply need to press the trigger while ironing to release the steam to penetrate the fabric.
Should You Buy The Rowenta Pro Precision Steam Station DG8430?
Pros
Heats up very fast – For a large tank, this heats up very quickly. Compared to the Rowenta DG5030 which takes 7 minutes to produce steam, this one can be done in 3 minutes. The Reliable i300 takes even longer, i.e. 10 to 15 minutes to get to full steam but it does has a slightly larger tank of 1.4 liters (about 47 ounces).
Lots of steam – The steam station can produce up to 3 times more steam than a regular iron. Many reviewers have complimented this unit for its steam output which helps to give the clothes a professional-looking result. The steam on demand also makes it easy because you can control when steam is needed while ironing. If you just want a regular iron with this feature, the Rowenta DW9080 is the one to get.
User-friendly – The tank can be refilled at any time and the opening is wide enough to make refilling easy to do. There is also a water window to let you know the level left in the tank. The iron itself is light in weight and glides smoothly across fabrics.
Cons
Trigger breaks easily – A few customers have made the complaint that the trigger for the steam on demand breaks easily. It stops working after a few short months and needs the iron needs to be repaired.
No power switch – There is no switch to turn the unit on and off. The boiler will turn on when you plug it in and to turn it off, you will need to unplug from the socket. For the price, an On/Off switch should have been included for convenience.
Can be loud – While the boiler is heating up, it can be quite noisy. But the noise will die down once it is heated up and steam is being produced.
Price – The price for the Rowenta DG8430 is nearly $300 at the time of this review. Even when compared to a top notch model like the Oliso TG1600, it still costs about double the amount than what you would pay for a regular iron.
For the price, the Rowenta Pro Precision steam station is indeed a risky buy. If you are used to a $50 iron, you will be able to buy 6 of these irons for the price of this steam station. But it does have its advantages and so, you will need to evaluate if these advantages are worth the extra cost to you.
Free Shipping For The Rowenta DG8430? Find Out Now:
If you have a big load of ironing to do each week, then it makes sense to get this Rowenta boiler unit. The time savings and ease of use would make the high cost worthwhile. But if you only have a moderate load, we do not feel this justifies the cost. In this case, the Rowenta DG5030 would be sufficient load-wise. It also has a 33-ounce tank and if you can complete your task in an hour or so, chances are you do not have to refill the reservoir which is a hassle for this particular model.
The DG5030 is much cheaper and it can be a starting point for those looking for a step up from regular irons. But the downside is it has more complaints of leaks which makes us uncomfortable in recommending a buy there. A better choice could be the DeLonghi Stiromeglio Compact Pro 300 but this one costs over $200 as well although it is still cheaper than the Rowenta DG8430.