The Panasonic NI-W950A is one of the company's more up-market steam irons. There are a few more features built in that makes it different from the regular models. Unique in design, it does attract a large number of buyers despite the price but the concern is does it work well enough to justify putting your money down on it? Let's look at it together in this review.
Panasonic NI-W950A Multi-Directional Iron Review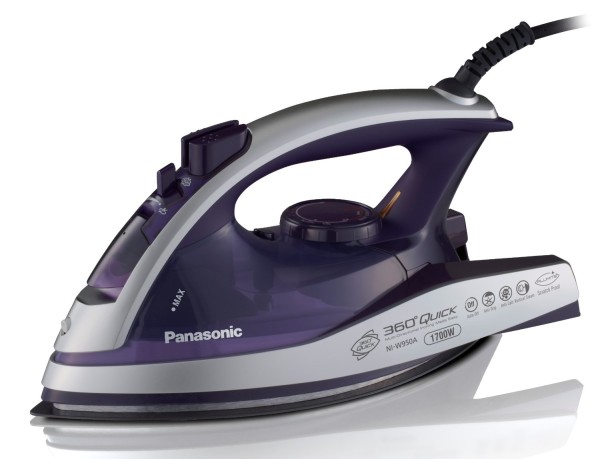 The features of this steam iron are as follows:
1700-watt
Alumite soleplate
Self-clean
Anti-calcium
Anti-drip
Steam shot
Spray mist
Adjustable steam
3-way auto shut-off
Size: 5.9″ (H) x 5.6″ (W) x 12.2″ (D)
==> Check Price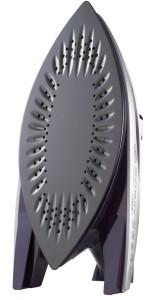 Not many irons can boast of a alumite soleplate. Basically, alumite is anodized aluminum which is an excellent heat conductor, making it ideal for an iron soleplate whereby fast and even heating can make a difference to a user's experience. Alumite also has strong scratch-resistant properties, durable and easy to glide making ironing with the Panasonic NI-W950A easier and more manageable.
Apart from the material, the soleplate also has a curved shape with a unique dual tip design. This is to lessen drag on the fabric and wrinkles from re-appearing. With this design, you can iron freely in all directions which help to cut down on the ironing time. Steam holes are located all around the edge of the soleplate for wider steam coverage.
You can choose the steam volume to suit your needs with the adjustable steam feature. You can also iron on the dry setting by shutting off the steam output. A spray mist and steam blast are available for more stubborn wrinkles with a push of a button at the top. A power shot is also helpful to get rid of scale built-up in the steam holes while a push of the self-clean button will help to clean up the vaporizing chamber in the tank. A temperature dial below the handle will let you choose among 5 different fabric settings.
The iron will automatically shut-off in 10 minutes if it detects no movement while in the upright position. If tipped over, the iron is designed to shut off in 60 seconds. The Panasonic NI-W950A has a cord length of 10 feet and a water tank size of 10 ounces.
For more information about the iron and its strengths, view this short video clip below:
 Should You Buy This Panasonic Steam Iron?
Pros
Dual pointed ends – To be fair, some people like the design while others don't find it to be any better than those irons with a more traditional shape. With a curved double pointed tip, you lose some surface area which makes ironing large items like curtains and table cloth less than ideal. But it works better for certain items like dress shirts and pants. It is also easy to move around with its 360-degree Quick design. Another iron with the same soleplate shape is the Panasonic NI-W810CS.
Fairly heavy – The NI-W950A is not exactly a lightweight iron. It is quite large in size; its advertised width and depth are even larger than the high end Rowenta DW9280. This makes it fairly heavy at 4.4 lbs which means it has the required weight pressure to erase wrinkles easier. But that also means it is not the iron to get if you want something light in your hands.
Few complaints of drips – Unlike many steam irons which have lots of complaints of drips and leaks, this same problem is not as prevalent for the Panasonic NI-W950A. While we have read negative reviews of leaks, the frequency is not as high as even some of the best Rowenta irons.
Good user experience – Most buyers are satisfied with their iron. It heats up quickly with a smooth soleplate that is hot enough for crisp-looking clothes.
Cons
Violet colored tank – The body of the iron is violet which is a little too dark to easily read the water level in the tank. This is an uncommon departure from their other models which tend to have see-through tanks like those found on Panasonic NI-C78SR.
Quit working – The complaints are there of the unit failing to work within a year or two which is a rather short life span for a high end steam iron.
We think of the Panasonic NI-W950A to be an alternative to similar-priced Rowenta irons. Many people make the switch to a Panasonic because of leaks coming from the Rowenta models. So, in a way, it solves a problem that most people dread in the German brand.
Free Shipping For The Panasonic NI-W950A? Don't Miss Out:
But if you are making the switch, you are also giving up on the slick and super hot stainless steel soleplate that Rowenta irons are famous for. That is the trade-off you will have to make. The bottomline is we do recommend a buy for the Panasonic NI-W950A for its generally good user experience. It may cost you quite a bit of money (it retails for about $85 online at the time of this review), but if you know how to appreciate its double pointed tip and multi-directional design, it will be worth the dollars spent.