The Panasonic NI-E650TR U-Shape Titanium Soleplate Steam/Dry Iron does look fancy in its design with a unique soleplate. Its earliest reviews on Amazon date back to 2011 and in these last few years, it has enjoyed a steady rise in demand that we have included it as one of the best steam irons under $50 to look out for. It is a popular iron and is the top three best selling irons on Amazon at the time of this review, losing out only to the older Black & Decker D2030 Digital Advantage Iron and the cheaper Panasonic NI-E200T.
Panasonic NI-E650TR U-Shape Iron Review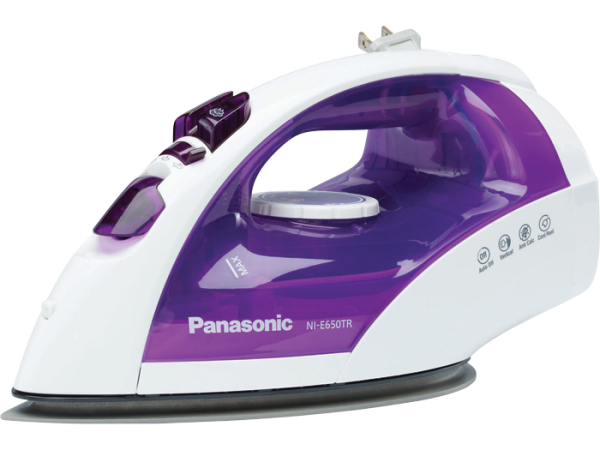 Among the features of the iron are:
1200-watt
Titanium nonstick soleplate with curved design
Anti-calcium system
Vertical steaming
Jet of steam or auto-cleaning
Adjustable steam settings
Temperature ready indicator light
3-way auto shut off
Retractable cord
Size: 55⁄16 high x 47⁄16 wide x 1011⁄16 deep (inches)
==> Check Price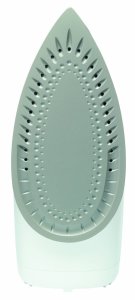 A few of these Panasonic irons are unique in design and the NI-E650TR is one of them. What is different compared to other irons is the design of the soleplate. It is a titanium soleplate with a curved shape just like a U at the bottom part. This is to enhance the steam circulation and according to the company, this should result is more steam coverage of up to 25% extra compared to more traditional Panasonic steam irons. There are 29 steam holes distributed along the sides of the soleplate.The design also helps to concentrate pressure at the center of the iron, so tugging and snagging are minimized at the tip.
The other selling point of the Panasonic NI-E650TR is the automatic retractable cord which is also found in the very similar NI-300TR. There are not many irons with this feature and some people do like it for easy storage after the ironing is done. One push of the button and the cord will automatically retracts into the reel house. The length of the cord is just close to 8 feet.
The temperature control is located beneath the molded plastic handle and is a dial with a rotating indicator. There are 5 fabric settings for the dial. There is a spray mist and jet of steam button at the top with the variable steam control lever next to them. 3 settings (high, low and dry) are available for the adjustable steam options feature.
The water tank capacity for this Panasonic U-Shape Steam Iron is 7.1 ounce. The iron will automatically shut off after 10 minutes of being idle unless it is sitting flat on its soleplate or on its sides. In that case, the shut off will occur after 1 minute, obviously for safety reasons.
Should You Buy The Panasonic NI-E650TR Steam Iron?
Pros
Price is cheap – The iron is selling for slightly above $30 at the time of this review. It is cheaper than the Black & Decker D2030 and it is also one of the best-selling irons on Amazon with hundreds of customer reviews.
Gets hot fast – The iron will reach the desired temperature quickly after it is plugged on. It gets hot in about a minute with an on/off indicator light to let you know it is ready to go.
Glides well – The titanium soleplate is smooth and glides easily across fabrics. It is an iron that is easy to handle and not too heavy as it does not have a large water tank.
Attractive color – The white and purple-like color combination makes this an attractive looking iron which is a change from the traditional gray ones.
Cons
Problem with the cord – The retractable cord may be a plus to keep things neat and tidy but a few buyers have mentioned that it may not retract smoothly or fully into the base. Durability could be an issue here with an automatic reel-in cord.
Clunky base – Because space is needed for the retractable cord, the heel is larger than most other irons. It will take some getting used to for some.
Small soleplate – The soleplate is smaller than some irons that you may feel it takes longer to get the ironing done for larger items.
Doesn't last – As expected, a few buyers have made this complaint that the iron does not last long. Some say it leaks or spits water after a few uses while others complained it stopped working before a year is up. But to put it in perspective, such complaints are far fewer than the positive ones that mentioned no such problems.
The Panasonic NI-E650TR U-Shape Titanium Soleplate Steam Iron is not a top end model, so there must be a realistic expectation as to its capabilities when you buy this. If you have a lot of thick items to press, this may not be the right iron to buy. Similarly, if you do a lot of vertical steaming, this iron falls short because it takes a little while to get the jet of steam working again after each use. For a step up, you can consider the Panasonic NI-W810CS Multi-Directional Iron.
Free Shipping For The Panasonic NI-E650TR? Find Out Now:
But for a basic iron, it is adequate. The brand name and price alone are enough to give this a strong buy recommendation. On top of that, there is the huge number of positive reviews to add comfort to the buying decision. As long as you are using it to press everyday clothing like shirts, dresses and pants, the Panasonic NI-E650TR is sufficient for your needs. But if you have lots of thick draperies, linen and similar items to iron, then it may be better to give this a miss and look at something else.