An over the door ironing board seems such a perfect solution for space-saving measures. It also keeps your room looking neat and tidy. Who wants an ugly board sticking out of somewhere, right? But space-saving and looks aside, it is not the best solution for everyone. There are quite a few disadvantages and inconveniences that come with using an over the door ironing board too. Below are the pros and cons of these units. They will give you an idea if you should buy an over the door ironing board and whether it fits your home.
Over The Door Ironing Board Pros and Cons
Pros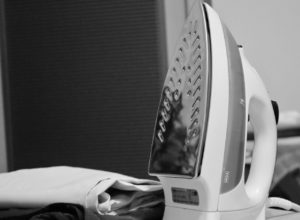 In general, an over the door ironing board will have these advantages going for it:
Space-saving – It is a space-saving ironing board for those who have no place to store a large version. This type of board usually measures 42 x 14 inches in terms of ironing surface. A full sized ironing board is commonly 48 x 18 inches. Some could even go up to 54 inches long.
Cheap – Since it is small, its price also tends to be cheaper than a large ironing board. The best ironing boards will cost you at least $50 with the higher end ones going for over $100 like the Flippr. Comparatively, you can get an over the door ironing board for less than $30.
Hidden behind the door – The ironing board hangs over the door. So, it is conveniently kept hidden from view. You don't have to look for a storage space for it either. You just need a door that fits.
No carrying needed – For a full sized ironing board, you will need to drag it out and set it up if you don't have the space to open one up in a permanent spot. Once you are done ironing, you will need to fold it up and carry it back for storage again. Bear in mind that many of these large boards can be quite heavy at around 20 lbs like the Homz Durabilt. But for an over the door ironing board, it is already affixed behind the door. You just need to fold down the board and you are ready to iron.
Convenient – This design is convenient for touch-up jobs. There is no need to bring out the big board for the small items and simple touch-ups. This makes ironing for simple tasks easy and fast to do.
Cons
On the other hand, the cons are:
Small – It is always more convenient and faster to iron on a large board than a small one. For example, an extra long ironing board will be great for ironing dress pants. A large ironing surface also means a bigger area can be covered without needing to reposition your clothes as often. This would be helpful when you have a pile of clothes to iron. It is also difficult to iron large items like linens on a small board.
Not sturdy – An over the door ironing board will not be able to beat the sturdiness of a full sized board which sits on 4 legs. If you hang one over the door, the end away from the door will tend to tip because of the lack of support, especially when you exert pressure while ironing.
Only 1 end is usable – Some people like to iron using both ends of the board. But you can't make use of the square end of an over the door ironing board. The door will just get in the way.
No iron tray – Your iron will need to be placed on the ironing board which takes up a part of the ironing surface.
Can't adjust height – Unlike a full sized version, there is no adjustable height for an over the door ironing board. If you are very tall or very short, it may not be a very comfortable position to do your ironing. Of course, that would also depend on the height of your door from which you hang the board. In other words, your door must be of the right height in order for you to be able to iron comfortably.
Door thickness matters – The bracket to fit over the door may not have a just right measurement for your particular door. Thus, the ironing board will move if your door is too thin. Improvisation may be needed to make the board stay in place. The gap between your door and the door frame must also be adequate. Otherwise, you won't be able to close your door when you have hung the bracket over.
Power outlet must be nearby – For a stand alone ironing board, you can always move it near to a power outlet. But you can't move your door if you are using an over the door ironing board. So, the distance between your door and the power outlet must be one of your considerations before you buy. Alternatively, you could get an extension cord but that means you will need to buy this extra item apart from the board.
Clearance area needed – Your door area must have enough clearance space for you to open up the board and do your ironing. Depending if you are left or right handed, there must be enough room for you to stand behind the door on one side of the board for you to do the chore comfortably.
Should You Buy One?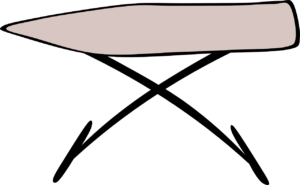 A full sized ironing board is still better if you have the space for it. This is because it is larger and sturdier. It would make ironing more convenient and faster if you have a big pile of clothes to go through each time. In fact, an over the door ironing board probably works better as a back-up unit than a regular ironing board. It can be used for quick touch-ups and small jobs when you are in a hurry in the morning.
But if a behind the door ironing board is your only option, you can still improvise to make it sturdier and more secure for your needs. Even the best over the door ironing boards will tend to tip, move and bang around. Some people use Velcro straps and PVC pipe clamps to better secure the frame to the door. Others would make a removable pole to support the pointed end of the board to the floor.
The conclusion is, given the cons above, we don't recommend an over the door ironing board for regular household use. But if you have to buy it, be aware of its limitations and lower your expectations because it is not a custom fit item for your particular door.