Not everybody has the space for an extra large ironing board. If you are living in an apartment or dormitory, a small one is probably all you can afford to have. Apart from a tabletop ironing board, the next option is to have an over the door version. Of course, there are pros and cons of having such a small ironing board. Is it worth buying? Read over the door ironing board reviews below to get a better idea.
Over The Door Ironing Board Reviews : The Options
Household Essentials Over The Door Small Ironing Board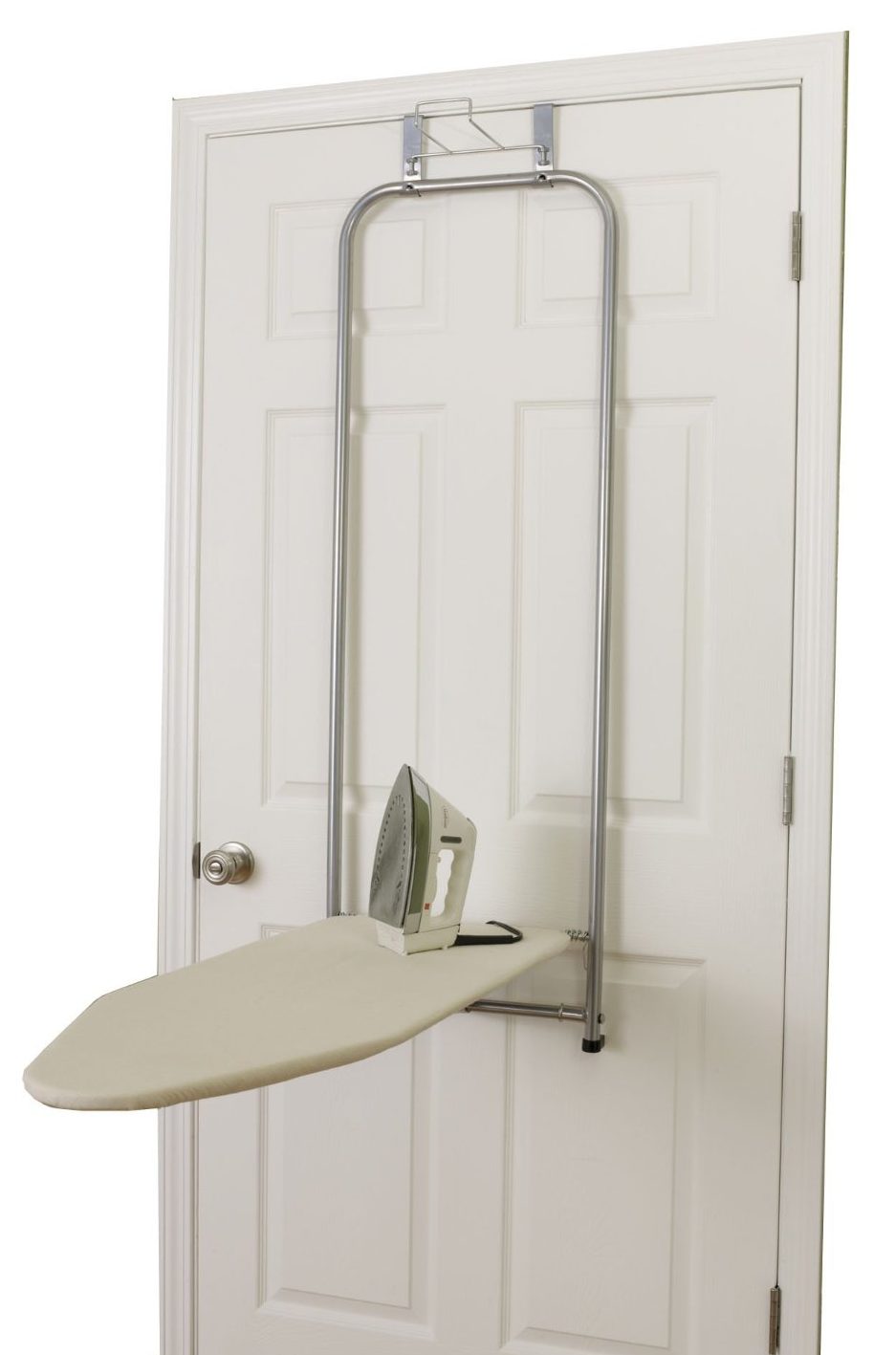 The Household Essentials Over The Door Small Ironing Board is one of the better rated ones among consumers. But it is also one of the more expensive ones in this category.
==> Check Price
The ironing surface is 42 x 14 inches. The whole frame is made of steel with a steel mesh ironing surface. There are 3 main differences between this model and its competitors:
There is a built-in iron holder at the top. This means your iron is always within easy reach when you need to do your ironing. There is also no necessity to find another place for storage of your appliance.
The board has a spring tension close. It draws up vertically on its own. This ensures the board stays vertical when not on use rather than being wobbly when you open and close the door.
The protective feet juts out a little. So, when the board is closed, the frame rest flushed against the door. It will also make it more secure when opened.
The good thing about this Household Essentials ironing board is that it comes with 2 sizes of brackets to accommodate doors of different thickness. It is also fairly sturdy for an over the door ironing board. But you can't press down too hard either because it will not support all that excess weight. It does give a little when you exert a bit of pressure.
Another drawback is that the bottom part of the frame will bang against the door when you open and close it. Some people improvise by using Velcro straps to keep it in place. As for the iron holder, it may not be in the best position. If you have a large Rowenta iron, it will probably get in the way when you close the door. So, the iron holder may well be useless depending on the size of your iron.
Honey-Can-Do Over The Door Ironing Board With Folding Design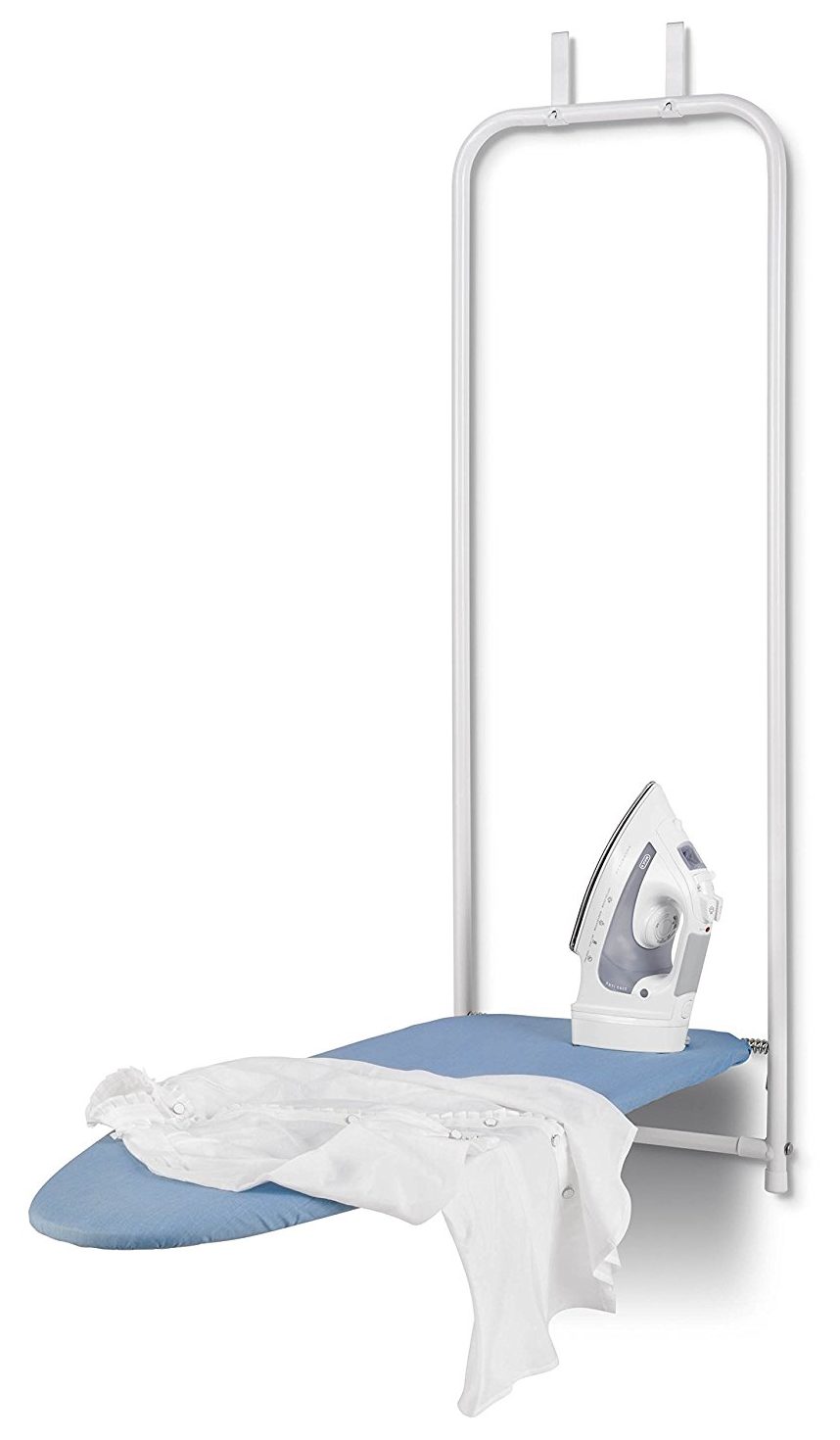 The Honey-Can-Do Over The Door Ironing Board has the same ironing surface area as the Household Essentials model above. It is also highly rated by buyers. Price-wise, they are selling for about the same price at the time of this review.
==> Check Price
It has a rust resistant steel frame construction with a 7 mm foam pad and 100% cotton cover included. There are also cushion bumpers to protect your door. The board folds up and down easily and locks securely when in a vertical position.
The complaints are the same as the Household Essentials ironing board. It is not as sturdy as a grounded ironing board and it wobbles on the door when you iron. You will also hear banging noises when you open and close the door.
In other words, the Honey-Can-Do Over The Door Ironing Board is not perfect. If you want it to be more stable with less banging, you will need to improvise. Some people use PVC pipe clamps to better secure it against the door. Compared to its competitor above, this Honey-Can-Do model also does not have an iron holder to store your iron.
Should You Buy An Over The Door Ironing Board?
Looking at the over the door ironing board reviews above for the 2 brands, you know they are not meant for heavy duty ironing. They are good for quick jobs but could be a pain if you have lots to iron due to the small surface area. The lack of a height adjustment feature could also make it uncomfortable if you need to spend some time on the chore. Not to mention, ironing large and heavy items like linens wouldn't be ideal on an over the door board. The board could feel like it is giving way due to the weight and ironing pressure.
So, they are definitely not the best ironing boards out there given their inherent design. But they do have a place in certain homes and they can fulfill particular needs. They work well for quick touch-ups and small items when you don't need to drag out a large board. They are also space-saving ironing boards for people with a cramped living environment. We do recommend that you check out the pros and cons of an over the door ironing board before you buy.
Any Great Deals For Ironing Boards? Don't Miss Out:
Despite the imperfections, the Household Essentials and Honey-Can-Do models are still 2 of the best over the door ironing boards out there. They do have good customer reviews generally and fall within customer expectations on usage and quality. Just don't expect them to be sturdy and stable like a 4-legged ironing board and you will love them for the convenience and space-saving design. Also remember they are not custom-fit for your door. Hence, improvisation may be necessary to minimize movements and bangs.