How many us would spend a small fortune on ironing equipment for the home? Well, you would be surprised that there are people who find it worth the investment. While writing up this Janome Artistic Heat Press review, we came across buyers who think this is worth the money even if they had to pay a few hundred dollars to own it. But do you think this would make a good purchase? Well, let's find out.
Janome Artistic Heat Press Review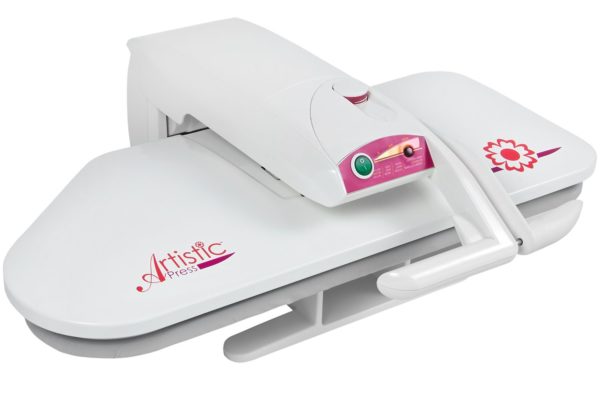 The features this Janome steam press machine include:
1000-watt
Mechanical temperature control
4 fabric settings
Safety shut-off
Size: 26″ (L) x 21.75″ (D) x 8.5″ (H)
==> Check Price
There is nothing too complicated with the Janome EP100. The temperature is controlled with a knob and you can choose from 4 fabric types – nylon, silk, wool and cotton-linen. The manufacturer has claimed that you can press up to 8 layers at once with this machine as it applies 100 lbs of pressure when you lock it down to press your clothes.
There is a safety shut-off which switches off the power after 10 seconds in the closed position. There will be a few beeps to warn you as well. The steam press can be used while seated for additional comfort compared to regular ironing.
The surface area is 10 times larger than an iron and you can get the chore done in half the time. The pressing surface of the Janome Artistic Heat Press EP100 is about 24″ x 10″ and it weighs around 28 lbs. The pressing board is made of 11 layers of Baltic birch wood to better absorb excess humidity.
Should You Buy The Janome EP100?
Pros
Easy to use – There is only one knob to operate to choose the fabric type. There are no complicated buttons to work with unlike a digital steam press like the Singer ESP2.
Opens wide – There is approximately a 4-inch gap right at the back between the top and bottom board when opened. This means the opening is much wider overall and you are less likely to burn your hand while adjusting your clothes on the board.
Sturdy – This heat press is pretty heavy coming in at about 28 lbs compared to the Steam Fast SF-680 which only weights about 22 lbs. It is a sturdy and well-made equipment with a high quality feel to it.
Cuts down on ironing time – The larger pressing area will definitely cut your ironing time considerably. Once you have learned how to arrange your garments on the board to get that perfect press, you can possibly do twice as much given the same amount of time you spend with a steam iron. You can also stack your materials to cut the pressing time further since you can use this heat press to do a few layers at one go.
Cons
Expensive – Not everyone would be prepared to spend a few hundred dollars on ironing gadgets. This is far more expensive than even the top end Rowenta steam stations as well as the larger Sienna Empressa Digital Steam Press.
No steam – Unlike the standard steam press equipment, the Janome EP100 does not come with a steam function. This could be a disappointment for some but for others, no steam means less problem to face as it is common for the steam feature to get defective after a period of time. You may also need to wait for a while for the steam function to be operative again after a single burst for many steam press models. For the Janome Artistic Heat Press, you will just have to resort to the old fashion spray bottle if you really need to have steam for your presses.
Complaints of short life span – We have noted some online reviews that speak of disappointment in the short life span of this heat press given the price. For some, it stopped functioning after a year or two which certainly does not justify the price paid.
People who are into fabric art and quilting will know about the Janome brand name. They are the ones who tend to buy this heat press as part of their tools. Having said that though, the Janome EP100 is also a great machine for normal pressing of clothes, garments, curtains, linens and uniform.
However, we are just not so sure if it is worth the price to use it to replace a regular iron for a normal user. Yes, you could find ironing more bearable with this heat press and it will reduce your time spent erasing wrinkles on your clothes. But you could also get an alternative steam press for half the price of this Janome Artistic Heat Press EP100.
Any Free Shipping For The Janome EP100? Find Out Now:
We feel that ultimately what you are paying for for this Janome appliance is a better user experience with its wide opening angle and more solid built compared to cheap alternatives because in terms of features, there are really no extras to surprise us here. So, if you are adamant about having the best steam press, then this might prove to be a great buy. Otherwise, you will see it as an overpriced appliance for the few features offered.