You have a pile of clothes sitting there to be ironed and you can feel the dread each time you look at it. The chore is monotonous and perhaps, even a waste of time. In fact, there are many good arguments around as to why ironing isn't even necessary. For example, ironing consumes energy and your time is better spent on doing other things given the hectic lives that we lead today. So, how to avoid ironing since it is an "unnecessary" chore?
We will take a look at some of the things people do to get around the ironing dilemma below:
Tips On How To Avoid Ironing
Buy Clothes That Don't Need Ironing
Buying clothes that don't need ironing is obvious, isn't it? Compared to the past, there are many, many choices now when it comes to materials used to make our clothes. A lot do not require ironing. Even some cotton shirts now do not look crumpled because the material has been processed to look wrinkle-free during the manufacturing stage. The technology allows it and hence, you don't have to go around wearing crumpled clothes if you take more care in choosing the right materials while shopping.
One point to note is to avoid temptation when you go shopping. A shirt may look nice when it is hanging on the rack. But once you bring it home and wash it, you might need to iron it to make it look good. So, always check out the materials first before buying and avoid those that need ironing as far as you can.
Use A Steamer
This is another obvious alternative to ironing. Buy a steamer instead of an iron. A handheld steamer is cheap and can do a quick job without needing to drag out an ironing board.
Some people think it is more or less the same as ironing. But it works for some people because it is easier and faster than old-fashion ironing. The creases in the right places may not be as good as using an iron, but at least, you won't be wearing wrinkled clothes to go out.
Make Do With A Hair Straightener
If you don't want to invest in a clothes iron, a hair iron can work too for small jobs. It can smooth out wrinkles on cuffs and other spots. Of course, a hair straightener can't replace an iron, but it can help if you are desperate to get rid of a few lines here and there.
However, make sure the plates are clean before you apply it to your garment. Otherwise, it might stain and ruin your dress or shirt. Also, be wary of the heat setting so as not to scorch what you are ironing.
Hang It Up Immediately
Once your dryer stops, take your clothes out and hang or fold them up immediately. You don't want the wrinkles to set by leaving it unattended. The dryer would not get rid of all the wrinkles for you but you should be left with wearable clothes that don't look so crumpled if you attend to them immediately when they are done.
If you don't use the dryer, shake it and hang it up as soon as the washer stops. Pull the clothes a little while hanging to try to smooth out the wrinkles. The weight of the clothes when wet would also help to reduce the lines that appear. This would also make ironing easier if you still want to do it later on.
Use Your Kettle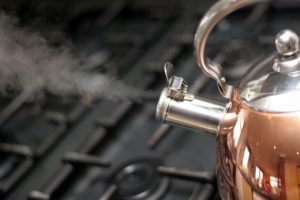 While waiting for your kettle to boil when you make coffee in the morning, you can take advantage of the steam that the water is generating to release wrinkles from your clothes. This is not full scale ironing but at least, those few wrinkles in the most obvious spots can be erased with this method. It is also one of the ways to smooth out wrinkles without investing in a steamer.
Hang Your Clothes In The Shower
This is another alternative to buying a steamer or iron. The steam from the shower should work a little to release the wrinkles from your clothing. It is not full-proof but if you are reluctant to iron, this is certainly better than nothing. In fact, many people do this and it can make a crumpled piece clothing look more presentable.
Stop Being Fussy
If you can get over the fussiness of needing to wear perfectly ironed clothes, then you are well on your way to reducing or even eliminating ironing from your life! Most of the time, we just think that an ironed piece of clothing looks more presentable. It may be true in certain situations. But on the whole, people probably don't care if there are some wrinkles on your clothes.
Apart that that, you can also cut down on the items that need ironing. Perhaps T shirts can be erased from the To-Do list. So are curtains and linens. Or clothes that you only wear at home. This will help to avoid ironing as much as possible and leave only the absolutely necessary items such as clothes that you need for an interview or more formal occasions.
If You Still Need To Iron…
If you have done your best to avoid ironing as far as possible but still need to iron at some time or other, try to think of it as a pleasant chore rather than a dreadful one. For some people, changing their iron and/or ironing board makes a world of difference. When you have been slogging with a $15 iron and a flimsy ironing board, it is hard to like the chore.
But if you care to invest in the best steam irons and best ironing boards, the task will seem a lot easier. You can still try the above tips on how to avoid ironing the best you can but when you need to pull out the iron, you will know the task at hand isn't as bad as it seems with the right tools.