Are all ironing boards created equal? After all, they are simple in design and share very similar features. Well, even ironing boards have a broad range of prices and they are certainly not equal in terms of quality. The Homz ironing board review below will show you the difference in 3 of their models. All are sold at different price points although the shape and size of the boards are about the same.
Homz Ironing Board Review – The Different Models
Homz T-Leg Steel Top Ironing Board Review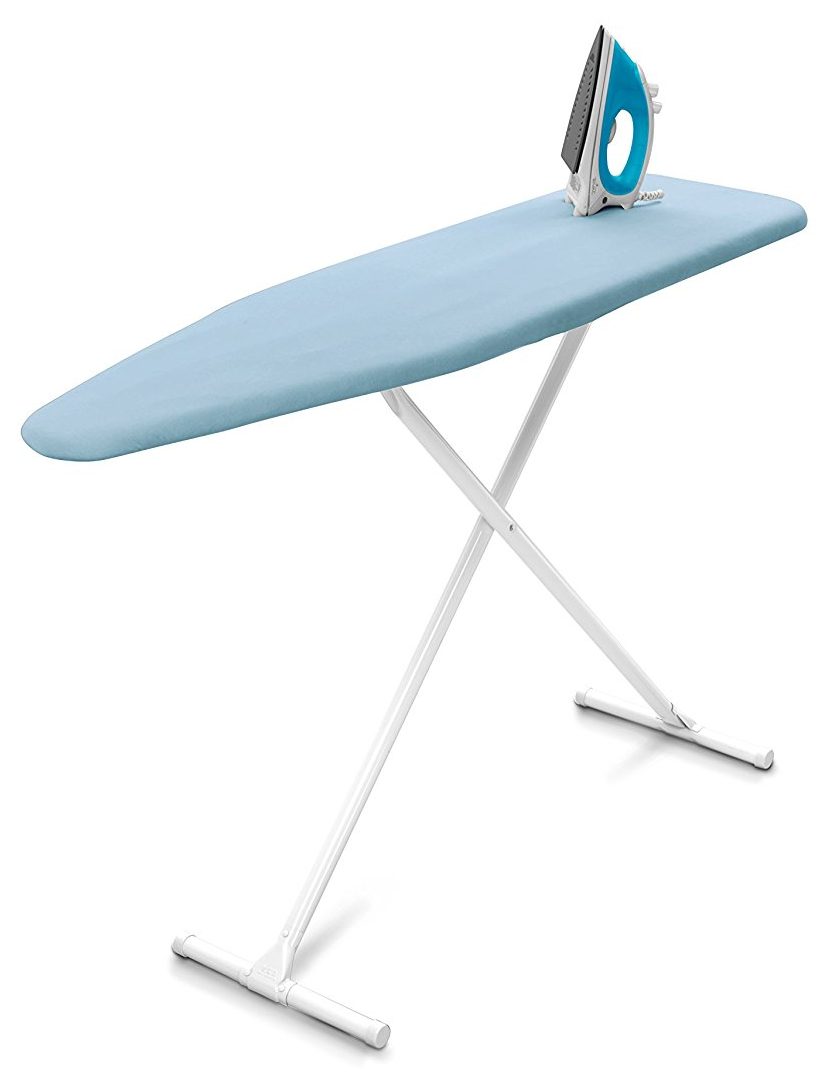 This has a T-leg design with metal construction and non-skid feet. There is a leg lock to secure it while in use as well as for transport and storage. A lever mechanism is used to open and close the ironing board. The height is adjustable and can reach up to a maximum of 35 inches tall. The ironing surface is 53 x 13 inches.
==> Check Price
The cover is 100% cotton and comes with a foam pad to line the steel top. The steel top is designed in such a way as to improve steam flow as you iron. No harmful chemicals are used in the construction of the Homz T-Leg ironing board. It is also made in USA.
The Good
This Homz ironing board is cheap. If you are on a tight budget, this would be a good deal. You have a choice of cover patterns too although they may be selling at slightly different prices.
At such a low price, you still get a large board. The surface is long enough at 53 inches to make it comfortable to iron pants. Compared to small ironing boards, the longer surface is definitely more practical and will make your ironing easier to do.
The ironing board is also very lightweight at under 10 lbs. This means it is convenient to move it around. Being so light, you also would not mind storing and taking it out each time you do your ironing.
The Bad
The Homz T-Leg definitely won't make the list of the best ironing boards. It does have a few weak spots which is to be expected given the low cost. Firstly, the whole structure isn't as sturdy as the more expensive models. Some buyers even complained that it is wobbly and squeaky. In other words, don't expect it to last long.
Secondly, the foam pad is on the thin side. While some users don't find it to be a major problem, others have to buy new padding to make it thicker. This is because the steel top has holes on it for steam flow. So, if you tend to press hard while ironing, the indentations might show on your garments because of the thin padding. Thirdly, the ironing board has no iron rack. Your iron will need to rest on the ironing surface itself. Lastly, the cover is not machine-washable. You are advised to clean with a damp cotton cloth instead.
If you need to press down hard on your clothes while ironing to get rid of wrinkles or set crease lines, then the Homz T-Leg won't be a good fit. It is not a heavy-duty model. It won't last you a long time and with a T-leg structure, it is prone to break. But if you don't have much money to spare, you can still get by with this model. Just treat it more gently and it will last you a while before it needs to be replaced.
Homz Professional Ironing System Review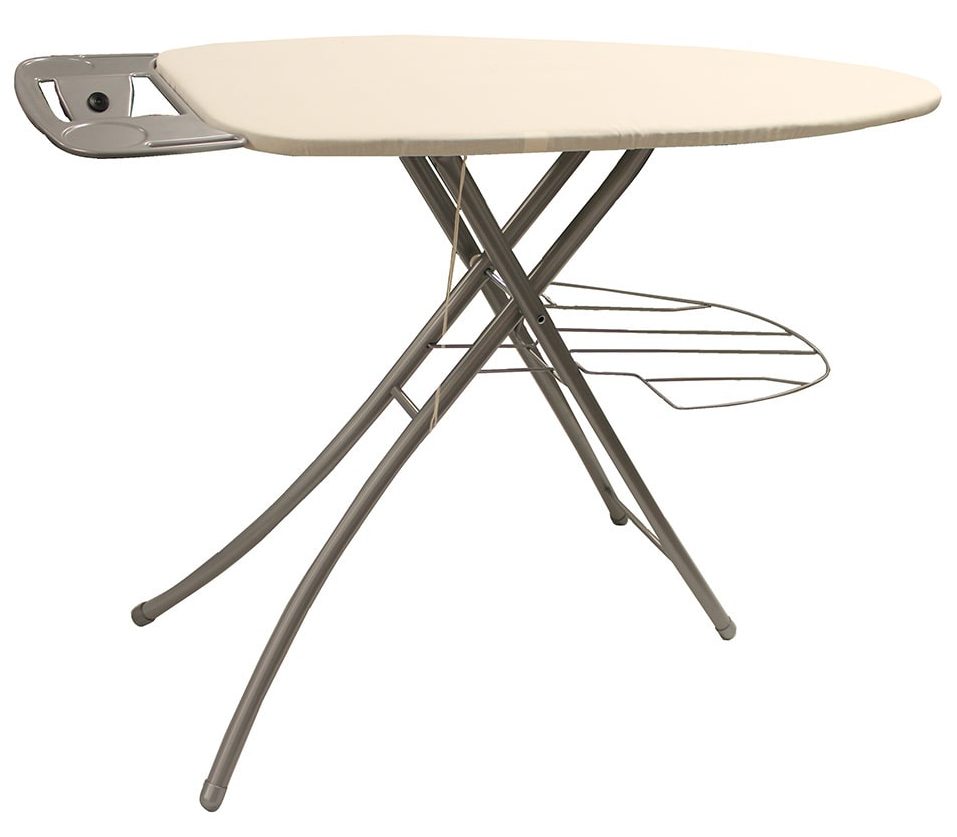 This is one step up from the T-Leg model. The Homz Professional Ironing System has 4 legs instead for more stability. It also has a leg lock for easy transport. The height can be extended to 39 inches tall through a slide and lock mechanism. The surface measures 48 x 18 inches which is 24% larger than standard boards.
==> Check Price
A 100% cotton cover with fibre pad comes with the ironing board. An iron rack is built-in at one end. Like the T-Leg model, the Professional is also American-made.
The Good
The ironing surface is large and wide. This is good for ironing front and back of shirts and other large items. You won't have to re-arrange your garments as often with a larger area being covered each time. It would also work well for quilters.
The structure is sturdy and it is less likely to wobble with a 4-leg design. You can also use the iron rack to hang shirts and pants. With a maximum height of 39 inches, the Homz Professional ironing board is great for tall people. Many ironing boards can only go up to 36 inches high.
The Bad
Like the T-Leg, the Professional has very thin padding. You will need to buy better ones separately which means additional costs are involved. On top of that, it may be difficult to get covers and foam pads for such a large board. You will need to shop around for it or buy it together with the board if it is available.
A few buyers find the steel mesh board turning rusty after a year or two of use. This could possibly be due to the steam from the iron soaking through the thin padding. Bear in mind that the best steam irons can generate a huge amount of steam, especially the high end Rowenta irons. Over time, the dampness will just cause the steel board to rust.
All in all, this Homz ironing board is a good mid-range model. It is not too cheap that it feels flimsy nor is it too expensive for a simple household item. Of course, if you are willing to pay over $50 for an ironing board, there are plenty of other choices. But if you are looking for a wide and high ironing board, this will fit your needs.
Homz Durabilt DX1500 Ironing Board Review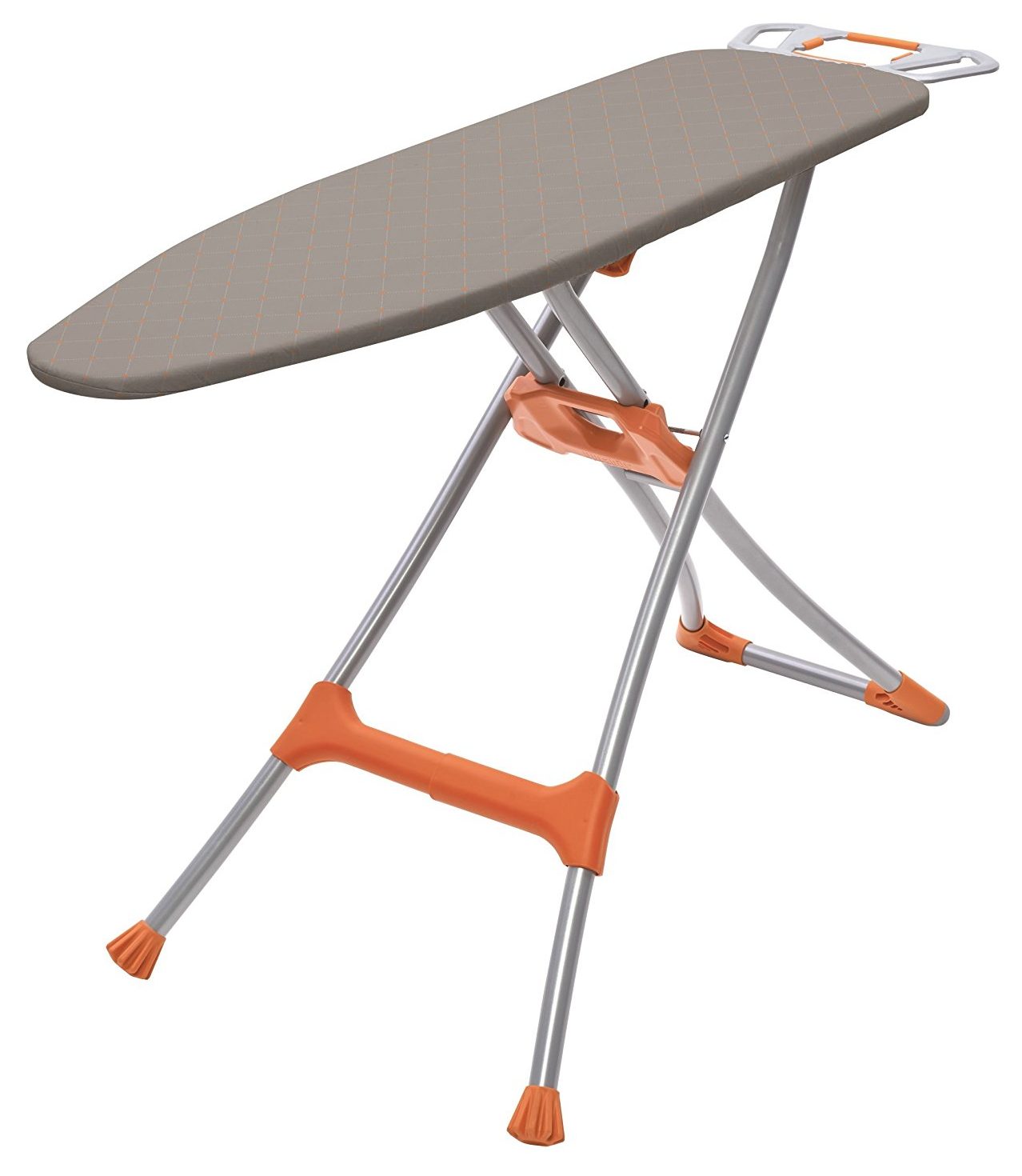 If you look at the Homz Durabilt, you can see that it is a bit different from conventional ironing boards. The frame is platinum color with orange accent pieces to make it nicer to look at. The cover design also matches the frame with gray and orange shades. The cover is 100% cotton with double thick padding.
==> Check Price
The steel mesh top is 54 x 14.875 inches. The height is flexible with a maximum limit of 39.5 inches. An iron rest is provided with hanger slots and silicone pads to absorb heat from a hot iron.
It has a 4-leg construction with the front legs being expandable to 25 inches wide. This ensures the board doesn't move and wobble while in use. The release lever is located just under the board which makes opening and closing easy and quick. A handle is built-in to help with transport. The board is made in USA using both local and imported components.
The Good
Compared to the 2 models above, the Durabilt has thick padding for a change. It is easier to iron on a thicker pad and there is no necessity to shell out more money to buy one separately.
The whole frame is also very well-built and sturdy. The front legs design is also different from conventional ironing boards. It is wider which gives it greater stability. That means you don't have to worry about your iron dropping when you bumped into the board. The height is also suitable for tall people.
The iron holder has a well thought of design with the silicone pads being a nice surprise. They will help to dissipate heat and the holder will not be as hot to touch.
The Bad
The Durabilt is pretty expensive for an ironing board. There is nothing revolutionary about the design but the price is close to the Flippr which is a double-sided ironing board.
The ironing board is on the heavy side. It is double the weight of the T-Leg model. But if you want stability and sturdiness, this would be the trade-off. However, there is a handle built-in to help with the carrying.
While the iron rest is nice, some people do prefer to iron using both ends of the board. The problem is the holder is not meant to be removable. You can take it off but it would require some strength and hard work. In other words, you would need to force it off if you want to use the square end of the board.
Conclusion
Based on the Homz ironing board review of the 3 models above, it is clear that all of them are targeted at buyers with different budgets. The T-Leg is the cheapest but it is also the flimsiest out of the 3 units. So, you will definitely have to compromise in terms sturdiness and stability if you choose the cheap ironing boards.
Any Great Deals For Ironing Boards? Don't Miss Out:
But if you are willing to pay a bit more, then you should look at what suits you best. If you have specific needs like a wide ironing surface, then the Professional model will be a better bet. But if you prefer a longer board for ironing dress pants, then the Durabilt is more practical. With a bigger budget, you will have more flexibility to look into the details to get one that best matches your needs.