Fancy going retro? Imagine using an iron that looks like it belongs to your grandma's era. Well, irons then certainly were simple with no fancy features to complicate matters. The Hamilton Beach Retro iron does try to bring us back to that era with a design that spells old-school. This iron will surely bring back memories but is it just about nostalgia? Does the iron really work and smooth out wrinkles well? This review will try to find that out.
Hamilton Beach Retro Iron Review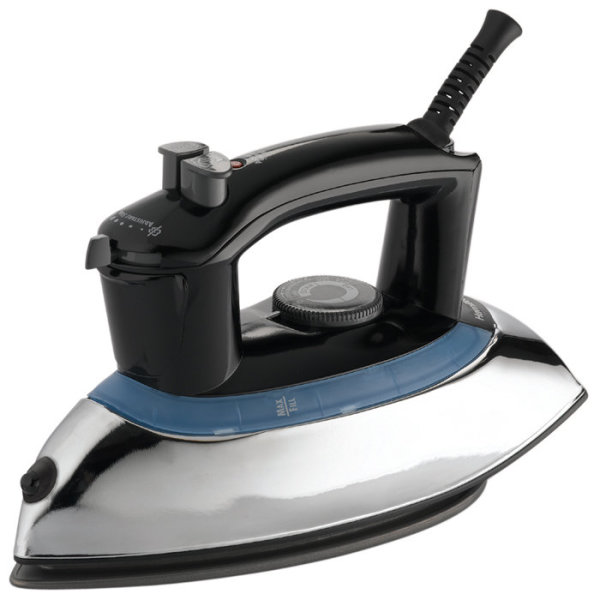 The features of this retro iron (model no. 14200) are:
1200-watt
Nonstick soleplate
Adjustable steam
Steam blast
Vertical steam
Water spray
Self-cleaning
360-degree cord
Automatic shut-off
Size: 7.69″ (H) x 4.88″ (W) x 10″ (D)
==> Check Price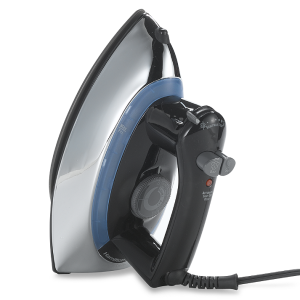 This Hamilton Beach 14200 is a classic iron with 1200-watt of power. It has a nonstick soleplate with steam holes forming a single arc along its edge. However, there are no steam holes on the lower end of the soleplate. The adjustable steam knob is at the front of the iron. You can have steam on higher temperatures when you are ironing materials like wool and linen. You can also turn the knob and set it to dry when pressing silk and nylon.
The steam blast and water spray buttons are next to each other near the handle. To use the steam blast, wait at least 2 seconds between uses. The same rule applies when using the unit for vertical steaming. Set it on the highest temperature and hold the iron about 6 inches away from the garment you intend to steam. As for the water spray, it will release a fine spray of water when activated and this comes in handy when getting rid of wrinkles on cotton and linen.
The temperature dial is below the handle. You rotate the dial to get to your desired fabric setting. You also have a water window to check the level in the tank. The water tank capacity for the Hamilton Beach Retro iron is 5 ounces and you can use tap water with it. The cord length is about 8 feet.
Should You Buy The Hamilton Beach Retro Iron?
Pros
Long shut-off time – The automatic shut-off for this iron will only kick in after 1 hour. This works very well for those who sew because it can be a pain when the unit keeps shutting off every 8 minutes like the Rowenta DW5080. The other iron with a long automatic shut-off time is the Sunbeam Classic with a 30-minute time window. For no auto shut-off function at all, the Rowenta DW5197 gets great reviews from quilters and crafters.
Reset button – No more having to re-plug the iron to turn it back on if you have left it unattended and it has shut itself off. There is a reset button/indicator light which you can press to re-activate the unit. Another iron with the reset button is the Hamilton Beach 14210R with a retractable cord.
Metal iron – This iron is not all plastic unlike most conventional units. There is a chrome metal part that makes it look retro in appearance. It also lends weight to the unit and makes it easier to flatten materials.
Few complaints – The Hamilton Beach Retro iron gets a high rating on Amazon with many positive reviews. There are also few complaints of leaks and drips compared to other irons.
Reasonable price – This is not a $50 iron. This iron only costs you about $30 at the time of this review, far less than what you would need to pay for a top end model that typically costs over $80.
Cons
Narrow base – The iron tapers downwards that it gets narrower towards the base. So, the iron might not be as stable when sitting upright on a heavily padded board.
Handle turns warm – There has been a complaint or two that the handle turns warm during usage.
Another retro iron is the Black & Decker F67E. This one seems to be more popular among shoppers. The Black & Decker model is cheaper but it doesn't have a water spray function. The soleplate is aluminum instead of nonstick. Generally, we prefer the Black & Decker model because of the lower price and our preference for an aluminum soleplate over nonstick which we feel tends to peel over time, especially on cheaper irons.
Free Shipping For The Hamilton Beach Retro Iron? Don't Miss Out:
But on the upside, the Hamilton Beach Retro has more power and a much longer auto shut-off. If you sew and do quilting, then this one should be the better choice over the Black & Decker Classic.