Apart from a wide ironing board, some people also prefer to have a long one. No doubt the ironing board will seem big, but a long working area is great for ironing pants and other large items. Many models have a surface area of 48 to 51 inches in length. But these extra long ironing board models below will have a length of at least 53 inches.
Extra Long Ironing Board Models
Brabantia Ironing Board With Iron Parking Zone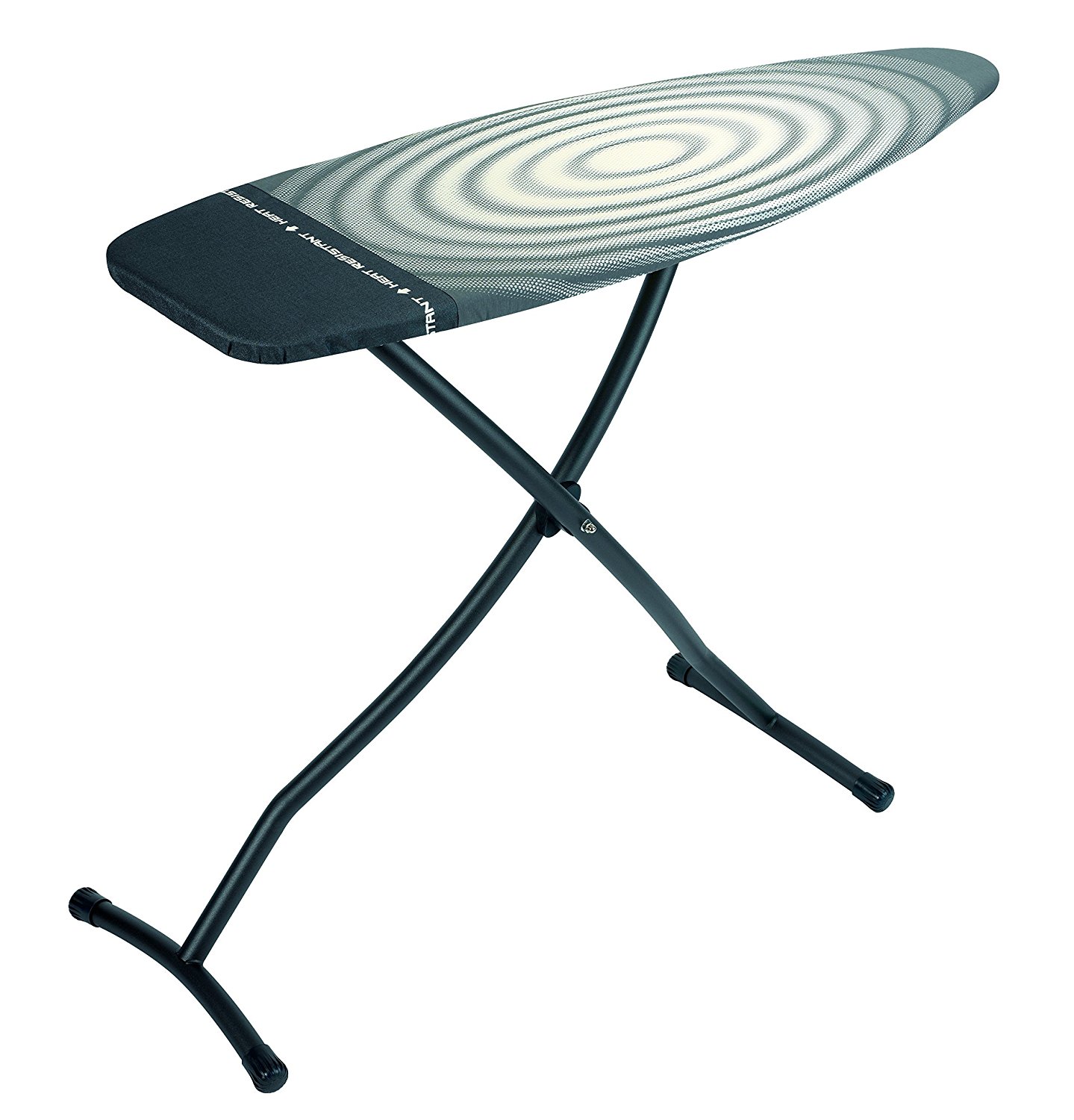 Brabantis is definitely one of the better brands to get. It has the best ironing boards in the market for various sizes and this includes the extra large one. The one shown above is a size D with a ironing surface of 53 x 18 inches. The height ranges from 24 to 40 inches.
==> Check Price
There are some good and bad things about this board. There is no iron tray for this design. It has a heat resistant parking zone for your iron instead. That means you can leave the iron on that spot without having to worry that it will scorch your board cover. Some people will love this design because they iron using both ends of the board. But if you are one of those that prefers to have a tray, then this design will be a drawback. However, the absence of a tray means the board does not become too big to store.
As you can see, there are no fancy features about this Brabantia ironing board. The features are basic but practical such as a child and transport lock, anti-skid caps on feet and adjustable height. You can iron sitting down with the slide mechanism. You can also set the height so that each time the board is opened, it automatically falls to your preferred setting. The board comes with a foam/felt underlay and 100% cotton cover. It uses a cord binder and stretch system to keep the cover in place.
If you are really tall, this board will be a good fit because it can go up to 40 inches high. Many ironing boards only have a maximum of 38 inches. It is also not too heavy for its size at around 16 lbs. The absence of fancy features and the leg design help to keep the weight to a more manageable level.
But if you fold it up, this Branbantia ironing board is still a little taller than most which may make it hard to store. There is also no iron tray as mentioned. So, if you want an extra long ironing board with a tray that can be folded into a more compact unit for storage, you will need to take a look at the Rowenta IB9100 Pro Compact Ironing Board.
Rowenta IB9100 Pro Compact Professional Ironing Board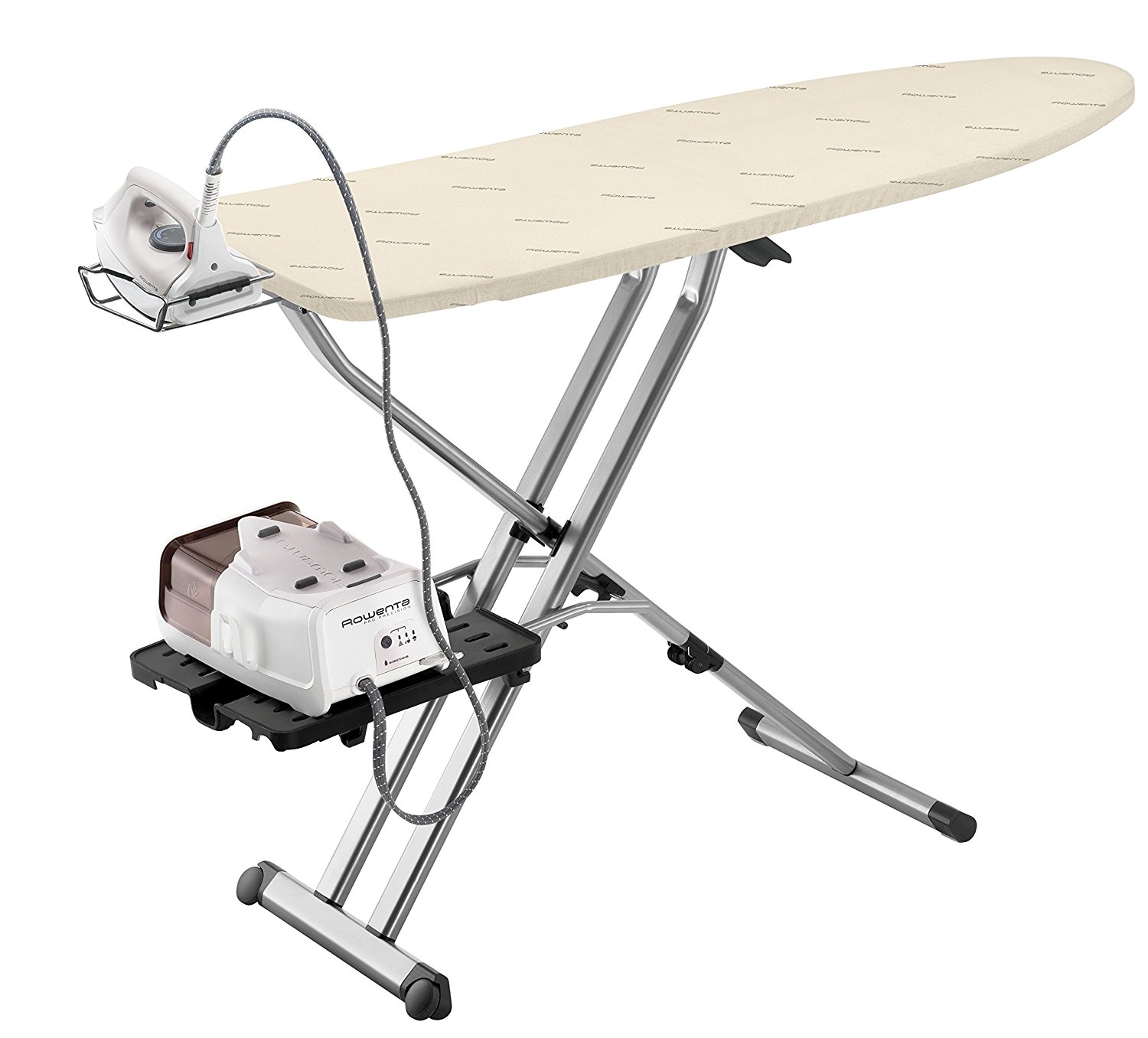 With more features, you can bet that this ironing board wouldn't come cheap. Just like Rowenta irons that command a premium, their ironing board is also on the high end of the scale. It is even more expensive than the Flippr ironing board which has a refreshing design with its double-sided feature.
==> Check Price
It has the same large ironing surface like the Brabantia above at 54 x 18 inches. But it also comes with a sliding iron rest and a rack underneath the board. The rack can be used to place a steam generator like the Rowenta Pro Iron Steam Station. The other major difference is that the board can be reduced to a more compact size when folded. When folded up, the height is reduced to about 45 inches tall. This will make it easier to store inside a closet and other confined space.
The Rowenta Pro Compact Professional Ironing Board is a bit heavy at about 20 lbs But it has integrated wheels to make it easy to move it around. The cover is 100% cotton and the padding is about 5 mm thick. The height is adjustable from 27 to 37 inches.
While this extra long ironing board is sturdy and stable, the problem lies in the movable parts. There is a risk of defect in the folding mechanism and some buyers have complained that the board don't fold out smoothly after a while. Thus, it is indeed a big risk to take for such an expensive ironing board.
So, compared to the Brabantia model above, this Rowenta ironing board does not seem to enjoy as good a review from buyers. But if you want a space-saving solution to an extra large ironing board, it is one of the options.
Reliable 300LB Longboard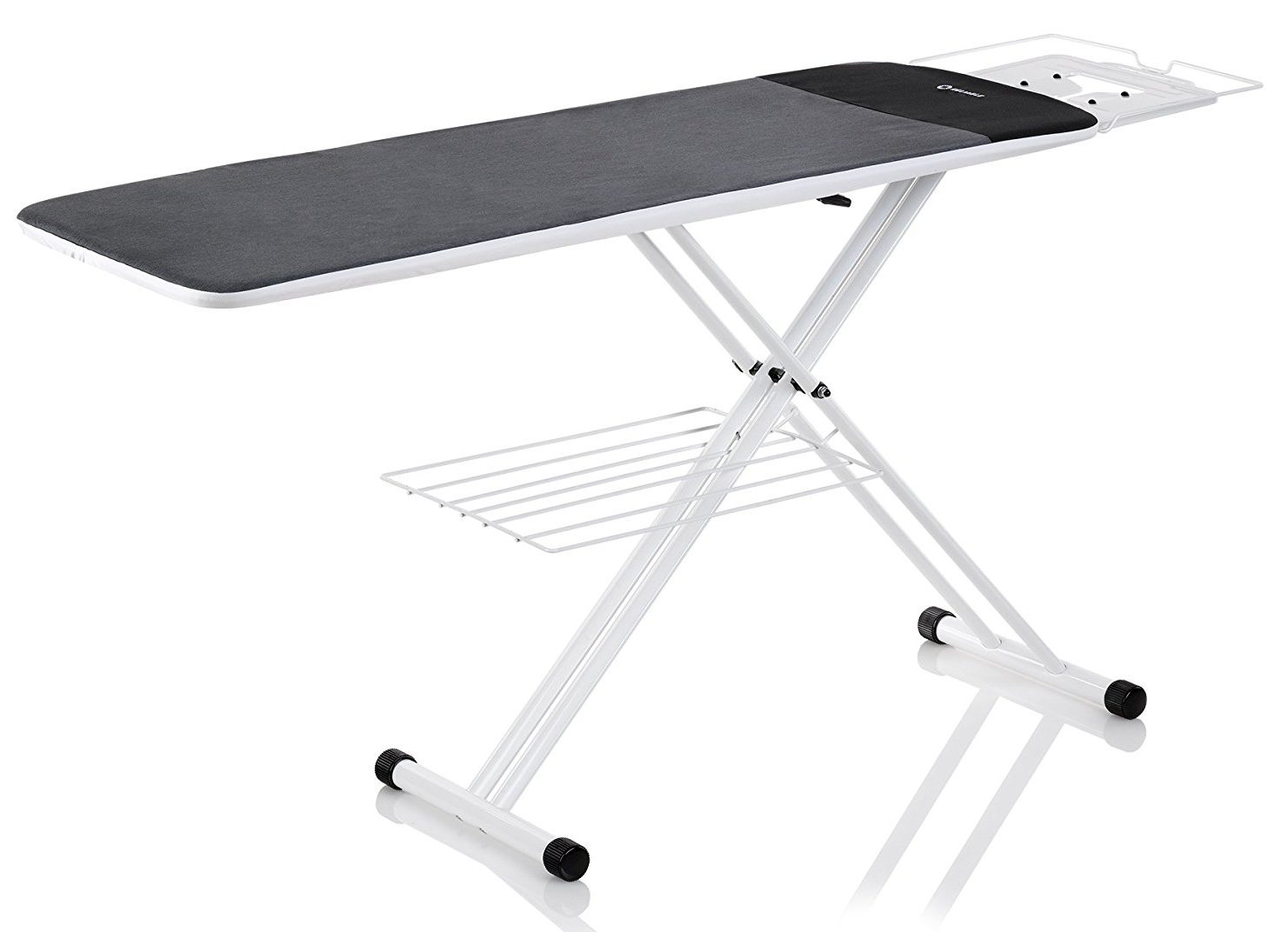 If you don't want to take the risk with the Rowenta Pro Compact ironing board, you can get the Reliable 300LB Longboard. This one is a bit different than the Rowenta because it uses an extension piece instead of having a folding mechanism which is prone to breakdowns.
==> Check Price
Without the extension, you can use it like a standard ironing board with one pointed end. This will have an ironing surface area of 47.25 x 18.9 inches. Once you attached the extension piece, the length will go up to 55 inches. You just need to remove the cover and slide the extension over the board to get a larger working area. Both the standard and longboard cover are provided.
There is an iron tray which can also support an ironing station. A laundry rack is also available underneath the board. The Longboard has a tube frame construction with double wishbone legs for sturdiness and stability. The height adjustment goes from 30 to 38 inches. It can be folded for storage with a magnet locking system to keep the legs in place. But the Longboard is quite heavy at around 28 lbs with the extension. It is probably not an ironing board that you would want to fold and carry for storage each time.
Another drawback with this design is that the attachment may not be that sturdy. A few users have complained about the board being less stable with the extension attached. But this Reliable extra long ironing board has a square end with a large surface which makes it perfect for knitters and quilters. This is also a good fit if you do iron your curtains and linens.
Any Great Deals For Ironing Boards? Don't Miss Out: