Apart from Rowenta and Panasonic, the other notable brand for steam irons with more model choices is Black & Decker. In this review, we are looking at the Black & Decker Professional steam iron, a highly affordable model with loads of features. It may not compare favorably against the best Rowenta irons, but it may be more than sufficient for those shopping on a tight budget.
Black & Decker Professional Steam Iron Review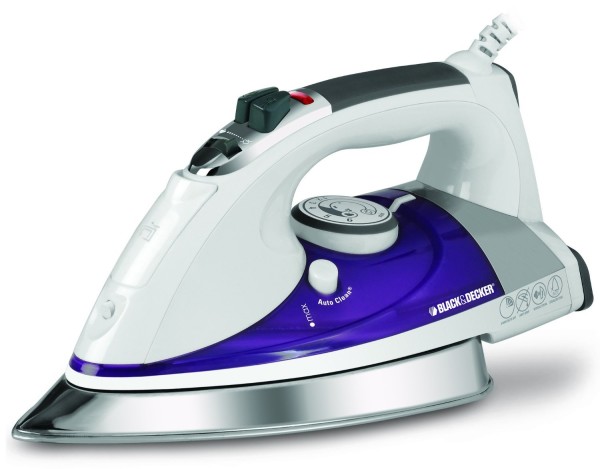 The B & D Professional iron comes with the following features:
1500-watt
Stainless steel soleplate
Comfort grip handle
Steam surge
Spray mist
Vertical steam
Variable steam
Anti-drip
Auto-clean
3-way auto shut-off
Size: 11.8″ x 6″ x 4.8″
==> Check Price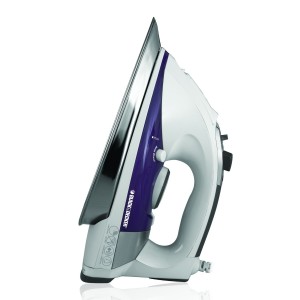 The Professional iron has 1500 watts of power, using a stainless steel soleplate that glides smoothly for optimal performance. There are steam holes on the soleplate, 18 in all dotted along the sides.
You have a comfort grip handle for the iron and below it is the temperature settings rotating dial, numbering from 1 to 6. At settings 4 through 6, steam is produced. Pressing the steam surge button at the top will emit a burst of steam for stubborn wrinkles. You can also use it for vertical steaming purposes. A 5-second interval is recommended between each burst. The iron can also be used for dry ironing by turning the variable steam selector to the 'no steam' option.
The unit has an anti-drip feature to prevent water spots at low temperature settings and an auto-clean function for maintaining performance. Its safety feature has a 3-way auto shut-off. According to the Black & Decker Professional steam iron manual, it will go into standby mode after 8 minutes on its heel and 30 seconds on its side or soleplate. The red indicator light will also blink to let you know that the unit has stopped heating.
The cord length for the Black & Decker Professional steam iron is about 10 feet, similar to the Panasonic NI-W950A. It weighs slightly less than 3 lbs.
Should You Buy The Black & Decker Professional IR1350S Iron?
Pros
Cheap – The iron has a listing price of about $30 at the time of review but you can get it for around $25 at most times. It is slightly more costly than the popular Panasonic NI-E200T but that one lacks an auto shut-off and steam surge features. So, in terms of value for money, the Professional steam iron seems like a better choice.
Not too heavy – The weight is not too heavy at less than 3 lbs. So, the iron will suit those who prefer a lighter unit. An even lighter iron is the Black & Decker F210 but such models are usually more suitable as back-up units. At the other end are irons weighing close to 4 lbs. The Oliso TG1100 is an example for those who like a more solid feel.
Quick heating – It takes only a minute to two for the iron the heat up fully. At 1500-watt, it has enough heat and steam to erase wrinkles on lighter materials but thicker ones will require the help of the steam surge and spray mist.
Cons
Numbers on temperature dial – The fabric guide is on the heel of the iron while the dial only features numbers from 1 to 6. Most irons will have the fabric type listed on the dial itself for easy reference like the Panasonic NI-E650TR but this convenience is not found on the Black & Decker Professional steam iron.
Steam surge button on the right – For right-handed users, this could be a deal breaker. The steam surge button is located on the right side while the spray mist is on the left. So, if you use the steam surge often, it can be awkward to reach with your thumb when you grip the handle with your right hand. Most irons will have the button locations the other way round. The T Fal FV4495 is one example.
Generally, we are pretty wary to recommend $20 irons. It can work for some but not for others because the heat level and steam output can never match their more expensive counterparts. If you are prepared to iron with a spray bottle in hand, perhaps you will have no complaints on the iron's performance. This is because the steam output is not going to help you get rid of really tough wrinkles on cotton and linen. You will still end up with fine lines on your clothes which is acceptable to some but not others.
Free Shipping For The Black & Decker Professional Iron? Don't Miss Out:
Our opinion is that the Black & Decker Professional steam iron with a pivoting cord is good for the price and the generally positive reviews from buyers is a comfort. It irons well enough but we still prefer to pay a little more (between $30 and $50) and get the best steam irons out there in this price range.