The Black & Decker IR03V is another one of those irons for the budget conscious shopper. When you have a tight budget to work on, it is natural to look for a reputable brand name because many cheap irons simply do not work well. But is the Black & Decker name enough to make this iron a good buy for those looking for a cheap steam iron? Let's see how the IR03V fares among users in this review.
Black & Decker IR03V Review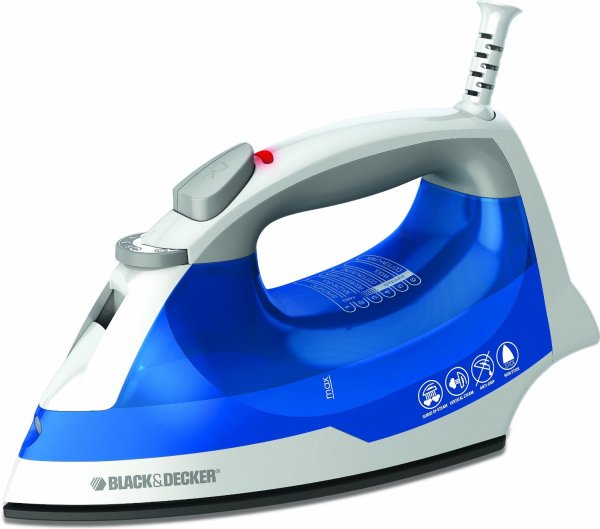 The features of this iron are:
1200-watt
Nonstick soleplate
Anti-drip
Vertical steam
Spray mist
Steam surge
Size: 10″ by 4.2″ by 5.5″
==> Check Price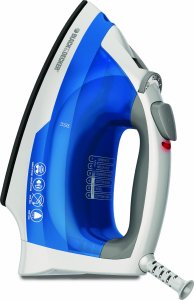 The Black & Decker Easy Steam iron has a nonstick soleplate with 1200-watt of power. It is a basic iron but comes with an anti-drip feature to prevent water from leaking out of the soleplate when you are using it on the lower temperature settings. There is also a vertical steam function which comes together with a steam surge. A spray mist is also available for clearing stubborn wrinkles and creating crisp lines.
The iron boasts of a smart steam technology. Basically, what this means is that the amount of steam output is automatically adjusted with the fabric settings that you use. There is a guide listed below the handle on the right setting to use for different types of materials. The dial for the fabric setting and temperature control is located at the front of the handle.
The handle is of the comfort grip design. The water tank is blue in color with a capacity of 5 ounces. The 360-degree pivoting cord measures 6 feet in length.
Should You Buy The Black & Decker Easy Steam Iron?
Pros
Relatively cheap – The price is certainly a very attractive factor considering the brand name. Selling for about $20 at the time of writing this review, there are not many steam irons in this price range that also comes with both steam surge and spray mist. For example, the Panasonic NI-E200T comes with a spray mist but no steam blast while the Black & Decker F67E  has a steam blast but no water spray.
Light in weight – Amazon has listed this product as weighing 1.8 lbs. That is pretty light for an iron but comparable to others of a similar price range. For example, the Black & Decker F210 SmartTemp iron also weighs less than 2 lbs. Light is not necessarily better for an iron but if you do a lot of vertical steaming, a lighter iron would be less tiring on the hands. An iron that weights over 3 lbs like the Rowenta DW8080 can be quite heavy when filled with water and hence, may not be ideal for everybody.
Cons
It leaks water – Spits, leaks and sputters are typical complaints for this steam iron. It is not a surprise given that nearly all steam irons seem to have the same problem. It is only a matter of seriousness and frequency of complaints among buyers. For the Black & Decker IR03V, the complaint is quite widespread for the number of reviews. There are even comments that water leaks out around the base of the power cord which is certainly a danger to users.
Inconsistent steam – A few customers have mentioned that the steam output is not consistent. The steam surge button does not work well because it fails to produce the blast that it is designed for.
Soleplate drags – Some reviewers have mentioned that the nonstick soleplate isn't as slick as it should be. It drags on fabrics and makes ironing difficult.
This Black & Decker IR03V Easy Steam iron wouldn't be our recommendation for a cheap iron. Yes, some people are happy with it but even if it works out of the box, it is not an ideal everyday iron. The soleplate is small and the lightness means it will take you quite a few passes to smooth out the same spot on your clothes. On top of it, add in the risk of leaks, and you are better off giving this a miss.
Free Shipping For The Black & Decker IR03V? Don't Miss Out:
There are other cheap steam irons around that have better ratings. And spending an additional $10 can give you a lot more options. For instance, the Panasonic NI-E650TR is one of the best steam irons under $50 and it should only cost you about $10 more than this Black & Decker IR03v Easy Steam iron.