The Black & Decker F67E is a cheap iron but with a difference. It has a classic look like the one that your grandma used to have. The old school design would not please everybody but more importantly, it works for the small price that you pay compared to the $100 that you would spend on a Rowenta iron. The review of the Black & Decker F67E below will attempt to find out what works for this iron and what can be improved.
Black & Decker F67E Review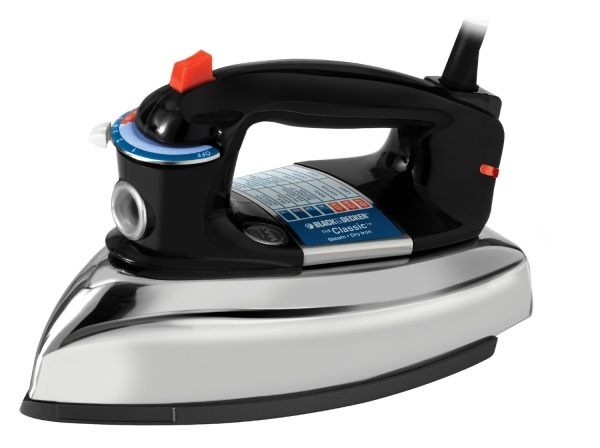 The F67E Classic iron has these features:
1100-watt
Aluminum soleplate
Anti-drip
Shot of steam
Variable steam
3-way automatic shut-off
Button groove
Size: 5.2″ (W) x 10.1″ (L) x 6.2″ (H)
==> Check Price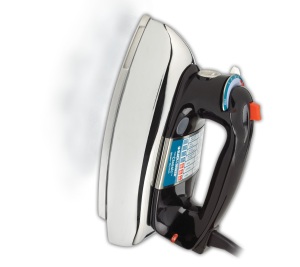 For the 1100-watt Black & Decker F67E, it uses an aluminum soleplate which tends to be cheaper than stainless steel ones. Aluminum is lightweight and is an excellent conductor of heat which is why it is suitable to be used as an iron soleplate. However, it is not as strong as stainless steel and thus, may scratch more easily. It also tends to be less smooth compared to other types of soleplates, so there are trade-offs to be made for settling for a cheaper material.
Being a basic iron, the features of this Classic iron are pretty limited. However, the crucial ones are there such as a steam/dry and variable steam option. There are 25 large steam hole vents on the soleplate through which the steam dispenses. The fabric selector dial is at the front of the iron together with the steam control. There are 7 settings for the fabric selector from acrylic down to linen. There is also an 'Off' setting on the dial which is rarely found in other models. As for the steam output, it is available only for the 3 highest settings. You can use ordinary tap water with the Black & Decker F67E but do wait for at least 90 seconds for it to heat up before starting your chore after filling the reservoir.
There is a shot of steam button near the fabric selector which is you could activate by pressing with your thumb while ironing. A groove on the sides near the front of the soleplate helps you to press small areas around buttons and a pivoting cord allows for freer movement. The Black & Decker F67E Classic iron has a cord length of 8 feet and a 3-way automatic shut-off feature to turn off the unit if left unattended.
Should You Buy The Black & Decker Classic Iron?
Pros
Price – With durability being an issue with most steam irons today, it may not make sense to pay so much for this small appliance. Pay less and buy another down the road seems to be the trend nowadays. If this is also your line of thought, then the Black & Decker F67E may fit your requirements with its low retail price. For example, you are saving yourself $100 when you buy this compared to buying a Rowenta DW9280.
Basic – Basic is best for some. There are no complicated controls to set and no digital display like those found on the Black & Decker D2030 that will fade over time.
Solid – Many buyers have commented that the iron is heavy. It weighs close to 3 lbs without water, so if you have gotten used to those light plastic irons, you may find this a tad heavy. But it is solidly built and has the weight pressure to help get rid of wrinkles faster.
Control dial on top – The fabric selector dial and steam control lever are at the top of the handle rather than below. This design is better because settings adjustments would be more convenient. Another iron that has this same control dial location at the top is the Sunbeam Steam Master.
Cons
No spray mist – There are certain features that are missing from this iron compared to your regular models. Most notably, there is no spray mist which many people do use while ironing to help erase stubborn creases. If you want an old school iron with a water spray, you can consider the Hamilton Beach Retro iron. Other missing features include self-cleaning and anti-calcium system.
Difficulty reading water level – The dark colored casing makes the water level difficult to gauge without a closer inspection. Compared to the Panasonic NI-E300TR with its bright colored casing, you have to tilt the iron much more to know where the water level is at.
Snags fabric – A few users have complained that the soleplate isn't as smooth as they would like. It doesn't glide well and seems to create more wrinkles as you iron.
We would not hesitate to recommend a buy for the Black & Decker F67E mainly due to the price and low amount of complaints. At least, complaints of leaks are few and far in between compared to even the more expensive brands. While this would not be a top iron with copious amount of steam output and a slick soleplate, it is worth the price if you will be satisfied with a basic, no-frills iron that performs just adequately compared to high end models.
Free Shipping For The Black & Decker F67E? Don't Miss Out:
Going by the hundreds of customer reviews, the bottomline is most people think that the Black & Decker F67E Classic iron works well enough with sufficient steam and heat generation, including those who have worked with more expensive models. There is, of course, a minority which think otherwise. But given the price, it is certainly a risk worth taking to invest in this classic unit, especially when you have had bad experiences with those $100 irons.