The Black & Decker F210 is a cheap steam iron. So cheap that it may leave you wondering if it actually works. But for such a small investment, perhaps it is worth it to give it a try. As long as we keep our expectations in line, maybe this iron could prove to be a pleasant surprise. Or could it? So, let us check it out in this review.
Black & Decker F210 Review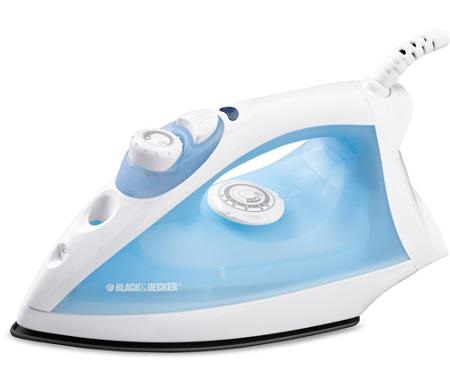 Among the features of the Black & Decker F210 are:
1200-watt
Nonstick soleplate
Spray mist
Variable steam
360-degree pivoting cord
Size: 5.8″ by 4.8″ by 10.9″
==> Check Price
This Black & Decker SmartTemp iron has a nonstick soleplate with steam vents. Being a cheap iron, the features are pretty basic. There is a spray mist which you can activate via a button at the top. Adjustable steam is a knob which you can turn to your selected setting. A dry option is also available for dry ironing.
The fabric selector is a dial below the handle with numbers to indicate the different settings. Settings between 4 and 6 will allow for steam output and there is a fabric guide printed on the heel of the iron for easy reference. There is an indicator light that will glow when the unit is heating up. Once the light is off, it means that the iron has reached the desired temperature and is ready for use.
You can use ordinary tap water with the Black & Decker F210. Let the iron stand for 1.5 to 2 minutes after it is plugged in to prevent drips.
Should You Buy The Black & Decker SmartTemp Iron?
Pros
Cheap – It costs about $11 on Amazon when we were writing up this review. At the other extreme, the Rowenta Steamium costs 10 times more and there is no guarantee that it will last you for at least a few years. So, for the price, the buying risk is certainly minimal. It is even cheaper than the basic Sunbeam Classic, which is retailing closer to $20.
Light – The iron is very light, weighing under 2 lbs with an empty tank. Most medium range irons would weigh about 0.5 to 1 lb more. For example, the Black & Decker D2030 comes in at around 3 lbs. While lightweight can be a drawback for an iron because there is a lack of weight pressure to smooth out creases, it can be a lifesaver for those who have weak arms and other health issues.
Cons
Durability problem – The iron does not seem to last judging by the various customer reviews. For some, it worked for a few months while others have used it for a few times before it fails to power up.
Leaks badly – There are also many who complained that the iron leaks. Complaints of water ending up on the clothes and ironing board is common all over the review sections.
Not hot enough – The heat generation is not up to par for some buyers because the soleplate does not get hot enough to take out wrinkles.
Looking at the various reviews, it seems that the Black & Decker F210 is only suitable for ironing lighter materials because its insufficient heat and weight will make it hard to remove more stubborn wrinkles on thicker clothing. It is not really the iron to get for daily use for the family. Also, given the propensity of leaks, it may end up simply as a dry iron instead of steam. If you are looking for a basic iron for everyday use, we recommend spending about $10 more and get the Black & Decker F67E. This one is a classic with simple controls and more importantly, less complaints. If going retro is not for you, even the Panasonic NI-E200T would be a better bet.
Free Shipping For The Black & Decker F210? Don't Miss Out:
Our conclusion is the SmartTemp iron is more suitable as a backup unit for occasional use at most rather than a daily workhorse. Although the price is highly attractive, we really think you should give it a miss. Cheap does not necessarily mean a good buy in this case.