For many people. a wide ironing board is preferable to a narrow one. This is because it gives you a bigger surface area to work on. As such, you don't have to re-position your garments as often. A bigger area can be covered which also saves you time. This is also great for ironing large items like linens and it is the preferred choice for many quilters. But large alone is not enough. The structure needs to be stable. Below are some of the best wide ironing boards in the market that have fairly good ratings by consumers.
Best Wide Ironing Boards – The Options
Brabantia Ironing Board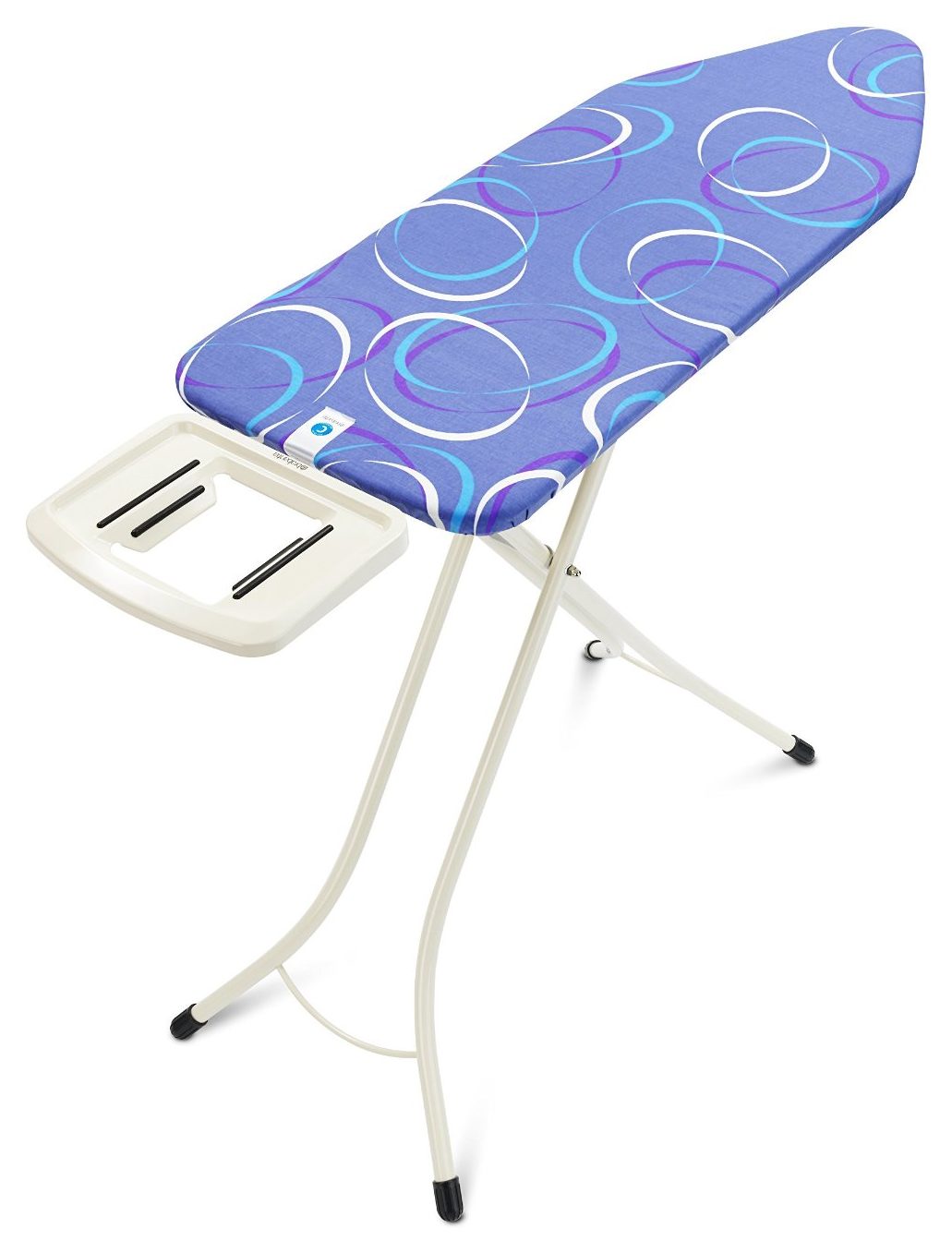 Brabantia is well-regarded for its solid and durable ironing boards. They do sell them in a few sizes which are often labeled as A, B, C and D in product descriptions. The wide ones are sizes C and D. One of the differences between C and D would be the length of the board. For Brabantia ironing boards, C measures 49 inches while D is 53 inches long. The width is the same at 18 inches at the widest point.
==> Check Price
The size C ironing boards also have an adjustable height of between 30 to 38 inches. The size D can go taller from 24 to 40 inches. So, if you are tall, the maximum height allowable should be a major consideration in your purchase decision.
The Brabantia C ironing boards use a 4-leg design which is sturdy and stable. Non-slip caps cover each foot for use on hard floors. It uses a 0.98 inches diameter tubing for its frame. The top is a steel mesh board covered with resilient foam and viscose ironing surface under-layer. The cover is 100% cotton and has a tensioner for a taut ironing surface. A child lock is also built-in for security.
From customer reviews on various retailer websites, it is clear that the Brabantia ironing boards are popular choices. They don't squeak and wobble which is what most users are looking for. Stable and strong, Brabantia is one of the best wide ironing boards that you can buy.
Parker Extra Wide Ironing Pro Board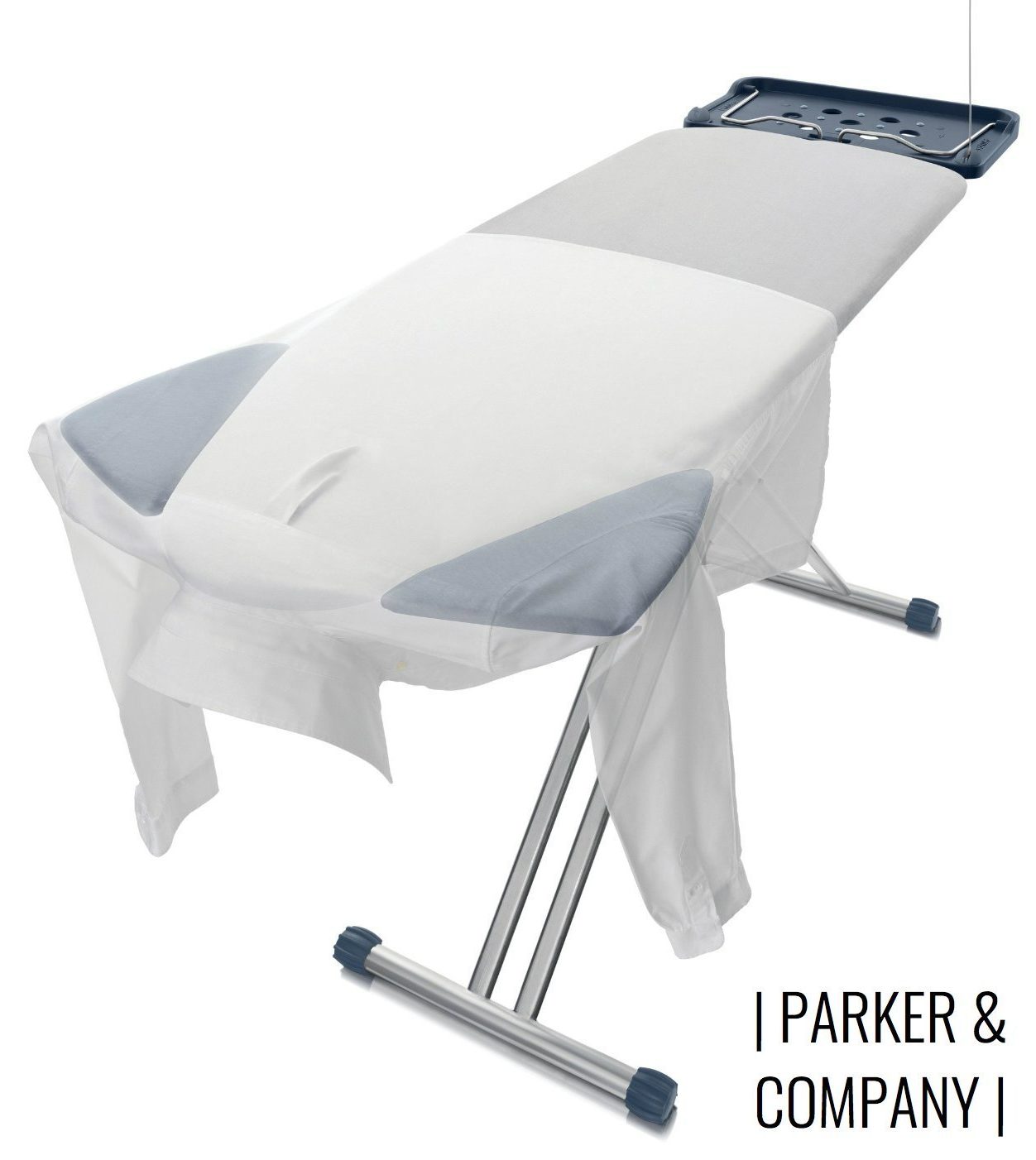 The Parker extra wide ironing board has a few more bells and whistles compared to the Brabantia above. One of the differences is the presence of shoulder wings on each side. They are there to make it easier for you to iron shirts. These wings are retractable. So, you can move them back into the slots when they are not needed.
==> Check Price
There is a heat resistant tray for your iron or steamer with a hanger rail available to hang your garments. A cord holder is there to hold the cord of your iron in place while ironing. There is even a pocket for you to keep handy items like a remote control.
The width of the Parker ironing board is about 18 inches without the wings extended. The length is about 47.5 inches without the iron tray. It can be extended to about 36 inches high. It has a powder-coated metal structure with a cold steel mesh board top. A multi-layered ironing board cover is also included.
A few things to note about this ironing board though. First, it is heavy at around 22 lbs. Some people feel it is too cumbersome to move and store since it is also large. Second, not all people like the shoulder wings concept. Depending on your ironing style, they can  get in the way when you want to slide your garments over the tip of the board. Lastly, the cord holder doesn't seem to be stable enough to support the the cord as it is pulled when you move your iron.
Overall, you will find the Parker to be the best wide ironing board for shirts if you like the retractable wings. Or if you like the concept of a double-sided ironing board, you could get the Flippr. Otherwise, you are better off with the Brabantia which could be slightly cheaper.
Bartnelli T-Leg Extra Wide Ironing Board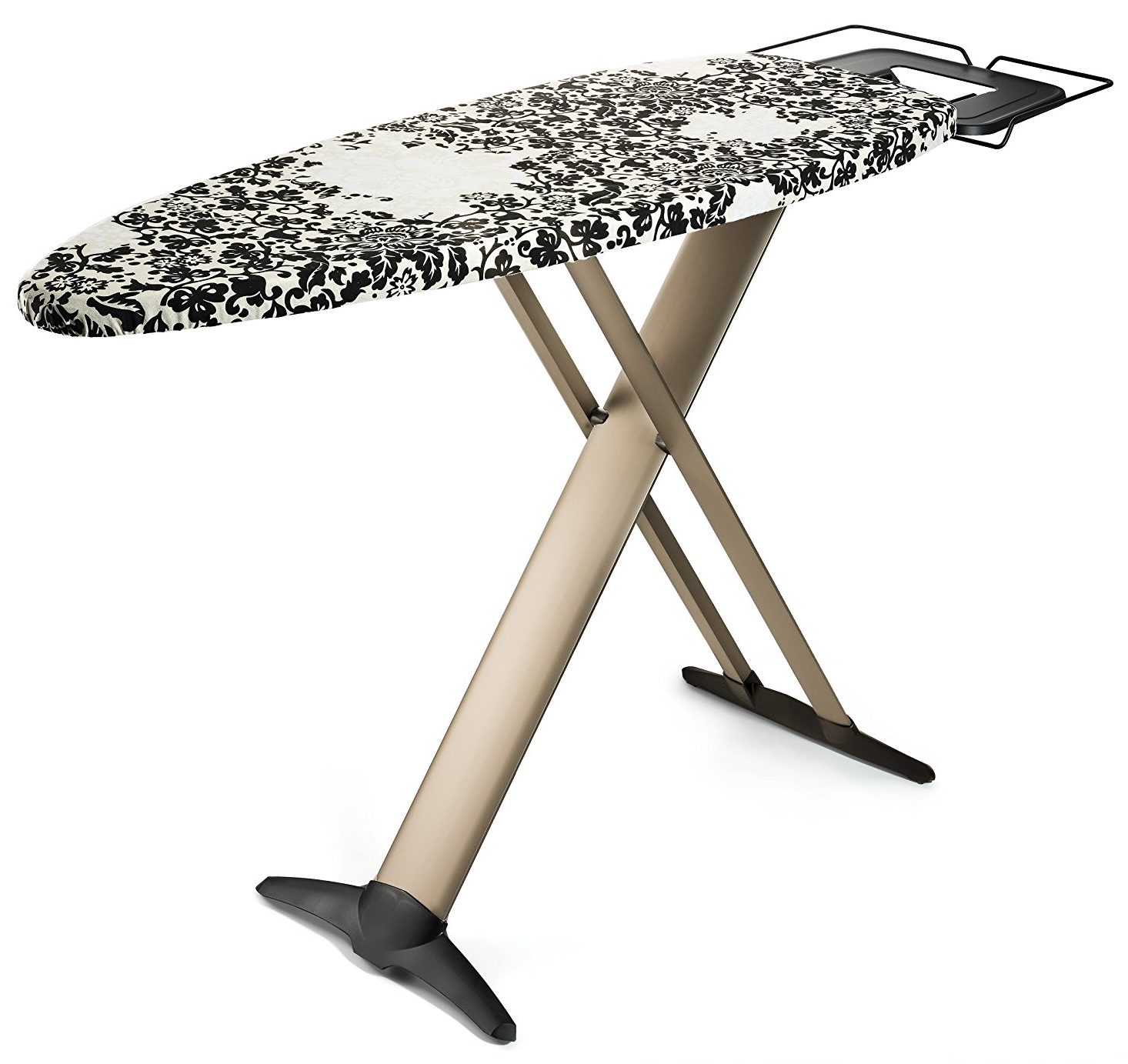 The Bartnelli is an European-made ironing board. It is a large ironing board with a work surface area of 51 inches long and 19 inches wide. It has 4 different heights from 30 to 38 inches.
==> Check Price
The frame has a T-leg design but it is sturdy and doesn't move while in use with the protective feet. The padding, which is often the subject of complaints for ironing boards, is multi-layered. A 100% cotton cover is wrapped over a foam and felt layer. A tray for iron or steam generator is attached to the end of the board. You can also hang your garments there with the convenient hanging rail. A safety lock prevents the board from collapsing while in use.
There are no fancy features for the Bartnelli compared to the Parker above. It is a simple but large ironing board that is perfect for pressing larger sized shirts and pants.
Conclusion
Once you have tried an extra wide ironing board, you might never want to go back to a narrower version. It is just more convenient. No doubt, a large ironing board is more expensive. It can also be much heavier. But it also tends to be sturdier and more stable. You wouldn't want to put your best $100 steam iron on a cheap ironing board. One bump and your iron could end up on the floor.
Any Great Deals For Ironing Boards? Don't Miss Out:
Due to the cost, it is advisable to look at the size, height, weight and other features closely before you buy. Even the best wide ironing boards have their imperfections. So, choose one that best matches your needs. A good ironing board is a durable item. So, you certainly don't want to be stuck with a board that you hate using for some time to come.