Apart from over the door ironing boards, a wall mounted unit is another option for those who have space constraints. Once the unit is permanently affixed to a certain spot, there is no longer any necessity to drag out an ironing board when you need to do your ironing. After all, some of these boards can be pretty large and heavy. As such, getting them set up each time can be a hassle. So, why not install one on the wall and make it permanent? Below are 2 best wall mounted ironing board models for you to choose from. Both are slightly different in terms of design.
Hafele Wall Mounted Ironing Board Review
This is marketed as a space-saving ironing board which is easily mounted to the wall. The ironing surface measures just over 37 inches long and almost 12 inches wide. It can be folded up when not in use. It will fold up to almost 13 inches wide which is the width of the bracket and 21 inches high. The depth will be almost 5 inches.
==> Check Price
The whole frame is constructed with steel with epoxy coating to make it more durable. It comes with a board cover. The board can swivel up to 90 degrees to the left and right. This means you can lock the board at any position within the 90-degree parameter. Since it can swivel in both directions, a left or right-hander would be able to use this wall mounted board comfortably.
Pros
Sturdy – Many buyers have found the board to be heavy and solid. It doesn't move and bang around like an over the door unit. Instead, it is sturdy enough for regular ironing.
Fits a tight area – The ironing board isn't that big which makes it a good fit for tight spaces. One of the main reasons why people choose a wall mounted ironing board is because they want to save space. So, the size is just right for space-saving measures and yet, not too small for ironing purposes.
Locks in any position – You can swivel the board up to 90 degrees left and right which gives you more flexibility on where to install it. Once you have swivelled and found the most comfortable position, you can then lock the board into place to do your ironing.
Foldable – The board can be folded up after use. You can fold it into 2 and push it up against the wall vertically at the center. Or you can just fold it up parallel to the wall if you have swivelled it 90 degrees to the left or right. The flexibility is there for you to choose the depth and size you are most comfortable with in its folded position.
Cons
Doesn't match standard studs – The board is not wide enough to match the standard 16-inch studs. So, you may need to improvise which is an inconvenience. You may end up having to buy a wooden board such as oak and install it on the wall into studs before attaching the ironing board. Of course, there are different ways of installing the board but the point is it is not as straightforward as one might have hoped.
Pricey – The Hafele wall mounted ironing board is expensive compared to a standard ironing board. Even the Flipper which is a rotating ironing board that you can iron on both sides doesn't cost as much.
This wall mounted ironing board is the one to get if you don't mind the difficulty in installation. Since the board is pretty heavy at over 20 lbs, you do need to secure it properly. Help would also be needed during the installation process. So, if you are confident that you can get it installed, then go for it.
Household Essentials StowAway Ironing Board Cabinet Review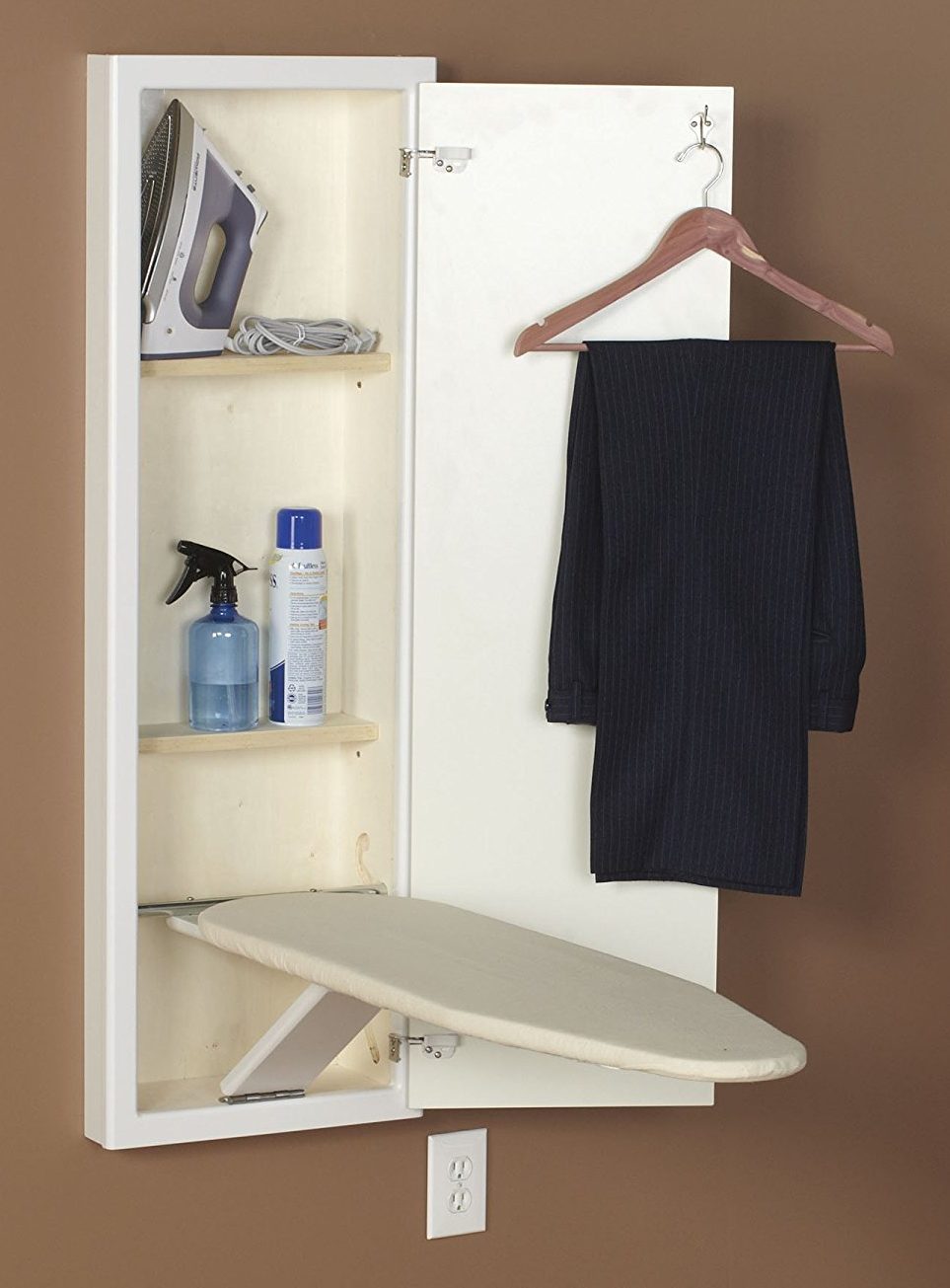 This Household Essentials unit is a bit different than the Hafele model above. It is a hide away ironing board that is tucked away in an ironing cabinet which you mount to the wall. You also get to choose the color of the cabinet to match your room decor. The cabinet measures 7.8 (D) x 15.9 (W) x 47.9 (H) inches.
==> Check Price
The cabinet comprises of 2 built-in shelves to put your iron and any other accessories like spray bottle and starch. The ironing board folds up and sits vertically facing the shelves. It has an ironing surface of 41 x 11.75 inches. The board swivels to accommodate both left and right handers up to 90 degrees each way. The height is also adjustable to accommodate different users.
Pros
Looks good – The cabinet does have a classy appearance with its wooden construction. With different colors available, it will fit in easily into any room and match other wooden furniture that you may have.
Good for the price – It is not perfect but at the price it is selling at, it is decent and attractive enough to keep.
Easy installation – Installation is fairly easy for this cabinet. There are few complaints regarding the process unlike the Hafele wall mounted ironing board above.
Stores hot iron – There is a heat resistant lining on the top shelf for you to store a hot iron rather than having to wait until it cools. This makes it convenient to put all accessories back into place and stow away your ironing board immediately after you are done.
Board swivels and adjusts for height – Even after installation, you have the ability to adjust the height of the board up to 2 inches. This makes for more comfortable ironing for people of different heights. The board also swivels in a 180-degree rotation to allow you to find the best spot to do your chore.
Cons
Cheap materials – While the cabinet looks attractive from afar, the materials do appear cheap on close inspection. The sides are made of MDF with thin veneer layer that could get torn or bubbled. The hinges is made of plastic and the screws can be of better quality too.
Iron may not fit – If you have a large Rowenta iron, it probably wouldn't fit onto the shelf. Hence, do check the dimensions carefully before you buy.
Not very sturdy – While the board is not exactly flimsy, it does give way a little when you press down hard during ironing.
The Household Essentials StowAway Ironing Board Cabinet will not be a perfect piece to hide away all your ironing stuff. If you want solid, good quality wood with better workmanship, the price would be much higher. So, the product could be disappointing for some people in that sense. Hence, buy it only if you are not too fussy about the finishes. After all, it does work acceptably well for ironing, visual appearance aside. With not many options out there for a kit like this, it remains one of the best wall mounted ironing board models with a stow away option.
Any Great Deals For Ironing Boards? Don't Miss Out: