We have shortlisted below the best steam irons under $50. At this price point, you should be able to get a pretty good quality iron with enough features to make it comfortable and easy to use.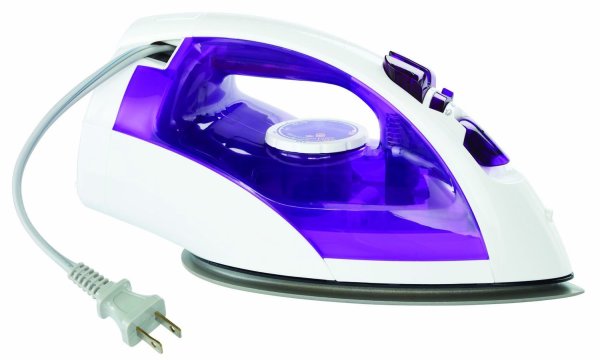 While there are steam irons under $30, the $20 difference can make a huge difference to the performance of the iron. The savings from the less expensive models would hardly be worthwhile if they fail to perform to expectations. Usually, the cheapest steam irons do not generate sufficient heat and steam that they make ironing even more difficult and frustrating.
So, for $50 or a little less, check out the top three steam irons that we have carefully selected below:
Which Are The Top Three Steam Irons Under $50?
Black & Decker D2030 Auto-Off Digital Advantage Iron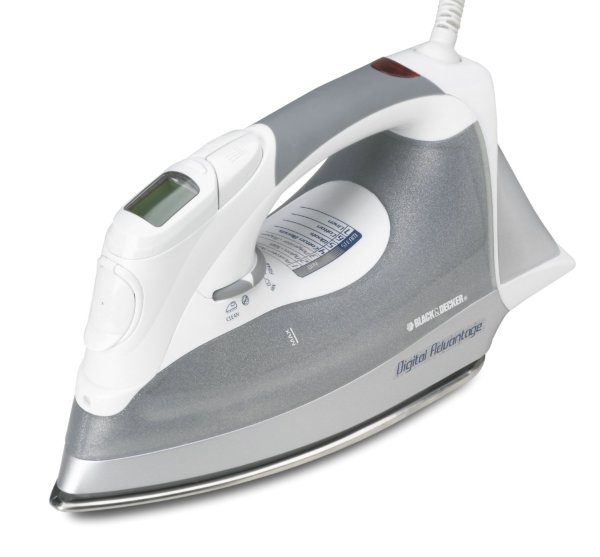 For an iron to have thousands of reviews online is certainly rare. The Black & Decker D2030 Digital Advantage Iron is one of the few that sells really well and attracts many positive compliments from buyers. Yes, this model has been around for quite a number of years but the fact that it continues to sell is solid evidence of its quality and worth.
==> Check Price
The B&D D2030 steam iron uses a digital display for the temperature and fabric settings. At just one look, you can check the temperature and customize it, if needed. Combined with the variable steam feature which you can control with a dial, ironing is certainly made easier when you have different kinds of fabrics in your ironing load.
This 1500-watt iron with a stainless steel soleplate also has a vertical steaming option which you will need for really delicate pieces or other items such as curtains which you may prefer to steam upright rather than laying them down on the ironing board. There is also the fabric selector, a guide that takes away the guesswork of how hot your iron needs to be for different kinds of materials.
This Black & Decker Digital Advantage Iron has a few other features as well but generally, it is easy to use with its digital control settings and smooth soleplate. It is certainly a highly recommended steam iron that is reasonably priced to make it worth a buy.
Panasonic NI-E650TR U-Shape Titanium Soleplate Steam-Dry Iron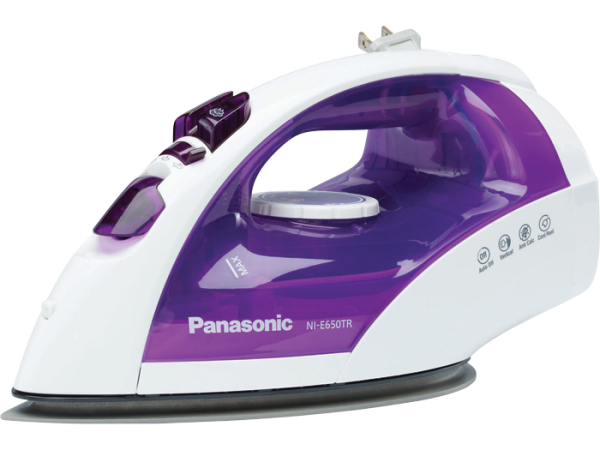 This Panasonic NI-E650TR is a little different from the other irons not only because it has a titanium nonstick soleplate but also because it has a U-shape at the base and curved along the sides to the tip. This curved soleplate is designed as such so that pressure is concentrated at the center of the iron and not the tip. The curved shape also helps to prevent snagging and tugging while ironing. Compared to other conventional Panasonic irons, the NI-E650TR also gives 25% more steam coverage to smooth out wrinkles with this unique soleplate.
==> Check Price
While the 1200-watt Panasonic U-shape steam iron does not have the digital display feature like the Black & Decker D2030 above, it has a retractable cord which is great for storage purposes. Temperature and fabric settings are controlled via a dial while a lever at the top will adjust the steam output. Together with buttons for a spray mist and burst of steam, you should be able to get rid of wrinkles pretty easily with this iron.
In terms of price, this steam/dry iron is cheaper than the Black & Decker but it lacks the convenience of a digital setting. But for the price and nonstick soleplate, it could be the preferred choice for some. The retractable cord is also a plus for those who like hassle-free storing after use.
T-Fal FV4476 Ultraglide Easycord Steam Iron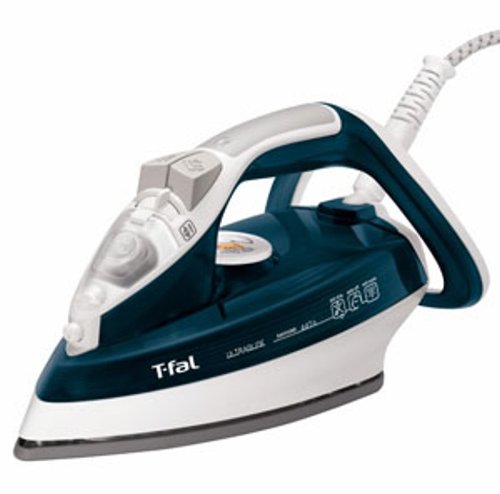 Much thought have gone into the design of irons to prevent the common issue of snagging and tugging. While the Panasonic NI-E650TR above uses a curved U-shape soleplate to solve this issue, the T-Fal FV4476 steam iron has the Easycord system to prevent the cord from snagging the fabric you are ironing.
==> Check Price
The soleplate is also different as it has a scratch resistant ceramic soleplate which glides well across fabrics. Temperature control is located below the handle to give you different settings for different kinds of materials. Like the Panasonic model above, the steam control lever is at the top with a button for a burst of steam located conveniently within your thumb's reach to help get rid of those stubborn wrinkles.
We picked this 1700-watt steam iron out as the cord design is both unique and practical. The iron also glides well for those who like a smoother ironing experience.
Which Is The Best Clothes Iron To Buy?
Now that you have an idea of the top three clothes iron for under $50 on the market, which one should you buy? As the quality and performance among the three would not be too far apart, look into the details instead to help you with your buying decision.
The Black & Decker D2030 would be the most expensive steam iron among the three models but it is also the only one that offers a digital display. The stainless steel soleplate is also a better choice if you have lots of thick and cotton materials to press.
The Panasonic NI-E650TR has the lowest wattage among them and wattage is one of the determinants of how fast an iron heats up and how hot it can get. However, few buyers have complaints about its heat generation thus far and you should consider this model if a nonstick soleplate and retractable cord is your preference.
The lightest of the three would be the T-Fal FV4476 Ultraglide Iron. It weighs 2.8 lbs compared to 3.2 lbs and 3.3 lbs for the Black & Decker and Panasonic iron respectively. A ceramic soleplate is also great in terms of glideability but if you want perfect creases on your shirts and pants, a stainless steel iron is still the preferred choice.
Free Shipping For Steam Irons? Don't Miss Out:
At the end of the day, there will always be trade-offs between one iron and another. If you are unsure, start with what kind of material you typically need to iron and then work out the soleplate that best fits the job. You don't need the most expensive steam iron but at $50 or less, you are looking at a mid-range model with just adequate heat and steam output to get rid of wrinkles. So, expect it to take you longer to get the job done compared to a $90 iron with a higher steam output capacity. For a more expensive iron, you would also want a better ironing board to go with it.